Going green means more than just switching to environmentally-friendly cleaning products, and an experienced building service contractor (BSC) can help.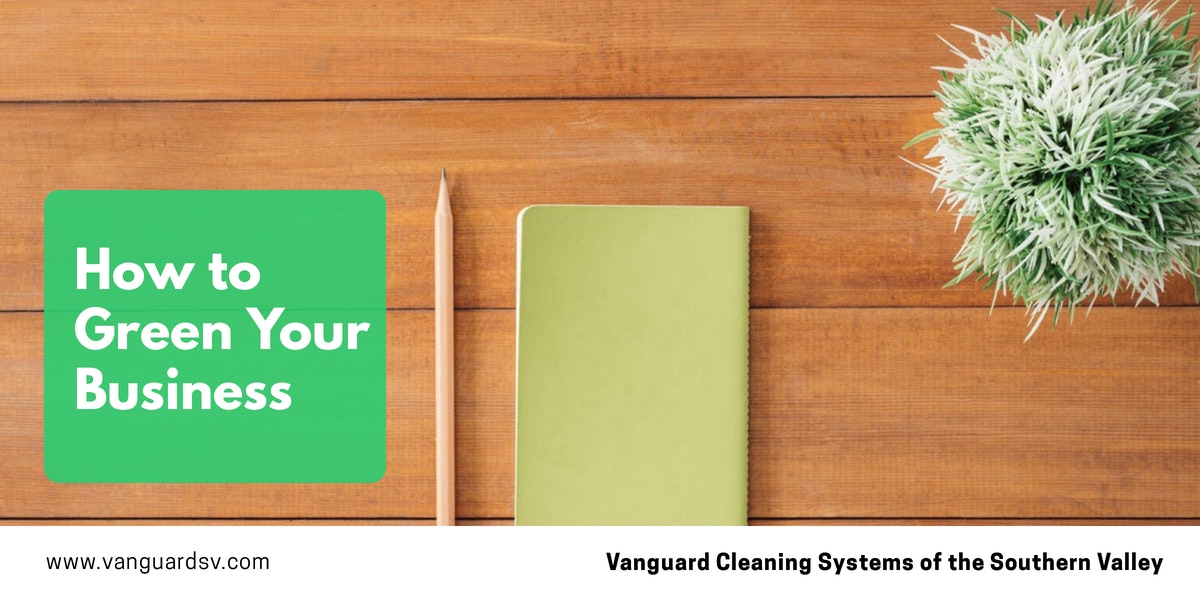 How to Green Your Business and Save Money
Greening your office can save you a ton of cash, with actions as simple as turning off lights in unoccupied rooms, switching to LED lighting, and placing green recycling bins around the workplace.
Adopting environmentally-friendly policies will also help increase customer perception of your products, services, and brand, ultimately resulting in increased sales.
Consumers are becoming increasingly educated about the environmental impact of human activity.

A global survey in 2014 indicated that 55% of consumers are willing to pay higher prices for goods and services from companies that have environmentally-friendly business practices.

A similar study in 2013 by Cone Communications stated: "71% of Americans consider the environment when they shop, up from 66% in 2008".
Easy Strategies to Green Your Workplace and Save Money Now
When most people think of green workplace strategies, the first thing that comes to mind is recycling--no green plan is complete without a solid plan to reuse, repurpose, and recycle office waste.
However, a complete recycling strategy goes beyond direct action in the workplace and extends to purchasing--specifically post-consumer waste products, especially paper.
Your teams can take that strategy one step further by reducing paper use entirely through the implementation of paperless office products and software.
Another method for streamlining the recycling process is to eliminate the creation of waste by forgoing the use of convenient, yet incredibly destructive, single-use products, like plastic or styrofoam drinking cups.
Instead, provide reusable drinking bottles and utensils manufactured with environmentally-friendly processes and recycled or PCW resources.
When assessing energy consumption, take a look at what kind of lights your building uses and determine the energy use and emissions of appliances throughout the facility.
CFL and LED lights consume significantly less energy than halogen lights, and Energy Star certified appliances will save a ton on your electric bill by reducing consumption and undesirable emissions.
Office thermostats are also a significant energy consumer, and everyone seems to have their own preference, leading many office staff to use additional heaters when it's too cold, even in the summertime when electric bills spike during peak hours.
Several solutions exist, ranging from allowing workers to move to areas where the sun is shining directly into the workspace to warm them up, to installing individual thermostats in each office and allowing employees to set it to preferable levels.
A new method for decreasing vital resource use for energy consumption is to contact your electric provider and request that your office is serviced entirely, or to the maximum level possible, with an alternative renewable source.
While this won't necessarily save you money directly, advertising those actions to your staff and customers has been shown to increase brand perception and profits in a positive way.
Green cleaning products and high-performance cleaning and disinfection appliances are an increasingly popular method for decreasing costs while improving occupant health and performance.
Certified green products don't emit volatile organic compounds and other toxic chemicals into the air that can make building occupants feel, or actually get, sick.
Use of these products has also been correlated in several recent studies to increases in cognitive function and mental wellbeing.
High-performance cleaning equipment reduces natural resource use and cleans faster and more efficiently, which translates into even more savings in less time for your business.
Finally, product purchasing should focus on the full life-cycle of the product--meaning all procurement should focus on obtaining products manufactured in environmentally-friendly processes, delivered by transportation companies committed to green practices, and repurposed, reused, or recycled according to manufacturer specifications.
PCW paper products are a good example of this, but purchasing used office equipment, especially refurbished printers, and other electronic equipment goes a long way towards reducing costs and diverting waste from landfills.
References & Resources
Takeaway
Green cleaning and sustainable business practices have several advantages, including:
Increased brand awareness and consumer satisfaction.
Improved occupant health, performance, and wellbeing.
Reduced energy consumption and decreased vital resource waste, and;
Increased profits, worker engagement, and retention.
Outsourcing your proposed plan to an experienced team of dedicated facilities service providers will help rapidly green your office and your businesses financial accounts.
If you would like more information regarding the benefits of greening up your workplace, implementing recycling programs, or environmentally-friendly building maintenance, or if you would like to schedule a free, no-obligation on-site assessment of all your facilities infection prevention and control requirements, contact us today for a free quote!
In Bakersfield CA, call (661) 437-3253
In Fresno CA, call (559) 206-1059
In Valencia CA, or Santa Clarita CA, call (661) 437-3253