Cleaning chemical mishaps are all too common and typically result in wide-scale evacuations, closed businesses, and injuries resulting in hospitalizations.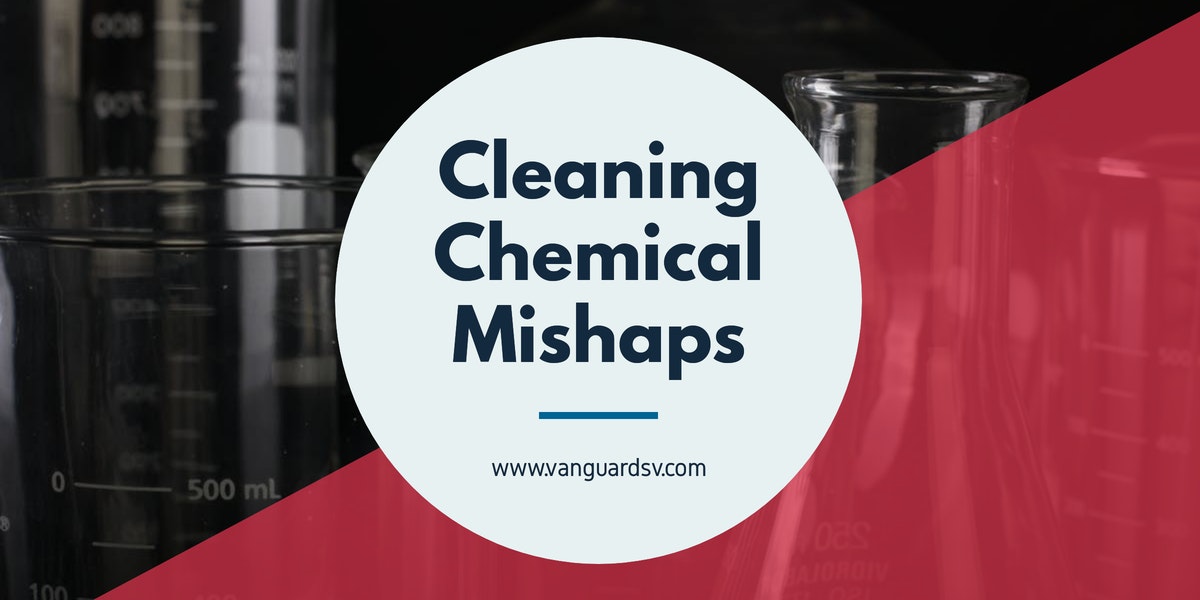 The Challenge of Custodian Caused Cleaning Chemical Mishaps
The custodial profession is fraught with sometimes dangerous challenges, ranging from repetitive motion injuries, slip and fall accidents, and toxic chemical exposure.
As with any dangerous profession, accidents and mistakes happen.
Unfortunately, when it comes to the improper mixing of dangerous cleaning chemicals, the mistakes can have far-reaching consequences, including the evacuation of entire buildings or city blocks, as well as severe injury and hospitalization.
For example:
In 2017, Pioneer Press, located in St. Paul MN, reported that a janitor working in a building across the street from their office had mixed sulfuric acid with ammonia.
After the custodian began to feel ill, the building was evacuated, and the fire department was brought in, as well as a state-wide hazmat cleanup team.
Additionally, the buildings across the street, the street itself, and a large portion of the city block were evacuated and closed down.
Source:
In 2018, Pioneer Press reported an incident at a St. Paul MN restaurant where an employee combined bleach with Lime-A-Way to clean a basement, resulting in the evacuation and closure of the business, as well as adjacent businesses.
Three restaurant employees and one emergency responder were hospitalized as a result.
Source:
In 2010, a Boston courthouse was closed in the middle of the deliberation of a murder trial due to the accidental mixture of bleach with a second chemical containing sulfuric acid.
According to one eye witness;
[...] people were gagging and tears were running down their faces.

Brockton courthouse evacuated after bleach, sulfuric acid mixed
In 2018, a Vermont County Store in Chester VT was evacuated and five employees sent to the hospital after one worker accidentally mixed "two or three chemicals" resulting in the formation of a chlorine gas cloud.
Though the outcome went unreported, the store was closed pending an investigation by a health inspector to determine if several food items would need to be disposed of after exposure to the toxic fumes.
Source:
And, just recently, the Rock County Courthouse in Janesville WI was evacuated after a facilities maintenance worker created a chemical cloud after mixing chemicals to treat the water for the buildings air conditioning system.
The worker was taken to the hospital for treatment and observation.
Fortunately, further injury was avoided when alerted facilities management personnel closed the ventilation system, containing the toxic vapors.
Source:
Safe Cleaning Chemical Handling Procedures
As the old saying goes, an ounce of prevention is worth a pound of cure.
In this case, a few hours invested in in-depth training for facilities maintenance and custodial personnel is worth far more to a business than the consequences of being shut down, causing an entire city block to be evacuated during business hours, and the resulting legal and medical fees of those inadvertently affected, to say nothing of the loss of reputation with the local community.
Additionally:
Always keep safety data sheets in a location easily accessible by facilities maintenance personnel.
Store chemicals in a well-ventilated space, but away from HVAC systems.
Always store chemicals in their original containers.
Never mix cleaning products with other cleaning products.
Consider switching to a chemical management system that is fully self-contained, such as a pod-based system, or one that automatically mixes and dilutes the prescribed amount of product and water.
Regularly train all occupants in emergency response and evacuation procedures.
Require all cleaning and facilities workers to wear the appropriate safety gear at all times while handling cleaning chemicals, and;
Investigate the feasibility of switching to environmentally-friendly, non-toxic green cleaning products.
Takeaway
Any industry that requires the handling or transport of toxic chemicals is at risk for the accidental exposure of those chemicals to building occupants and surrounding businesses or residents.
The more inexperienced the staff, the more likely accidents are to happen.
In an industry plagued by high turnover numbers and a revolving door of untrained workers, outsourcing has become a superior alternative that relieves schools and businesses of the burden of training, and often, chemical storage, especially when contracting out to green cleaning specialists.
If you would like further information regarding the value of outsourcing your school or businesses chemical management, assistance with evaluating and structuring your organization's cleaning closet, or if you would like to schedule a free, no-obligation onsite assessment of your facilities janitorial and infection prevention and control requirements, contact us today for a free quote!
In Bakersfield CA, call (661) 437-3253
In Fresno CA, call (559) 206-1059
In Valencia CA, or Santa Clarita CA, call (661) 437-3253