Nursing homes require special attention and care by custodial service providers to ensure the health and safety of the staff, but specifically to protect the patients, who often operate in a diminished mental or physical capacity and are especially prone to illness.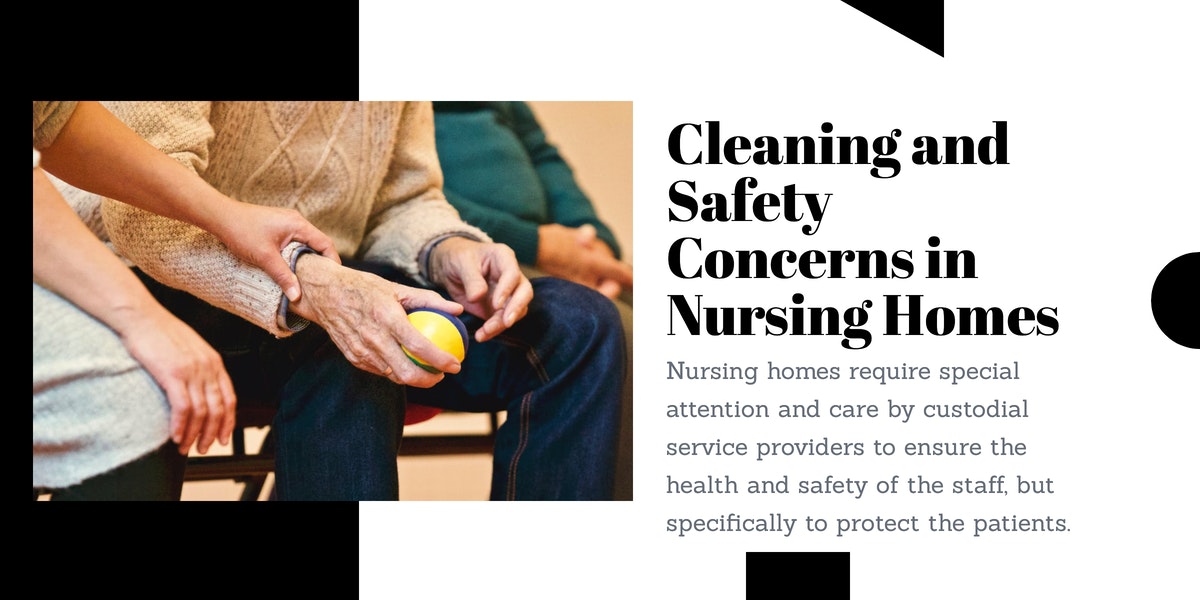 High-Performance Cleaning Addresses Safety Concerns in Nursing Homes
Custodial care in nursing homes and long-term care facilities present several environmental challenges that must be addressed by the service provider to ensure the safety of the patients, ranging from toxic chemical exposure to infection prevention and control.
Failure to provide a high standard of cleanliness and service can result in severe consequences for patients and the facility.
According to a recent article published by CMM Online;
Among the questionable practices noted, a housekeeper at one facility left a cart with toxic cleaning solutions unattended for 17 minutes in a hallway on a unit with a wandering patient.

While an inspector was observing the cart, a resident walked over to it and stared at the items in the cart before entering a room.

Another nursing home was cited for poor sanitation practices, such as a wastebasket filled with urine-saturated underwear and a strong odor of urine and visible debris on a dining room floor.

Nursing Homes Under Inspection for Cleaning and Safety Concerns
The use of conventional toxic cleaning products presents further challenges.
According to Nursing Home Abuse Guide;
Cleaning agents may pose environmental nursing home risks.

For example, ethylene oxide is a common sterilization agent used in nursing homes and other health care facilities.

According to the U.S. Department of Health and Human Services, ethylene oxide has been associated with hazards such as central nervous system effects, respiratory tract infection, and chemical burns.
Further, due to the diminished health of the residents, they are at higher risk for infection and illness.
According to the U.S. Centers for Disease Control and Prevention (CDC);
1 to 3 million serious infections occur every year in these [long-term care] facilities.

Infections include urinary tract infection, diarrheal diseases, antibiotic-resistant staph infections and many others.

Infections are a major cause of hospitalization and death; as many as 380,000 people die of the infections in LTCFs every year.

Nursing Homes and Assisted Living (Long-term Care Facilities [LTCFs])
Addressing the Environmental Health Challenges of Nursing Homes
Addressing the environmental challenges facing nursing homes and long-term care facilities requires:
Dedicated and Trained Staff - Often, nursing homes operate on tight budgets with minimal staff to supervise patients and provide the care that they need.  Workloading (outsourcing) offsets the cost and management overhead associated with training, staff acquisition, and retention, as well as supervision.
High-Performance Tools - The amount of time it takes to thoroughly clean and disinfect a nursing home facility is often prohibitive, leading to less than desirable decisions to forgo needed services, resulting in unfavorable outcomes.  The use of high-performance equipment, such as automated floor scrubbers, vacuum scrubbers, electrostatic disinfection appliances, and microfiber, will significantly reduce the amount of time necessary to provide a high standard of cleanliness.
Green Cleaning Products - The application of green cleaning products and EPA certified Category IV disinfectants will decrease the instances of germs and bacteria without endangering occupants due to the absence of toxic chemicals that have been linked to severe health issues.
High-Performance Practices - How facilities are cleaned is just as crucial as the attentiveness of the service provider and the quality of the tools and products.  Implementing strict quality controls, such as assigned color-coded microfiber and the two-bucket method, or cleaning and disinfecting along a designated path across the room will prevent surface cross-contamination and the spread of germs, bacteria, and disease.
References & Resources
Takeaway
Nursing homes and long-term care facilities require adherence to strict protocols when it comes to cleaning and infection prevention to avoid causing accidental harm to patients through negligence or low-quality cleaning practices.
The required time and financial resource investment for many facilities, already overburdened on the medical care side, is typically prohibitive, leading to unsanitary and sometimes dangerous conditions, resulting in preventable illness and death.
Outsourcing, or workloading, to an experienced service provider trained and skilled in green cleaning services and high-performance janitorial practices, is a demonstrable method for reducing costs and management overhead while improving overall living conditions.
If you would like more information regarding the use of high-performance janitorial services specialized in green cleaning, or if you would like to schedule a free, no-obligation onsite assessment of your facilities infection prevention and control requirements, contact us today for a free quote!
In Bakersfield CA, call (661) 437-3253
In Fresno CA, call (559) 206-1059
In Valencia CA, or Santa Clarita CA, call (661) 437-3253