Outsourcing your daycare facilities' janitorial services to a certified green custodial vendor will eliminate the staff and children's exposure to the harmful toxic chemicals found in commercial cleaning products.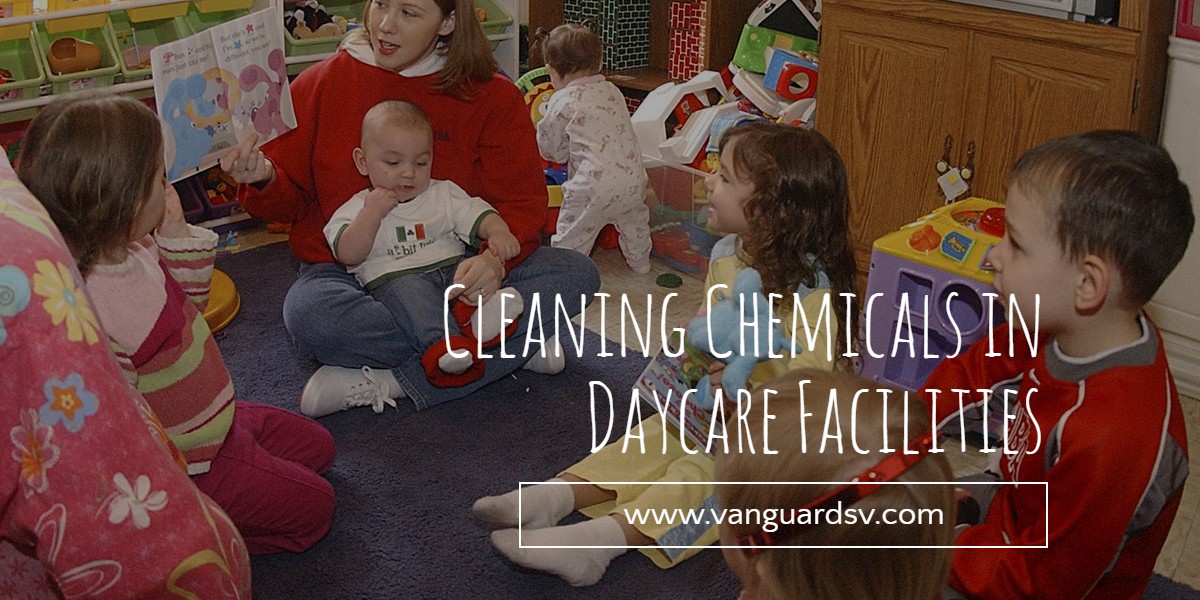 The Benefits of Outsourcing Daycare Janitorial Services to a Green Custodial Vendor
For concerned parents, toxic cleaning chemicals are a more significant threat to the health and safety of your child than the germs and bacteria commonly found in daycare facilities.
According to an article published by Bradshaw Law;
While many parents worry about germs and bacteria in daycare centers, toxic products pose a more serious threat to a child's health.

These centers often have ample supplies of cleaning products and toxic chemicals with which children can come into contact.

When a child is exposed to toxic products, serious injuries can result.

Are These Poisonous Products Lurking in Your Child's Daycare?
However, physical exposure to the chemicals is not the only hazard.
The Dangers of Toxic Cleaning Chemical Use in Daycare Settings
Over-concentrated mixtures can lead to the intolerable buildup of chemical smells in enclosed spaces, ultimately leading to classroom evacuation to prevent injury--an event that occurred recently in a Tennessee daycare.
According to WKRN;
A daycare in Columbia was evacuated for over an hour Tuesday afternoon due to a possible gas leak that turned out to be strong chemicals.

Over 150 children were removed from the building as a precaution.

It was determined the smell came from cleaning supplies mixed in too great of a concentration to clean the floors.

OEM: Cleaning supplies prompted odor, evacuation of Columbia daycare
In the case of the Columbia daycare, the chemical was determined to be non-hazardous, and no one was reported as ill.
Unfortunately, that is not always the case, especially when it comes to bleach.
The Correlation Between Bleach Use and Asthma in Children in the U.S.
Bleach is a dangerous corrosive chlorine-based product that can leave a toxic residue on surfaces, such as tables, chairs, and toys, and fills the room with fumes that negatively impact the respiratory system of building occupants, especially young children with developing lungs.
According to Breathe California;
People who never had asthma can develop respiratory symptoms from small amounts of chemicals in cleaning products such as bleach.
Breathe California goes on to cite that asthma is:
[The] leading chronic illness among children and youth in US.

[The} leading cause of children's hospitalizations, [and];

One of the leading causes of school absenteeism.

Bleach Exposure Exposure in Child Care Settings: Settings: Strategies Strategiesfor Elimination Elimination or Reduction Reduction
Comparing Bleach to Silver Dihydrogen Citrate
Bleach is only effective as a disinfectant if kept in storage for no more than three months--24 hours if diluted--while Silver Dihydrogen Citrate (SDC) has no expiration date.
Bleach is approved for use in disinfecting HIV, HBV, H1N1, MRSA, influenza, and norovirus, while SDC is only approved for norovirus, MRSA, and influenza.  This may not be an issue, as HIV, HBV, and H1N1 are not commonly found in daycare facilities, but would require a special cleaning crew with the proper safety equipment to remove, regardless.
SDC has a much shorter dwell time (30 seconds to 10 minutes) as opposed to bleach's dwell time of 10-15 minutes, meaning the task of disinfection can be completed in less time.
SDC requires no special protection and normal room ventilation for safe use, while bleach requires gloves, goggles, sometimes respirators, and increased room ventilation.
SDC has no known side-effects from exposure.
However, according to the EPA, the same cannot be said about bleach, which includes hazards such as:
Mixing with ammonia, ammonium quaternary compounds, and other acidic products can create [a] poisonous gas.
[Bleach is] corrosive to eyes and skin, and a respiratory irritant, [as well as being];
Suspected cardiovascular, gastrointestinal or liver, kidney, central nervous system, respiratory, and skin or sense organ toxicant.
Source:
Takeaway
Physical exposure to chemical cleaning products, especially those containing bleach, have been repeatedly shown to present long and short-term health issues in children, ranging from poisoning to asthma, and sometimes death.
Certified green cleaning products contain no toxic chemicals, and are approved for use by the EPA in daycare settings, having proven their ability to adequately remove or kill germs and bacteria commonly found in daycare facilities.
If you would like to learn more about how outsourcing your daycare facilities' janitorial services to a certified green commercial cleaning vendor can reduce toxic chemical exposure and smells that could potentially lead to classroom evacuation and illness–contact us today for a free quote!
In Bakersfield CA, call (661) 437-3253
In Fresno CA, call (559) 206-1059
In Valencia CA, or Santa Clarita CA, call (661) 437-3253