Outsourcing your long-term care facilities' janitorial services will improve your ongoing disinfection strategies.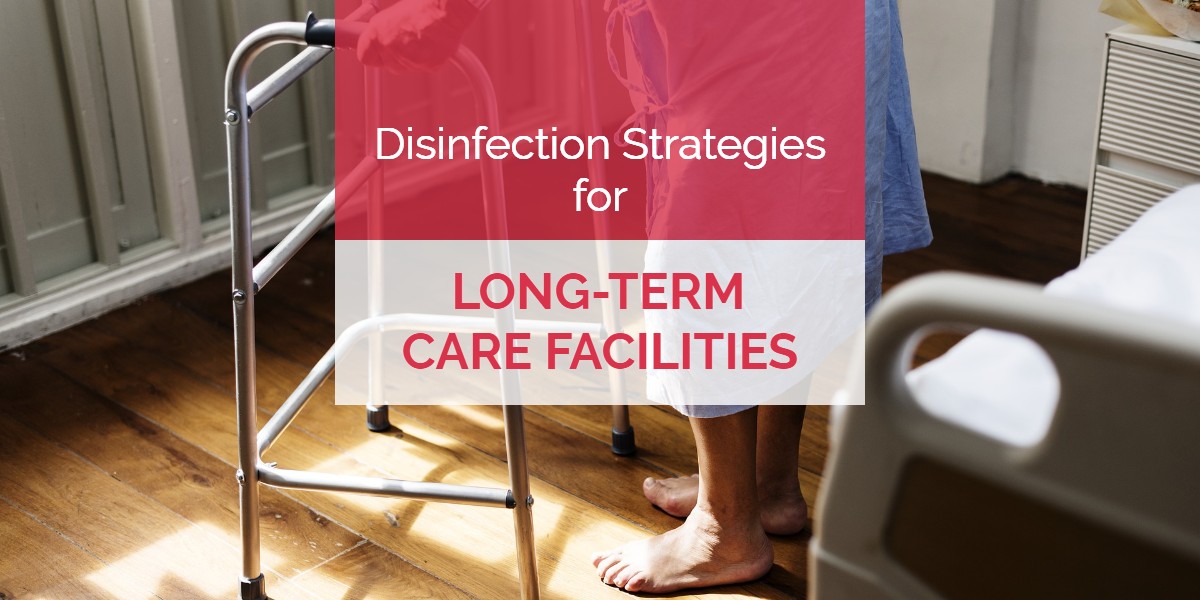 Outsourced Janitorial Services and Disinfection Strategies for Long-Term Care Facilities
Cleanliness and infection control rank very high for family members of long-term care facility residents.
A study, conducted by Clorox Professional Products Company, cited in a 2014 edition of Infection Control Today found that of those responding to the survey:
Product dwell times.
79% rated infection control as "top of mind," while;
71% ranked cleanliness as a "top factor influencing facility selection."
Additional findings reported that:
44% of consumers equated "odor with a lack of cleanliness and risk of infection," while;
21% were worried about infection simply if the facility did not "smell clean."
49% were concerned about how often soft surfaces were cleaned, and;
22% were worried about the possibility of re-hospitalization due to infection acquired in the long-term care facility.
Source:
Unfortunately, the families concerns are warranted, as a recent survey has shown that many long-term care facilities lacked the proper documented and enforced policies and procedures, as well as trained personnel, necessary to provide high-quality terminal cleaning and routine disinfection services.
Disinfection Strategies for Long-Term Care Facilities
When devising disinfection strategies for long-term care facilities, managers should first focus on:
Documentation and training, and;
Policies and procedures.
Documentation & Training
Proper documentation ensures a standardized approach and creates a central repository for knowledge that simplifies task adherence and completion.
The better the documentation, the easier it is to establish cleaning schedules, create policies based on surfaces, and train new staff.
Documentation review will assist with the identification of gaps in policies, procedures, as well as necessary skills, knowledge, and equipment.
Documentation should include:
Identification of surface type.
An explanation of and when to clean, disinfect, or terminal clean, and;
Skill requirements to handle specific tasks, chemicals, and appliances.
Establishing a separate training manual containing certifications for product and equipment handling, as well as proven knowledge of how to handle known pathogen outbreaks, will ensure that only qualified personnel are assigned to potentially dangerous tasks, and help prevent the unintentional spread of contagion.
Policies & Procedures
The policies and procedures will build off of the documentation and training, helping establish:
Cleaning schedules, including what to clean when, as well as how and who should be assigned.
How identified products and equipment should be labeled, handled, and stored.
The exact steps required to complete a terminal clean and address a known pathogen outbreak, and;
Product dwell times.
Green Cleaning Tips
To ensure the maximum health and safety benefits of a facility adhering to a high standard of clean, a green approach is required.
Switching to green cleaning products and policies will help alleviate the ongoing issue with indoor air quality and eliminate toxic chemical exposure for residents with compromised or weakened immune systems and respiratory problems.
Eliminate the use of household cleaning agents and replace with certified green cleaning products.
Restrict the use of bleach to healthcare regulated terminal cleans and specific pathogen outbreaks.
Replace the majority use of current disinfectants with an EPA category IV disinfectant, such as Silver Dihydrogen Citrate.
Replace cleaning towels, mops, and brooms with color-coded microfiber, and document what color should be used in what room and on what specific surface to avoid cross-contamination.
To further eliminate cross-contamination, create and follow a policy that mandates cleaning from the dirtiest part of a room or surface to the cleanest--top to bottom.
Regularly sweep, mop, and scrub tile and bathroom floors.  The use of a vacuum floor scrubber, while expensive, can significantly improve the efficacy of this task and significantly improve the health and safety of your facility.
Vacuum carpets at least once a day with a HEPA filtered vacuum, and deep clean monthly, or according to your facilities occupancy and foot traffic.
Clean and disinfect all horizontal surfaces at least daily.
Clean vertical surfaces as soiled, or at least weekly, including windows, to avoid the buildup of dirt and germs.  Adhere to more stringent scheduling for terminal cleans.
Ensure plenty of liquid-foaming soap, paper towels, and hand sanitizer are made available and easily accessible to guests, residents, and staff.
Install and maintain industrial-grade HEPA air filtration systems.
Additional Advice
Establishing an "if you're sick, stay home" policy will significantly reduce the introduction of germs into the facility.
Adhering to a high-standard of hand-hygiene can significantly reduce the spread of germs, as well as the acquisition of illness that may create life-threatening consequences for residents.
Exceeding customer and resident expectations can do wonders for your profits.
References & Resources
Takeaway
Cleanliness and quality disinfection services rank very high in importance for the families of loved ones who reside in long-term care facilities.
Studies have shown that foul smells combined with a noticeable lack of cleanliness will turn prospective families and residents away from a facility.
Many of the issues with cleanliness levels in long-term care facilities stem from a general lack of experience in disinfection protocols required in healthcare environments.
Outsourcing your facilities' cleaning, disinfection, and product management needs will cost-effectively improve resident health and satisfaction, as well as how your organization is perceived by the families of prospective residents, ultimately leading to better profits.
If you would like to learn more about the cost-effective benefits of outsourcing your long-term care facilities' janitorial services to improve disinfection strategies–contact us today for a free quote!
In Bakersfield CA, call (661) 437-3253
In Fresno CA, call (559) 206-1059
In Valencia CA, or Santa Clarita CA, call (661) 437-3253