Outsourcing your daycare facilities' janitorial services to a certified green custodial provider will dramatically improve your organization's disinfection strategies and appeal to prospective parents while freeing up your staff to focus on child care and safety.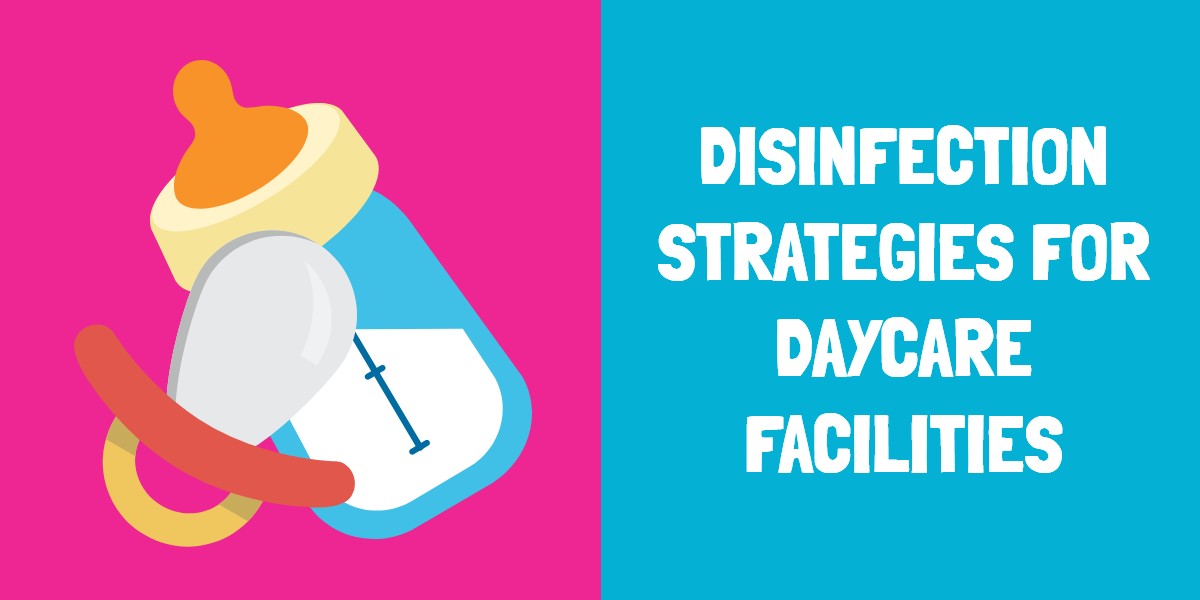 Green Janitorial Services Improve Disinfection Strategies in Daycare Facilities
Kids picking up germs everywhere they go is just part of the parenting experience, and daycare facilities are no exception.
However, that's a good thing.
According to CNN, citing Sylvana M. Côté, Ph.D., of Ste-Justine Hospital and the University of Montreal, Quebec, the author of a recent study on the  subject;
All children need to face the increased frequency of infection when they start interacting with a larger number of children in order to build immunity, and day care contributes to this process.

There may exist a window of opportunity for toddlers to build up their immunity early.

Those who attended large day-care centers after age 2½ did not receive the same protection against illness during their elementary school years as their counterparts who started group day care at younger ages, the new study showed.
Regardless, parents should familiarize themselves with the types of germs commonly found in daycare facilities, as well as prevention strategies, and the facilities' health and safety policies and procedures.
Types of Germs Commonly Found in Daycare Facilities
Immunity improvements aside, your child will be exposed to numerous germs and bacteria that could potentially lead to serious health issues, and parents should be familiar with the risks of communal care outside of the home.
One of, if not the most, standard methods of germ transference is through the handling of dirty toys.
Crawling or playing on the ground, combined with unwashed hands and a child's tendency to place every conceivable object in their mouth, introduces a host of illness-causing germs, ailments, and parasites, including:
Diarrhea.
Gastroenteritis.
Giardia.
Hepatitis A.
The common cold.
A cough.
Flu.
Ear infections.
Sore throats.
A runny nose, as well as;
Head lice, and;
Scabies.
Source:
Regarding the use of Bleach as a Disinfectant
Eliminating the use of bleach and other toxic commercial cleaning products is vital to the health and safety of children and daycare workers for several reasons.
Bleach is toxic and corrosive, leading to the potential evacuation of the facility if not appropriately diluted and used in a well-ventilated space.
Bleach is also extremely hazardous if ingested, even in a diluted form, making it impractical for the cleaning of children's toys on other high-touch surfaces.
Even short-term exposure to bleach fumes can induce life-long issues with asthma and other respiratory problems, even in children who have never exhibited signs of asthma-like symptoms in the past.
See Also:
Disinfecting for Health Strategies in Daycare Facilities
Replace bleach with Silver Dihydrogen Citrate.  It's more cost-effective, has no shelf-life, does not require specialized equipment or training for use, and has no known side-effects from use.
If bleach cannot be replaced as a surface disinfectant, wash toys with regular soap and water and dry with a clean towel on a daily basis, more often during flu season.
Clean all high-touch surfaces daily with an EPA certified Safer for Use or Green Seal certified product.
 Use color-coded microfiber towels combined with the two-bucket cleaning method to eliminate cross-contamination.
Vacuum the floor daily with a HEPA filtered vacuum.
Clean up all spills and accidents immediately, disinfect as necessary, and prevent children from accessing the area for at least 20 minutes to allow the disinfectant the proper laytime and removal.
Ensure bathrooms and diaper changing stations are cleaned regularly.
Use certified green disinfecting wipes to sanitize high-touch surfaces throughout the day.
Recommendations for Parents
Most daycare facilities do not allow children who are obviously ill to be dropped off, and typically contact parents to pick up children that become ill.
If you know your child is ill, do yourself and everyone else a favor by keeping them home.
Additional exposure will not help them, and will likely negatively affect those that come into contact with the child.
Before signing your child up for daycare, request detailed information about their cleaning, disinfection, and daily health policies to ensure the facility is employing greener, safer products.
Additionally, insist that the facility and your child adhere to a high standard of hand-hygiene with regular soap, warm water, and clean paper towels.
References & Resources
Takeaway
Kids and germs are like peanut butter and jelly, and a daycare facility is the bread that brings them together.
Studies have shown that children exposed to the numerous germs commonly found in daycares tend to have stronger immune systems later in life.
However, ongoing exposure can lead to negative health issues and complications, especially when exacerbated by the toxic chemicals typically found in commercial and consumer-grade cleaning products, specifically bleach.
A greener alternative is more cost-effective, better for the environment, more desirous for conscientious parents, and carries fewer risks.
If you would like to learn more about how outsourcing the janitorial services for your daycare facility can significantly improve the disinfection strategies of your organization, as well as the overall health and safety of all occupants, especially the children–contact us today for a free quote!
In Bakersfield CA, call (661) 437-3253
In Fresno CA, call (559) 206-1059
In Valencia CA, or Santa Clarita CA, call (661) 437-3253