Clean and hygienic workplace restrooms--a strong indicator of how a business values its workforce--rank highly with office workers, even where clear improvements are called for.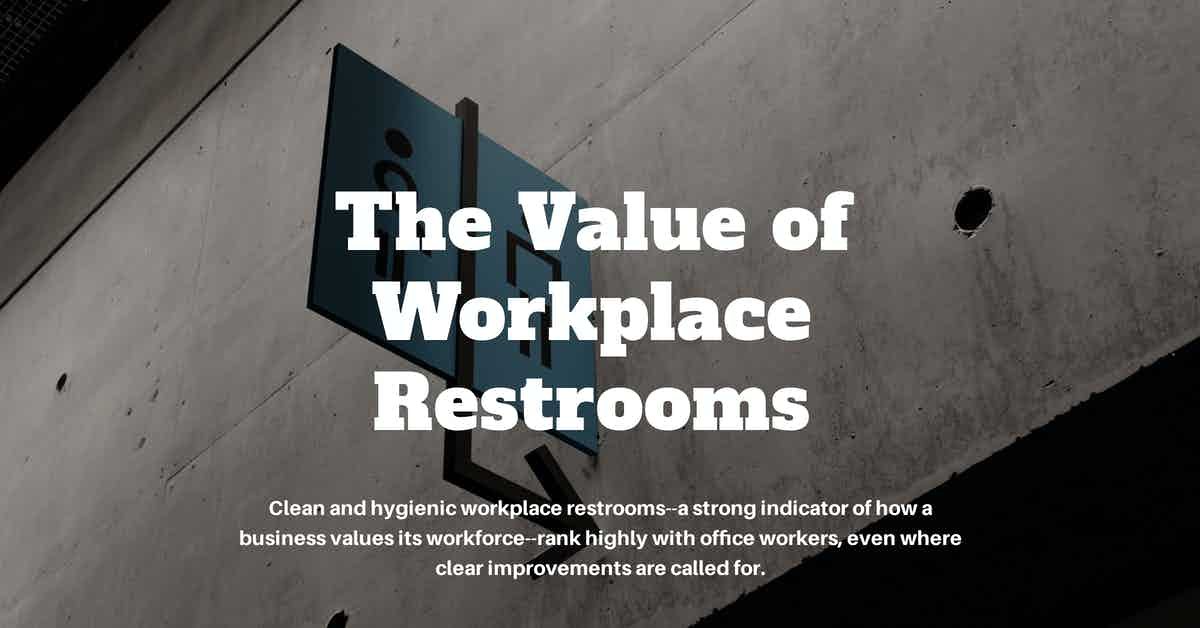 Office Workers Value Clean Workplace Restrooms
Happy office workers work harder and are more productive.
Conversely, unhappy or dissatisfied workers show an almost equivalent decrease in productivity.
A study by economists at the University of Warwick found that happy employees were 12% more productive, while dissatisfied workers proved 10% less productive.

If employees feel bored and undervalued, it will affect their performance.

According to the [...] study, organizations that invested in employee support and satisfaction were more likely to succeed in generating happier workers.

Employee satisfaction rose 37% as a result of staff incentives at Google.

If employees are happier, they'll feel more focused and motivated and they'll use their time at work more effectively, which means they'll get more done without sacrificing quality.
When a workplace demonstrates they care about their employee's health and wellbeing, trust is built, and workers feel like their employer cares about them, resulting in increased job satisfaction and correlating performance enhancements.
From an office worker's perspective, one of the major indicators that a business does or does not care about their staff is the cleanliness and hygiene of the restrooms.
The results of the Healthy Hand Washing Survey show 89% of Americans believe the condition of workplace restrooms is one indicator of how a company values its workforce.

And, even though 67% of workers rank their restrooms as excellent or very good, that doesn't mean there isn't room for improvement.

Can you guess typical employee restroom behavior? Do your restrooms show employees that the company values them?
Room for Improvement in Public Restrooms
Regardless of how office workers feel about the level of cleanliness and hygiene in the office restroom, there is likely room for improvement.
According to the previously cited Bradly Corporation survey, the most commonly listed issues workers have with office restrooms are:
93% - Empty or jammed toilet paper dispensers.
87% - Clogged or unflushed toilets.
81% - Toilet stall doors won't latch closed.
79% - Foul odors.
79% - Poor overall appearance, and;
76% - Jammed or empty paper towel dispensers.
Some of the items workers would like to see more of in restrooms include:
Automatic toilets and urinals.
Motion-activated faucets and air fresheners.
Full-length mirrors.
Shelving for personal belongings, and;
Electric hand dryers.
Providing these features in conjunction with a well-maintained and highly sanitized restroom will significantly increase occupant satisfaction and job performance and increase handwashing compliance in the workplace, a critical factor in reducing the spread of infectious diseases, such as influenza and COVID-19.
Keeping Workers Happy by Keeping Restrooms Clean
Restroom cleanliness in a time of heightened occupant awareness of the role facilities play in the transmission of infectious disease is critical for enticing workers back to the office, retaining critical labor resources, and protecting the health and welfare of facility occupants.
Lessons learned during the pandemic are vital in maintaining the highest standards of facility cleanliness and occupant safety, including:
Routine safety, product, and facility inspections, trash removal, and disinfection wipe downs.
Deep cleaning at least once per day for facilities in a community with minimal contagion spread, and more frequently when contagions are spreading throughout the community.
Weekly deep disinfection services with increased frequencies based on the community's spread of infectious diseases.
Cleaning outcomes can be significantly improved upon by implementing the following:
No-touch scrubber-vacs for deep cleaning walls and tile floors.
Electrostatic disinfection appliances for rapidly and efficiently disinfecting all restroom surfaces.
EPA-registered safer use cleaning and disinfection products for daily use to reduce occupant exposure to harmful chemicals that negatively impact indoor air quality.
Team cleaning procedures that increase cleaning efficiencies and leverage labor resources more efficiently, and;
Microfiber tools to increase cleaning effectiveness and reduce natural resource use and waste.
References & Resources
Takeaway
Employers seeking to maximize workplace satisfaction and workforce productivity must maintain the highest standards of cleanliness and occupant safety in their restrooms.
Modern cleaning tools and practices ensure significantly improved cleaning outcomes over conventional methods, especially when performed by trained, dedicated, and incentivized professionals.
Outsourcing is a proven method for onboarding rising in-demand sustainable cleaning for health services, tools, and expertise for a fraction of the cost of maintaining a similar service with direct hires.
If you would like more information regarding the effectiveness of high-performance infection prevention and control measures, or if you would like to schedule a free, no-obligation onsite assessment of your facility's custodial needs, contact us today for a free quote!
In Bakersfield, CA, call (661) 437-3253
In Fresno, CA, call (559) 206-1059
In Valencia CA, or Santa Clarita CA, call (661) 437-3253
In Palmdale, CA or Lancaster, CA, call (661) 371-4756