The ongoing rise in asthma and related allergies in the US has roots in indoor air quality, outdated cleaning methods, and the application of dangerous disinfectant products.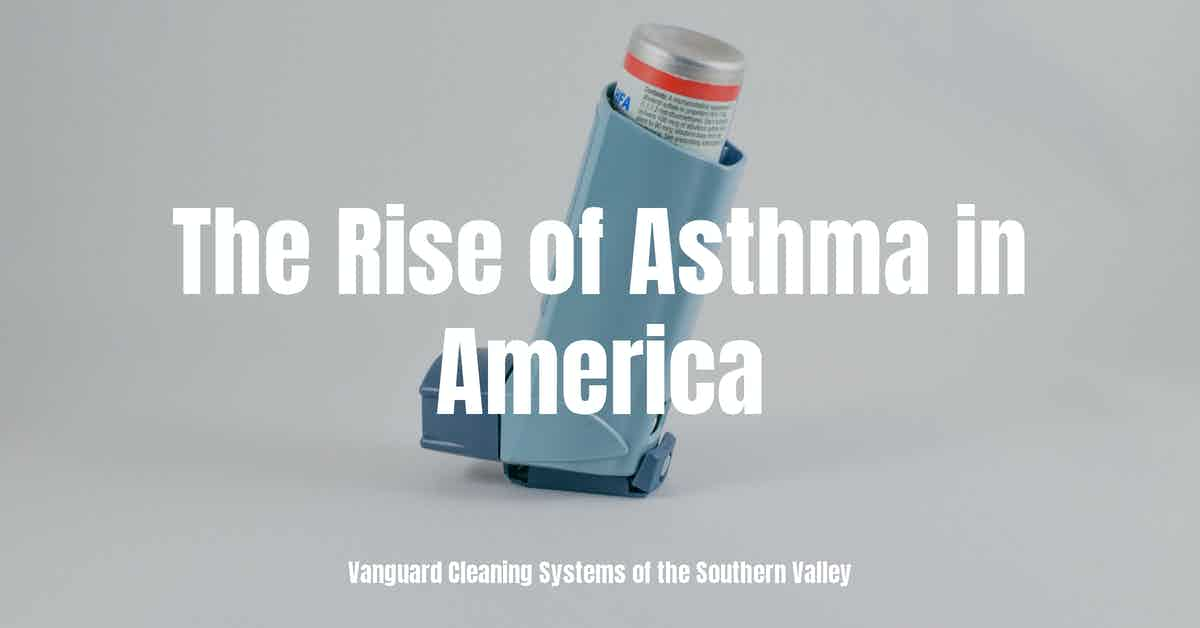 The Rise of Asthma in America and What Can be Done
Asthma in America is a multi-billion dollar health challenge that results in thousands of potentially preventable deaths each year.
According to the US Centers for Disease Control and Prevention:
About 1 in 12 people (about 25 million) have asthma, and the numbers are increasing every year.

About 1 in 2 people (about 12 million) with asthma had an asthma attack in 2008, but many asthma attacks could have been prevented.

Asthma cost the US about $56 billion in medical costs, lost school and work days, and early deaths in 2007.

The number of people diagnosed with asthma grew by 4.3 million from 2001 to 2009.

From 2001 through 2009 asthma rates rose the most among black children, almost a 50% increase.

Asthma was linked to 3,447 deaths (about 9 per day) in 2007.

Asthma costs in the US grew from about $53 billion in 2002 to about $56 billion in 2007, about a 6% increase.
During the 1970s, it is believed that asthma was on the decline in the US.
Then, almost inexplicably, cases began to skyrocket--a trajectory that has yet to reverse course.
Of the numerous reasons provided, including:
Poverty.
Obesity.
Smoking.
Genetics.
Misdiagnosis, whether intentional or accidental.
Diet, and even;
Tylenol;
Several strong correlations are commonly noted and cited, including:
Time spent indoors, especially in buildings with poor ventilation.
Exposure to allergens, including smoke, pollen, chemicals, cockroaches, and other pests, and;
The overuse of disinfectant products in homes and public facilities, especially where proper ventilation is lacking.
Asthma and Disinfectants
Exposure to chemicals found in commonly employed disinfectants can trigger asthma symptoms in adults and children and can result in the onset of asthma or asthma-like symptoms in individuals who have never had issues in the past.
The University of Illinois Chicago conducted a recent survey that assessed the impact of increased COVID-19 disinfection measures on those with asthma.
The study examined the use of disinfectant products by 795 adults who self-reported having asthma.
According to the study:
40% of respondents reported uncontrolled asthma in the past four weeks.
Of the 795 respondents, the percent who reported household disinfectant use five or more times per week increased:
138% for disinfectant wipes.
121% for disinfectant sprays.
155% for bleach and water solution, and;
89% for other liquids since the COVID-19 pandemic began.
Source:
The Hygiene Hypothesis
The overuse of chemical disinfectant products does not just expose building occupants to a wide range of airborne toxins that have been shown to harm our bodies and environment.
Too much disinfectant where it is not recommended or required (outside of a healthcare environment) can result in a facility that is "too clean."
The too clean environment, especially for very young children, results in stunted immune system development.
According to MedicineNet:
Stimulation of the immune system causes a number of immune cell types to proliferate (for example, T cells, B cells, macrophages, eosinophils, killer cells), some of which attack infectious agents directly, other produce substances (for example, antibodies and cytokines) that cause or potentiate immune attacks.

The hygiene hypothesis suggests that delays in exposure to normal bacteria in the body as well as disease-causing agents make a weaker immune response and that in turn, produces a weaker ability of the immune system to recognize and respond to suppress the inflammatory response when it is challenged.

Researchers suggest that bacterial and parasitic organisms when exposed to a maturing immune system, cause the continuing development to proceed normally.

Consequently, in a "too clean environment," infants and young children may not have their immune systems challenged appropriately, and, according to the hygiene hypothesis, go on to develop problems such as asthma and other immune-related conditions.
Asthma During Cold and Flu Season
Cold and flu season can seriously aggravate asthma symptoms and result in increased instances of attack.
Additionally, those with asthma who get the cold or flu tend to stay ill longer than those without, on average.
According to Health:
Respiratory tract infections aggravate the chronic lung inflammation of asthma, which can lead to wheezing, coughing, difficulty breathing, and asthma attacks.

The flu, common cold, and other respiratory infections are responsible for about 80% of wheezing episodes in children, and about 50% of such episodes in adults.

The flu, whether it's swine flu (H1N1) or seasonal flu, can be even more perilous.

A recent analysis of cases found that 28% of people hospitalized with swine flu had asthma.

People with asthma are more vulnerable to complications stemming from the flu—such as pneumonia—and are more likely to be hospitalized.
Combatting the Rise in Asthma During COVID and Into the Future
Safely combatting the ongoing increase in people living with asthma, attacks, and deaths, particularly during the ongoing COVID-19 health crisis, will require:
Integrating occupant-focused, health-based enhanced cleaning measures and associated products.
Reducing the instance of broad disinfectant applications and replacing that approach with targeted fomite disinfection, and;
Increasing indoor air quality through improved product selection and HVAC ventilation.
References & Resources
Takeaway
The increase in people living with asthma has placed a multi-billion dollar burden on the public health system, and the problem is only getting worse.
Conventional cleaning methods, indoor ventilation systems, and commercial cleaning products bear much of the blame.
Updating these methods aligns with the necessary trajectory shift required to prevent the spread of COVID-19 and its variants.
Applying these methods, including the required equipment and training, can be cost-prohibitive for many businesses.
Further, the time from acceptance to full adoption will expose many facility occupants to needless health risks.
Outsourcing is a proven method for onboarding rising in-demand sustainable cleaning for health services, tools, and expertise for a fraction of the cost of maintaining a similar service with direct hires.
If you would like more information regarding the effectiveness of high-performance infection prevention and control measures, or if you would like to schedule a free, no-obligation onsite assessment of your facility's custodial needs, contact us today for a free quote!
In Bakersfield, CA, call (661) 437-3253
In Fresno, CA, call (559) 206-1059
In Valencia CA, or Santa Clarita CA, call (661) 437-3253
In Palmdale, CA or Lancaster, CA, call (661) 371-4756