Hardwood flooring remains a highly desirable office flooring solution for many businesses due to its stylish design and durable finish.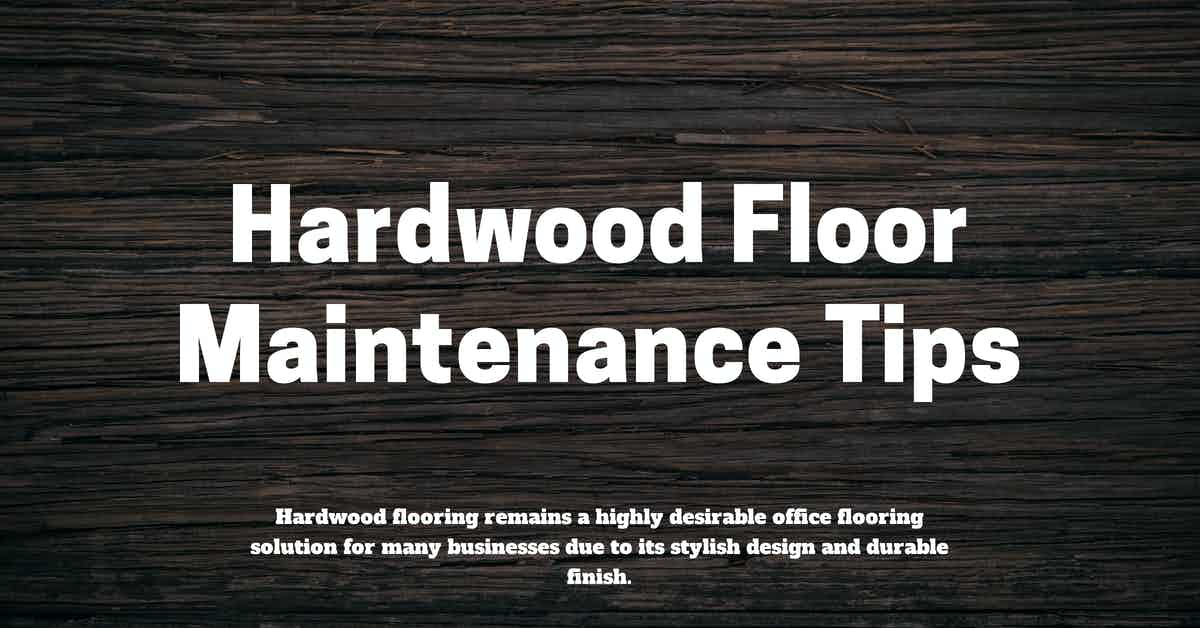 Maintaining Your Businesses Hardwood Flooring
Hardwood flooring has been and remains one of the most popular office space flooring solutions on the market for several reasons, including its stylish look and durable finish.
However, it is not without drawbacks and challenges.
According to Construction Review Online;
Hardwood flooring has been the stylish look in most offices from time immemorial and has never gone out of style.

It elevates the look and feel of the interior design of an office besides being durable and easy to clean.

It is a great office flooring office option for areas that have a lot of activity.

Even though it faces damage from moisture, choosing a pre-finished floor can help maintain its appearance.
Tips for Keeping Your Offices' Hardwood Flooring Looking Amazing
When properly cared for, hardwood flooring will last years between resurfacing requirements.
Sweep & Vacuum
The first requirement is regular maintenance, which means:
Sweeping the floor every day, preferably with a microfiber broom, and;
Vacuuming the floor at least once per week.
Ensure the vaccum is set to a hardwood floor setting and that the roller is disabled to avoid damaging the surface.
Mop
Heavily trafficked areas of your hardwood floor should be mopped at least once per month.
Hardwood flooring is susceptible to water damage, so a few extra precautions are necessary.
The first and most effective approach is to use a damp mop.
Any mop will suffice, but the best mop for the job is a flathead microfiber mop.
Wring out most of the water so that the cloth is almost dry and mop the floor just as you would any other surface.
Clean up any spills or excess moisture immediately.
If you would rather play it safe, an alternative to damp mopping is to use a specialized hardwood floor cleaning spray combined with a flathead mop.
Spray the specialized product per the manufacturer's label and apply it smoothly across the flooring with the mop allowing the floor to air dry.
Never use do-it-yourself or homemade products to clean your floor, and avoid using harsh detergents and disinfectant products.
Revitalize & Protect
Revitalizing and protecting your office's hardwood flooring will protect your financial investment in the built environment while staying off the need for expensive refinishing tasks for several years.
As needed;
Apply scratch concealers to repair minor blemishes, and;
Use floor wax along the grain of the wood to restore the floor's shine.
Walkway and entrance matting--both indoors and out--will protect the floor from damage and wear and tear while reducing the volume of soil trafficked into the office on occupant shoes and significantly reduce the amount of time and money needed to clean the floors.
Ensure the matting is properly cared for according to manufacture recommendations.
Vacuum it daily and clean under them at least weekly, and;
Clean up any spills immediately.
Finish and Re-Finish
A well-maintained hardwood floor should have a fresh coat of finish applied to it once every three to five years, depending on age, wear and tear, and foot traffic.
First, perform standard cleaning, including clutter removal, sweeping, and damp mopping.
Then, once any remaining moisture from the damp mop has evaporated, apply the finish along the grain according to the manufacturer's recommendations.
Regardless of how well a hardwood floor is cared for, it will need to be refinished once every ten years.
Typically this process should be left to trained professionals.
Remove all furniture and debris.
Hammer down any exposed nails.
Fix any loose or squeaking boards.
Seal all air vents.
Pull up the molding around the edge of the floor.
Rough sand the floor with a belt or drum sander.
Sand the edges and corners with an edge sander.
Screen sand the floor with a buffer and fine-grit screen pad.
Sweep and vacuum the whole area to remove any dust.
Apply the wood stain along the grain, then;
Apply the finish along the grain once the wood stain has completely dried.
References & Resources
Takeaway
Hardwood floors remain one of the most popular flooring solutions for office spaces seeking a stylish look combined with a low maintenance price tag.
Daily maintenance is required and should only be performed by trained professionals using specialized equipment and chemicals.
Failing to follow specific guidelines will result in premature damage and thousands of dollars in repair costs.
If you would like more information regarding the effectiveness of high-performance infection prevention and control measures, or if you would like to schedule a free, no-obligation onsite assessment of your facility's custodial needs, contact us today for a free quote!
In Bakersfield, CA, call (661) 437-3253
In Fresno, CA, call (559) 206-1059
In Valencia CA, or Santa Clarita CA, call (661) 437-3253
In Palmdale, CA or Lancaster, CA, call (661) 371-4756