Facility odors--considered among the most difficult challenges facing custodial workers--are an enormous problem resulting in significant customer churn and reduced profits.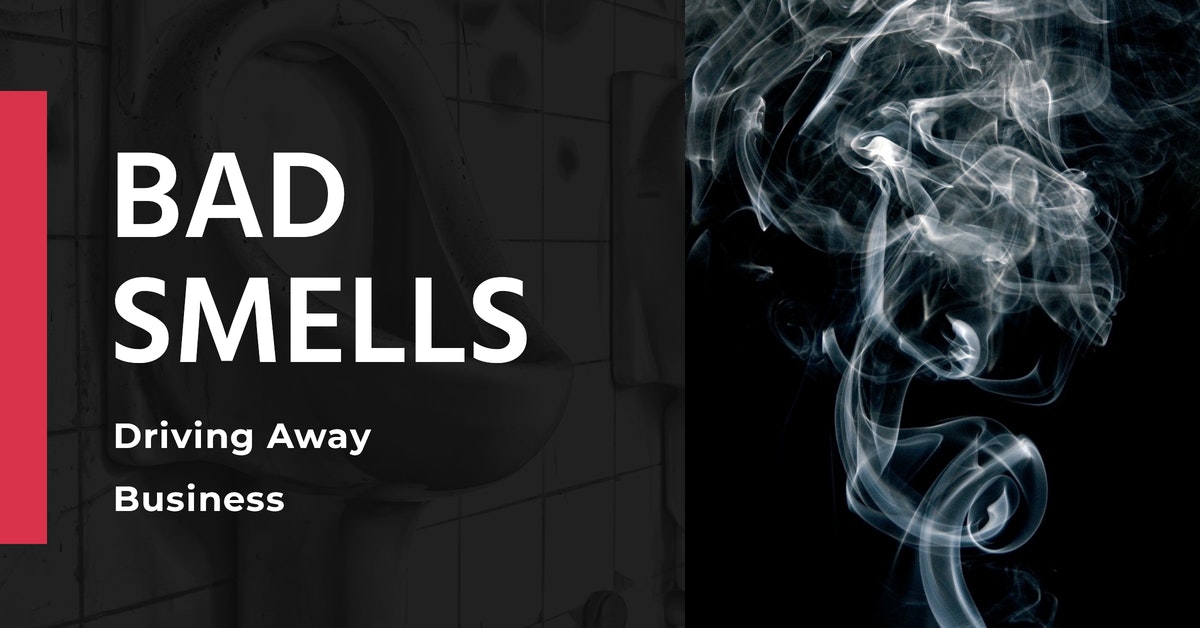 Facility Odors Drive Away Business
The consensus is in--bad smells are bad for business.
When customers walk into your facility, and the first thing they encounter is a foul odor, they are more likely than not to assume the rest of the establishment is unhygienic, then leave, likely never to return.
A recent online Harris Poll on behalf of Oxy-Gen Powered surveyed more than 2,000 American adults regarding their opinion of a business or facility after encountering a foul odor, reporting that:
93% say a foul odor would negatively impact their perception of the facility.
56% said after encountering a bad smell in a facility, they would assume it was not clean.
54% stated they would look for an alternative facility.
50% would spend less time in the facility.
46% would tell friends, family, or colleagues about the incident, and;
34% would never come back.
The opinions varied across industries and venues, with:
79% stated a bad smell in a restaurant would negatively impact their perception of the business.
75% cited hotels.
64% listed shopping malls and retail establishments.
Office buildings got off a little lite at 57%, and;
Gyms and fitness centers (perhaps understandably) were the least likely to be judged poorly, coming in at 56%.
Source:
According to Andy Piucci, vice president of North America sales for North America, Oxy-Gen Powered;
No building occupant or visitor wants to be greeted with an unpleasant smell in a lobby, restroom or anywhere else in a facility.

This research highlights the risk organizations take when they fail to properly eliminate indoor odors caused by urine, feces, kitchens, mold, mildew, pets, and more.
Odor Removal Challenges
Combatting odors remains one of the most challenging tasks facing facilities maintenance and custodial teams.
According to CMMOnline, citing a survey conducted by Clorox Professional Products Co. of more than 400 cleaning professionals;
Seventy-nine percent of cleaning professionals said removing odor from the air was their biggest cleaning challenge, and many of them also identified urine, feces, vomit, mildew, body odor, smoke, or garbage odors as the most difficult to tackle.

Not surprisingly, odors in restrooms and garbage areas are toughest to combat.

Respondents also said garbage and restroom odors generate the most complaints.
Tips for Odor Removal
Not all smells are created equally and should not be attacked with a one size fits all solution, especially if that solution is a masking fragrance more likely to irritate and repel facility occupants and customers than resolve any odor challenge.
Identify the source - If the source of the smell is temporary or transient, such as odors coming from a trashcan or from outside, eliminate the source.  If it is something more permanent or regularly occurring, you'll need to eliminate the source of the odor with the correct cleaning products and disinfectants.
Select the proper cleaning products - The type of cleaning product you select will vary depending on the surface that is to be cleaned. Surfactant-based cleaners remove urine from hard surfaces, removing the food source for odor-causing bacteria.  A disinfectant will kill the odor-causing bacteria.
References & Resources
Takeaway
Bad smells drive away business and, according to several reports, keep it away.
Confronting the challenges of foul odors, especially recurring ones originating in heavily trafficked restrooms or busy kitchens, can be difficult, but the worst thing a business or facility manager can do is ignore the problem.
Adding to the challenge are the dangers associated with the use of many chemical cleaning and disinfection products--some products are meant for removing the source of the bacteria's food, some for killing the bacteria, and some if mixed together, can kill you.
A superior alternative, especially regarding the cleanup of kitchens and restrooms, is the use of no-touch cleaning systems combined with electrostatic disinfection appliances, which significantly reduces labor, time, and contact with dangerous chemicals.
Outsourcing your facilities' cleaning and disinfection requirements to an experienced service provider is a proven method for safely controlling odors and ensuring occupant health, safety, and customer satisfaction.
If you would like more information regarding the effectiveness of high-performance cleaning and disinfection services, especially as they pertain to odor control, or if you would like to schedule a free, no-obligation onsite assessment of your facility's custodial needs, contact us today for a free quote!
In Bakersfield CA, call (661) 437-3253
In Fresno CA, call (559) 206-1059
In Valencia CA, or Santa Clarita CA, call (661) 437-3253
In Palmdale CA, or Lancaster CA, call (661) 371-4756