Infection prevention and control measures in training rooms, gyms, and fitness centers have a positive impact on occupant health by reducing their exposure to dangerous germs and bacteria commonly found in these types of facilities.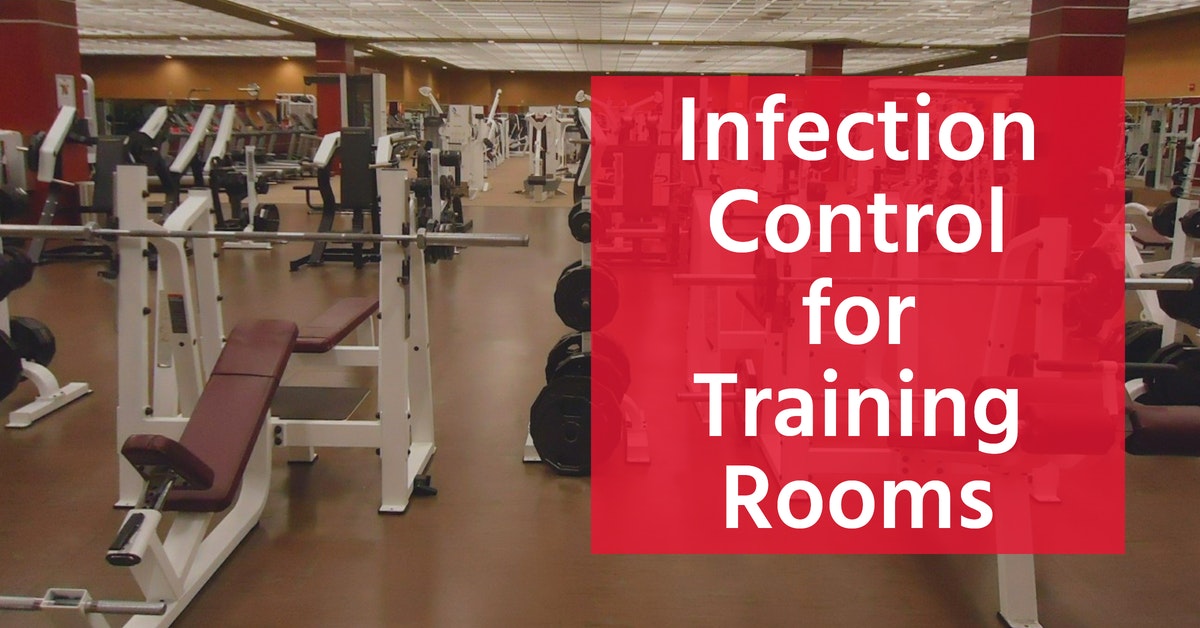 Infection Prevention and Control Programs for Traning Rooms and Fitness Centers
A recent study established evidence supporting the implementation of self-service infection prevention services, combined with professional infection control and education programs to combat the spread of dangerous multi-drug resistant bacteria and germs in training facilities.
Researchers from University Hospitals Sports Medicine, in a partnership with GOJO Industries, selected two high schools and two colleges in Ohio.
Each facility was swabbed before introducing hand sanitizer and self-service disinfectant spray, and then three more times at various stages of the study.
According to the results;
[...] simply having the products available for the room occupants resulted in a more than 60% reduction of all types of bacteria.

Combining this availability with education and protocols on the use of the products resulted in a 95% reduction of all types of bacteria, Antibiotic-resistant bacteria, specifically MRSA and Vancomycin-resistant enterococcus (VRE), which were found on 24% of surfaces in the training room at the beginning of the study, were eliminated by the end.

Additionally, influenza germs, which were detected on 25% of the analyzed surfaces, such as door handles, water bottle lids, and water cooler nozzles, also were eliminated on surfaces swabbed after researchers implemented the infection control program.

Study: Infection Control Programs Can Cut Bacteria in Training Rooms
Training Room Hygiene Challenges
While musculoskeletal injuries dominate concerns regarding the health and safety of high school and collegiate athletes, several studies have established the presence of a high number of multi-drug resistant bacteria and infectious disease throughout the training room facilities--the most common being MRSA, especially among contact-sport athletes, particularly high school students.
According to a recent publication in Sage Journals;
Of 21 infection outbreaks in competitive athletes over a 5-year period, 1 in 3 was caused by MRSA.

A recent survey reported the incidence of MRSA infections as 26.8 per 10,000 athletes in 2015-2016 and 20.3 per 10,000 athletes in 2016-2017.

Infection incidence was highest in contact sport athletes, such as wrestlers and football players, with incidence rates of 248 per 10,000 and 71 per 10,000, respectively.

Such infections have been associated with significant morbidity, with up to 70% of patients acquiring MRSA infections requiring hospitalization and intravenous antibiotics.

Infection Risk Reduction Program on Pathogens in High School and Collegiate Athletic Training Rooms
According to the same study, 35% of high schoolers self-reported inadequate hand hygiene practices with little to no knowledge of disinfection practices.
Addressing Training Facility Hygiene Challenges
Fortunately, intervention proved successful for all facilities.
Post-intervention swab tests showed a reduction in multi-drug resistant bacteria by approximately 95% across both high school and college facilities, and a reduction of influenza from 25% of tested surfaces to 0% at the end of the study.
The intervention methods applied included:
Making hand sanitizer and disinfectant spray available throughout the training facility, and;
Educating coaches, trainers, and athletes regarding the importance and timing of hand hygiene and surface disinfection before and after equipment use, as well as the importance of personal hygiene.
Takeaway
The threat posed to student--high school and college--athletes by multi-drug resistant bacteria and infectious disease commonly found on surfaces throughout athletic facilities and easily transmitted via direct contact is only now beginning to be understood.
Professional sports teams are subject to incredibly high standards of facility cleanliness and hygiene.
However, one thing that contributes to the comparative absence of infectious disease spreading among professional athletes, especially compared to high school students, is education regarding personal and equipment hygiene and infection prevention practices--specifically, hand hygiene after using the restroom, and equipment disinfection before and after use.
Combining these practices with high-performance cleaning and disinfection practices provided by a knowledgeable service provider is a proven method for ensuring the health and safety of all facility occupants, especially vulnerable student-athletes.
If you would like more information regarding the effectiveness of high-performance infection prevention and control measures, or if you would like to schedule a free, no-obligation onsite assessment of your facility's custodial needs, contact us today for a free quote!
In Bakersfield CA, call (661) 437-3253
In Fresno CA, call (559) 206-1059
In Valencia CA, or Santa Clarita CA, call (661) 437-3253
In Palmdale CA, or Lancaster CA, call (661) 371-4756