It may come as somewhat of a surprise to many that the perception of cleanliness and hygiene, as well as healthy habits, are entirely subjective in the eyes of many, ultimately resulting in concerning working and learning conditions.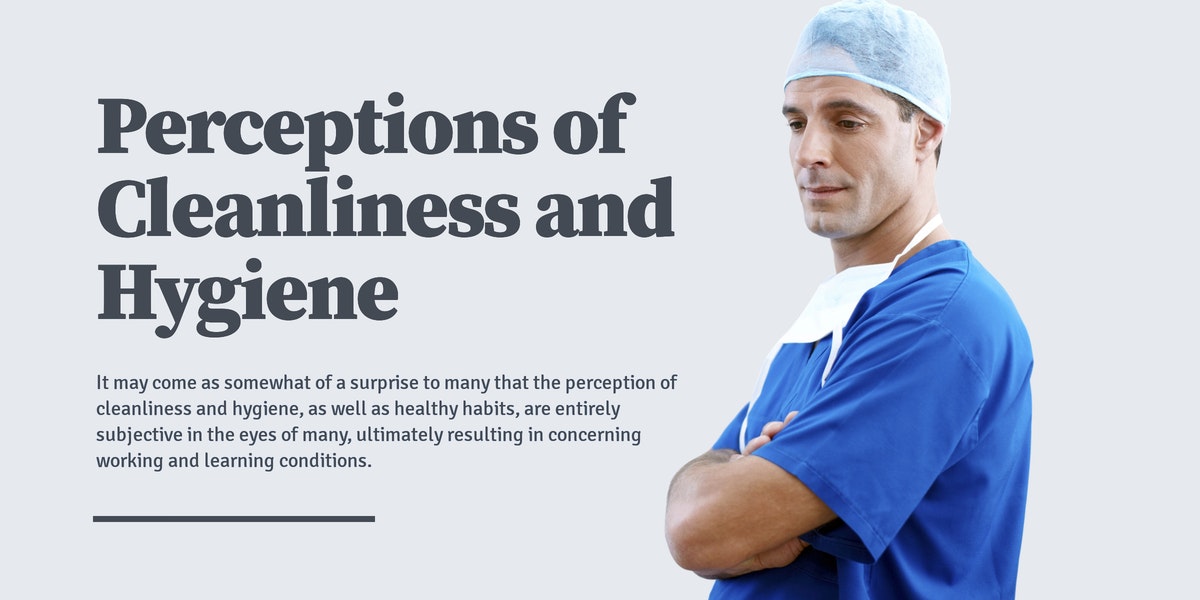 What Does Clean Mean?
What does it mean to be clean?
A recent survey in the U.K. conducted by Formica Group examined the perceptions of the cleanliness of an establishment based on the condition of their restrooms.
Their results were unsurprising.
According to Cleaning & Maintenance;
Overall two-thirds of those surveyed agreed that the cleanliness of a bathroom would be likely to influence their perception of the quality in other areas of the establishment - for example, the food served or the cleanliness of the bedrooms in a hotel.

When it comes to public washroom ratings men and women have reasonably equal standards of cleanliness.

57% of women reported that they have visited a public washroom which was so bad it put them off revisiting the venue compared to 53% of men.
What that means is, the rest of the establishment could have been spotless and the picture of hygiene, but the perception of the customer was that the rest of the venue was likely filthy, due entirely to a foul smell in the bathroom.
While on the surface, that makes some small amount of sense.
However, it runs completely counter to typical human behavior, which is the opposite of ideal or hygienic.
Take, for instance, the ever-present smartphone.
According to NY Daily News;
One in every four Americans never cleans their phones.

Some 43% of the respondents said they "don't hesitate" to put their phones into their mouths if they need their hands free.

This is despite smartphones entering public spaces and being exposed to myriad microbes on a daily basis.

Talking dirty: New survey says 23% of smartphone users never clean their devices; 43% put it in their mouths
That's right--straight into the mouth, zero hesitation.
How does that run counter to our perception of cleanliness?
There's a very high probability that the smartphone owner doesn't wash their hands, even if they work in the healthcare or food service industry.
According to WHO, even in resource-rich hospital settings, hand hygiene compliance can be well below 40 percent.

Elsewhere, the Food Standards Agency found that a shocking 39 percent of staff do not wash their hands after visiting the toilet, and a huge 53 percent do not wash their hands before preparing food.

Hand hygiene has a part to play in general washrooms too – less than six percent of the population wash their hands adequately.
Well, what about fancy high-tech antimicrobial screen protectors?
I'm glad you asked.
According to a report published in Infection Control & Hospital Epidemiology, a study was conducted to test the efficacy of antimicrobial silver-coated glass screen covers belonging to resident physicians at Duke University Medical Center in Durham, North Carolina.
The phones were first sterilized before the cover was put in place.
Researchers were hopeful the screen covers would significantly reduce the number of pathogens found on the phones long term, specifically the five most common germs found on the residents' hands: Cutibacterium, Delftia, Lawsonella, Staphylococcus, and Streptococcus.

Although they found a lower diversity of bacteria on the devices after seven days, after 30 days the phones had lost their antimicrobial properties.

Antimicrobial Screens Ineffective in Preventing Cell Phone Contamination
Misconceptions Negatively Impact Health
Unfortunately, misconceptions regarding cleanliness, health, and hygiene do not stop at questionable smartphone handling practices, and this is quite often the result of poorly communicated and understood information circulating in the public domain.
The most problematic of these misconceptions is that something can be too clean.
This often plays out in the conventional myths--that exposure to germs, especially among children, is a good thing.
A recent survey conducted by the Royal Society for Public Health (RSPH) found that of the respondents to their poll;
[...] one in four (23%) believed hygiene in the home was not important in the belief that children need to be exposed to harmful germs to build their immune system.

This misbelief has persisted since the hygiene hypothesis emerged – that cleanliness is linked to rising allergies in children.

We now know that the exposure children need is not to infectious diseases, but microbes we share with friends and family in our natural environment.
The Misperception and Misconception of the Mysterious Bathroom Odor
While the perception of an unhygienic facility predicated on a foul odor emanating from a restroom is warranted, the subsequent behavior of the occupants demonstrates a significant misconception regarding what the problem is and how their behavior compromises their health and safety.
There is a strong probability that the restroom stinks because there is no toilet lid on the seat, which allows smells to escape.
However, that's not all that escapes--toilet plumes, even in low-flow toilets, are a real problem resulting in the eruption of germs from the bowl several feet into the air and around the stall, coating every conceivable surface, including your smartphone, which you are statistically likely to stick in your mouth without cleaning it or washing your hands.
The same goes for your healthcare provider and the individuals who prepare your food.
At this very moment, you've realized there is no such thing as too clean.
Takeaway
Cleaning for health addresses many of the challenges facing schools and businesses in regards to the perception and misconception of what it means to be clean--aesthetically versus what is in the best interest of the public's health.
Obviously, education regarding personal hygiene habits is critical to ensuring the safety of everyone, as poor personal habits can result in infections that are easily spread to others, resulting in preventable outbreaks, hospitalizations, and needless deaths.
If you would like more information regarding the effectiveness of high-performance infection prevention and control measures, or if you would like to schedule a free, no-obligation onsite assessment of your facility's custodial needs, contact us today for a free quote!
In Bakersfield CA, call (661) 437-3253
In Fresno CA, call (559) 206-1059
In Valencia CA, or Santa Clarita CA, call (661) 437-3253
In Palmdale CA, or Lancaster CA, call (661) 371-4756