Environmental factors such as indoor air quality and surface hygiene play a significant role in the health-related causes of chronic student absenteeism in the United States.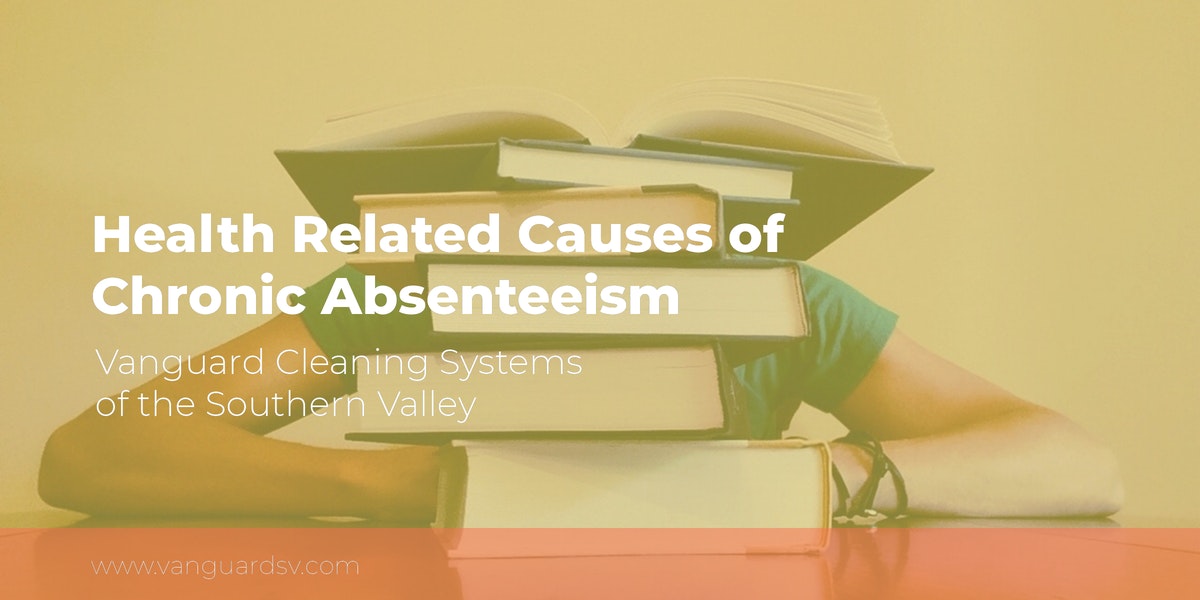 Addressing the Challenges of Environmental Cleanliness and Hygiene as it Relates to Chronic Student Absenteeism
Chronic student absenteeism is a growing crisis in U.S. schools, resulting in the classroom and learning disengagement, reduced reading abilities, and a higher likelihood of dropping out before the completion of high school.
According to Education Week;
New federal civil rights data show nearly 8 million students nationwide were reported chronically absent from school in 2015-16, representing 16 percent of all K-12 students.

That's up by a million or more students from the last national count in 2013-14, when 14 percent of students were reported as missing 15 or more days in the school year.

Chronic absenteeism has been associated with a slew of problems, including lower reading achievement and engagement in school, and ultimately a higher risk of dropping out.

How Many Students Are Chronically Absent in Your State? Federal Data Show Rates Rising
Of the barriers contributing to absenteeism--chronic health conditions, especially asthma and influenza or influenza-like illness (ILI), are most commonly cited.
These types of barriers are due in large part to a reduction in the proactive management and maintenance of several environmental aspects of classroom infrastructure that directly impact occupant health--specifically indoor air quality, pest control, and exposure to hazardous materials.
According to the Healthy Schools Network;
Decades of studies show that children, especially the youngest and those with pre-existing health or learning issues, are adversely impacted by decayed learning environments, in school, and in childcare.

Federal studies have also shown that fewer schools today than ten years ago are proactively managing Indoor Air Quality, Safer Pest Control, and Hazardous Materials.

Only nine states require schools to test at the tap for lead, and no states require identifying or removing highly toxic PCBs from school caulk or light ballasts. There can still be childcare sites polluted by mercury residues.

Lead, PCBs, and mercury are all harmful to thinking.

A Healthy School for Every Child: Eliminating Hazards in Schools and Child Care Facilities
Why Chronic Absenteeism is a Problem
Chronic absenteeism has been shown to result in several socially undesirable life outcomes for individuals, including:
Smoking.
Obesity.
Diabetes, and;
Early/premature death.
According to the Healthy Schools Campaign;
Chronic absenteeism has a direct impact on a student's academic success.

Frequent absences can be devastating for a child's school success.

Students who are chronically absent in both kindergarten and first grade are much less likely to be reading at grade level by third grade.

Students who are not reading at grade level by third grade are four times more likely to drop out of high school.

Students who are chronically absent for any year between the eighth and twelfth grade are over seven times more likely to drop out.
Cleaning for Healthy Schools
Eliminating environmental factors that contribute to asthma, asthma-like symptoms, respiratory illness, influenza, and ILI are surprisingly simple and inexpensive.
According to the organization, Cleaning for Healthy Schools, districts should:
Prevent Dirt - This includes regular dusting, vacuuming, sweeping, mopping, and the strategic placement and maintenance of entry and walkway mats.  The use of microfiber and HEPA filtered equipment is strongly recommended to ensure maximum efficacy.
Use less-toxic, third-party certified cleaning and paper products and hand soaps - Conventional commercial and commonly used residential cleaning products introduce toxic compounds into the air and leave toxic residue on commonly touched surfaces, rendering the indoor environment highly-toxic and inconducive to a high-quality learning environment.  Products certified by the Environmental Working Group or by the Environmental Protection Agency's Safer Choice label are preferable.
Cleaning with an all-purpose product removes most germs. Disinfect only target areas - All-purpose cleaners will reduce the level of germs and illness-causing bacteria down to safe levels for occupants with healthy immune systems.  Strategic disinfection of high-touch/high-contact surfaces typically referred to as fomites, will significantly reduce the chances of infectious disease spreading while protecting the indoor learning environment from the introduction of harmful chemicals.
Update and maintain equipment - Old equipment, especially mops and rags, can become heavily soiled with dirt and germs and represent a significant health hazard--contributing to one of the worst offenses in the custodial industry--surface cross-contamination.  Washable microfiber towels, brooms, and mopheads are easily serviceable and havea higher return on investment, long-term.
Source:
Takeaway
Chronic student absenteeism is an American tragedy stemming from multiple overlapping causes and barriers.
Of those barriers, chronic-illness as a result of exposure to unhealthy environmental factors in the classroom is the most preventable, and most tragic.
Adjusting your district's approach to cleaning from conventional methods to a focus on cleaning for health first will have a dramatic impact on student health, attendance, and overall performance.
If you would like more information regarding the effectiveness of high-performance infection prevention and control measures, or if you would like to schedule a free, no-obligation onsite assessment of your facility's custodial needs, contact us today for a free quote!
In Bakersfield CA, call (661) 437-3253
In Fresno CA, call (559) 206-1059
In Valencia CA, or Santa Clarita CA, call (661) 437-3253
In Palmdale CA, or Lancaster CA, call (661) 371-4756