World Water Week 2022--occurring between August 23rd through September 1st and organized by the Stockholm International Water Institute--aims to make the invisible visible by bringing to attention concerns regarding rapid aridification and permanent climate change in the U.S.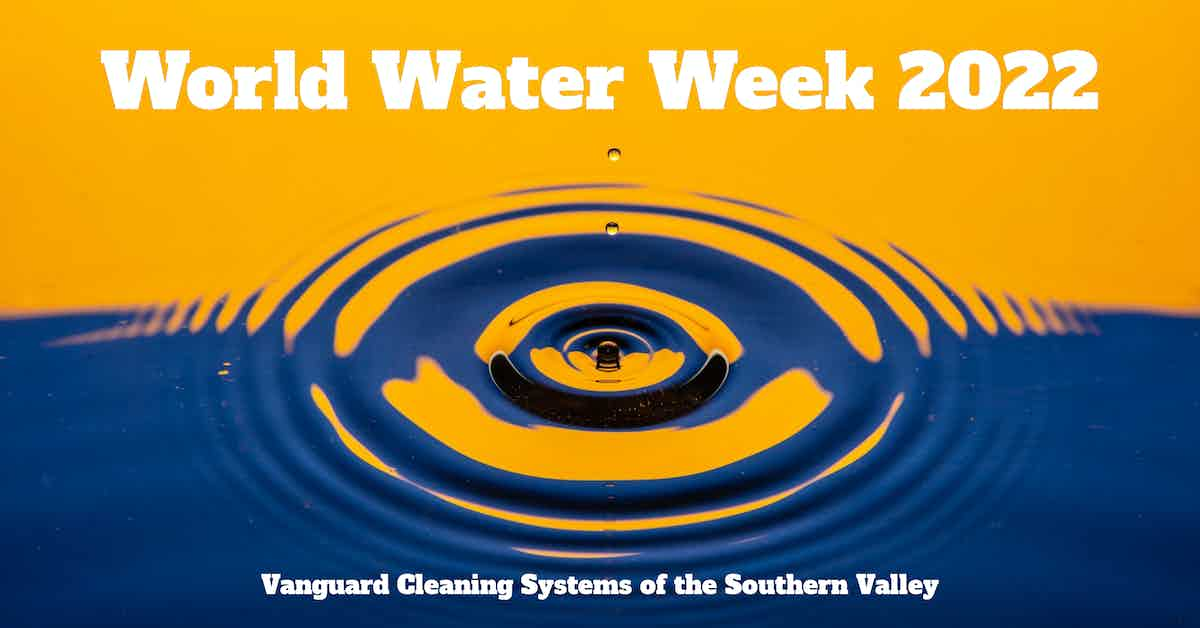 Groundwater Reliance in the Western U.S.
Several naturally arid Western U.S. states increasingly rely on groundwater banked in aquifers.
Some areas in the region have experienced prolonged droughts.
Lack of rainfall combined with increasing populations has strained the aquifer system, and some officials have begun sounding alarms to highlight potential future challenges.
According to Klaus Reichardt, CEO, and founder of Waterless Co., Inc.;
Historically, communities treat groundwater (water from aquifers) as a water savings account

They would borrow only as needed and then let it naturally refill.

[But] many areas of the world, including several western U.S. states, are becoming dependent on their groundwater savings account. This has the potential of setting up some dire consequences.

If there is little or no rainfall and the aquifers are dry, where will these areas of the world get water?
Reducing Water Waste Through Enhanced Cleaning
Conventional janitorial operations in office buildings unnecessarily waste considerable volumes of water.
Per the U.S. Environmental Protection Agency;
Approximately nine percent of the total water use in commercial and institutional facilities in the U.S. takes place in office buildings.

The three largest uses of water in office buildings are restrooms, heating and cooling, and landscaping.

The business benefits of implementing water-efficiency measures in and around office buildings can include reducing operating costs, as well as meeting sustainability goals.

In addition to water savings, facilities will see a decrease in energy costs because of the significant amount of energy associated with heating water.
However, cleaning outcomes can be dramatically improved while water use and waste are reduced by adopting enhanced cleaning processes that leverage microfiber and modern automated floor scrubbers.
In regards to auto-scrubbers;
One advancement in recent years that allows the use of less water and less chemical while maintaining superior cleaning effectiveness is orbital scrubbing technology.

High-speed orbital scrubbing with small, high-speed orbits keeps the water and chemical under the pad longer for effective cleaning.

Less water and chemical use not only means a lower cost to clean by reducing chemical usage but also increases productivity and reduces labor cost by extending the time between dump-and-refill cycles.

In a traditional scrubber, a low-water setting or option lets the contractor use less and waste less whenever they can while still satisfying their customer.
In regards to microfiber;
[Microfiber] reduce[s] exposure to chemicals in the ECE environment and reduce pollution from cleaning chemicals.

Microfiber saves the ECE provider up to $100.00 per year in cleaning costs because they are reusable and durable.

Microfiber uses 95% less water and chemicals than cotton mops and cloths.
Correcting Water Waste
Addressing facility water waste starts with examining the building to identify leaks and wasteful processes.
From there, a plan is created that should include all facility stakeholders.
Significant areas where facility maintenance and custodial teams can assist include:
Identifying and repairing leaky faucets and fixtures in restrooms, breakrooms, or irrigation systems.
Performing proactive maintenance on cleaning tools and equipment, and;
Employing chemical management systems to accurately dilute cleaning products without using too much or too little water.
Takeaway
The overreliance on outdated groundwater aquifers in Western U.S. states in the midst of rising populations is exacerbating apparent aridification throughout the region.
Water is a critical resource, and more can and should be done to prevent its waste and to avoid polluting what clean water we have access to.
Environmentally sustainable cleaning practices have been shown to significantly reduce the carbon footprint, natural resource use, and waste stemming from office building occupation and use.
Onboarding the requisite labor and material resources necessary to maintain high-quality cleaning outcomes while reducing waste may prove cost-prohibitive for many organizations struggling with the current state of the economy.
Outsourcing is a proven method for onboarding highly in-demand cleaning and disinfection services and experience for a fraction of the price of maintaining a similar service in-house.
If you would like more information regarding the effectiveness of high-performance infection prevention and control measures, or if you would like to schedule a free, no-obligation on-site assessment of your facility's custodial needs, contact us today for a free quote!
In Bakersfield, CA, call (661) 437-3253
In Fresno, CA, call (559) 206-1059
In Valencia, CA, or Santa Clarita, CA, call (661) 437-3253
In Palmdale, CA, or Lancaster, CA, call (661) 371-4756