At the height of the COVID-19 pandemic, facility cleaning efforts were erroneously focused on the overuse of surface disinfectants at the expense of indoor air quality--a trend that has not been corrected adequately in many U.S. educational facilities.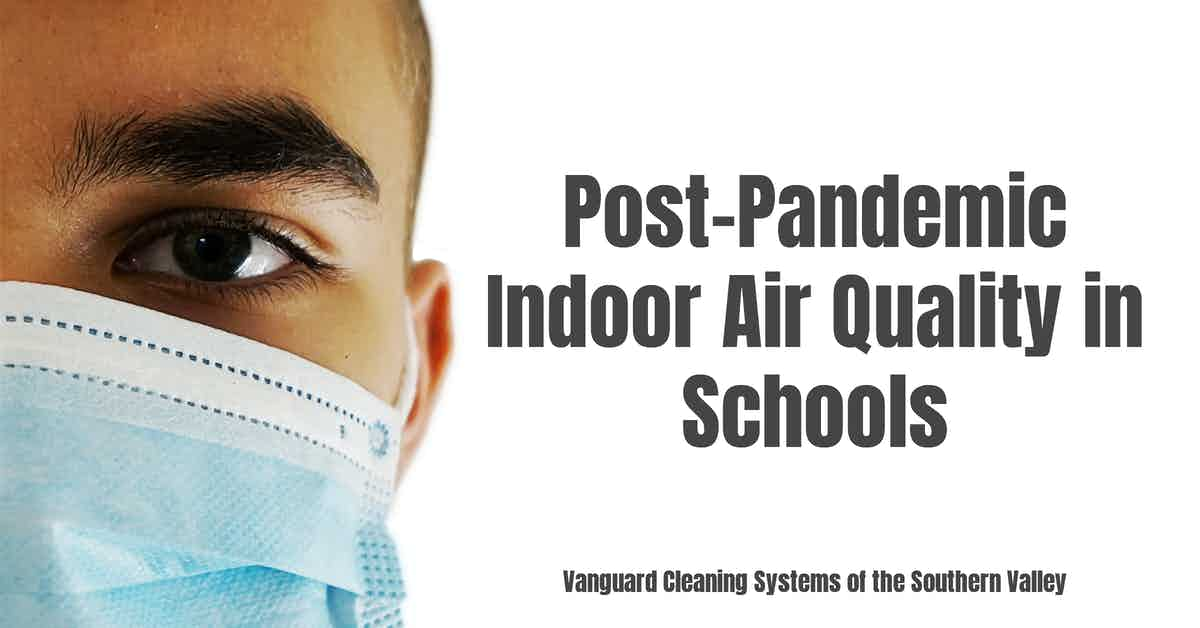 Public Schools IAQ Problem
Public schools have notoriously suffered from low indoor air quality problems for decades--resulting in a host of short and long-term health challenges for students and teachers.
According to the U.S. Environmental Protection Agency;
Indoor levels of air pollutants can be two to five times higher (and occasionally 100 times higher) than outdoor levels.

Nearly 56 million people (approximately 20 percent of the U.S. population) spend their days inside elementary and secondary schools.

In 1999, the National Center for Education Statistics of the U.S. Department of Education reported that approximately 25 percent of public schools described unsatisfactory ventilation, while 20 percent of schools told of unsatisfactory IAQ.

IAQ problems can cause discomfort and contribute to short- and long-term health problems for students and staff.

How big a problem is poor indoor air quality (IAQ) in schools?
At the start of the pandemic, research was presented to the public that demonstrated the relatively lengthy survival rate of the SARS-CoV-2 virus on surfaces commonly found in public facilities, resulting in ill-conceived recommendations from public health organizations to wipe down surfaces, especially fomites--with disinfectants.
Ultimately, the guidelines were used to justify the widespread misuse and overuse of toxic, corrosive disinfectant products, likely causing far more harm to the natural environment and occupant health than functioning as an effective infection prevention and control measure.
Eventually, as time went on and further studies were produced and reviewed, it was ascertained that SARS-CoV-2 spreads, almost exclusively, as an airborne respiratory pathogen--meaning all the disinfecting in the world is unlikely to prevent transmission.
What the data from the studies implied was that it was possible to effectively diminish, if not fully arrest, the spread of SARS-CoV-2 by improving facility HVAC, airflow, and filtration systems, with the added benefit of increasing indoor air quality.
Unfortunately, recent data suggests that, despite the billions of dollars set aside for public schools to upgrade their HVAC and air filtration systems, relatively few have taken advantage of the funding.
IAQ Improvement Strategies
According to a recent report released by the U.S. Centers for Disease Control and Prevention, fewer than half of the schools surveyed have improved HVAC systems since the start of the pandemic, and fewer than a third have upgraded their air filtration systems, despite widely available funding.
[...] fewer than 40% of American public schools have replaced or upgraded their HVAC systems since the start of the pandemic and even less (28%) are using high-efficiency particulate air (HEPA) filters.

[...] 73.6% of public schools opted to relocate activities outdoors while 70.5% chose to use the same filtration systems as before.

The CDC's information revealed similar results as a report issued last month by the U.S. Green Building Council (USGBC) which found IAQ in schools lacking.

Funding appears to be a major obstacle for schools, as roughly 25% of school officials believe they do not have the resources to improve ventilation, while another quarter are "unsure" whether funding is available.

However, funding is available for school HVAC upgrades, with US $13 billion available for schools in the 2020 Coronavirus Aid, Relief, and Economic Security Act; an additional $54 billion approved in December 2020 for schools' use; and $122 billion for schools from the 2021 American Rescue Plan.

Public Schools Have Not Improved Indoor Air Quality Since Pandemic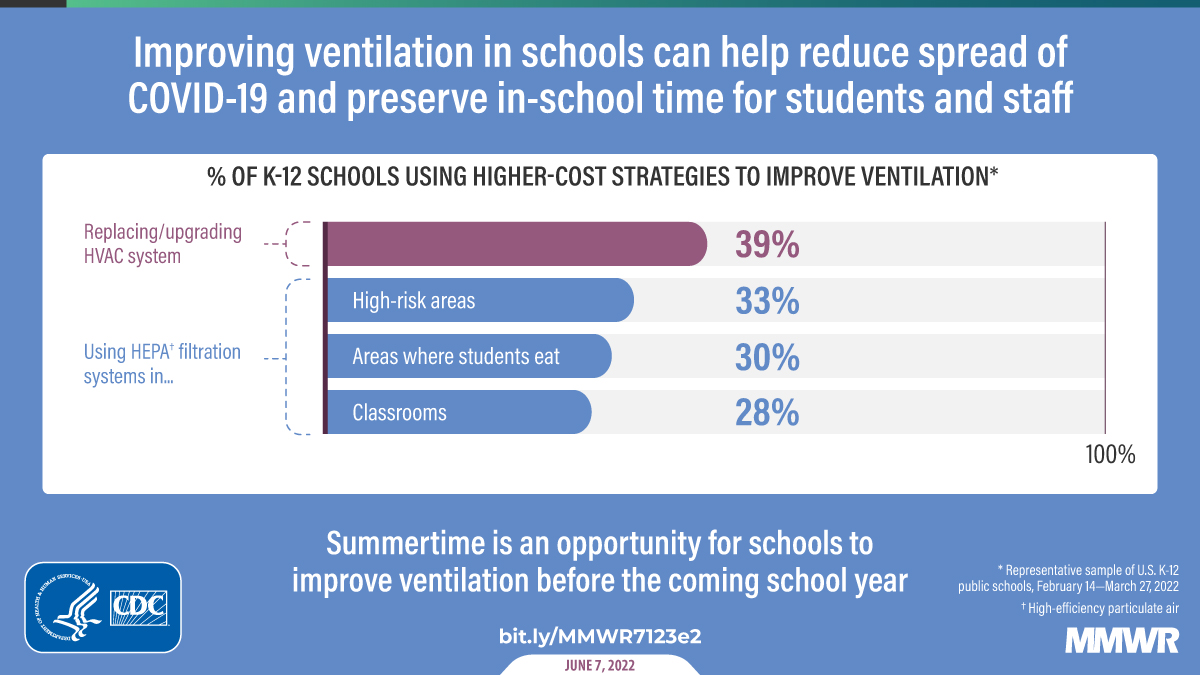 However, despite not taking advantage of the funding to upgrade and improve HVAC and HEPA filtration systems, many schools stated they had implemented some form of response to address IAQ levels in the classroom.
According to the CDC;
Among 11 ventilation improvement strategies assessed, the four most frequently reported were relocating activities outdoors when possible (73.6%), having existing HVAC systems inspected and validated since the start of the pandemic (70.5%), and opening doors (67.3%) and windows (67.2%) when safe to do so.

The least frequently reported strategies were using portable HEPA filtration systems in classrooms (28.2%), using HEPA filtration systems in areas where students eat (29.8%), using portable HEPA filtration systems for high-risk areas (32.8%), using fans to increase effectiveness of windows opened when safe to do so (37.0%), and having replaced or upgraded HVAC systems since the beginning of the pandemic (38.5%).

Ventilation Improvement Strategies Among K–12 Public Schools — The National School COVID-19 Prevention Study, United States, February 14–March 27, 2022
References & Resources
Takeaway
In addition to increasing natural airflow and upgrading mechanical HVAC and HEPA filtration, there are several proven methods for increasing IAQ in the classroom, including:
Enhanced cleaning protocols.
Green cleaning, and;
Targeted touchpoint disinfection.
Implementing a combination of these methods will improve student health, attendance, test scores, and long-term life outcomes.
For schools concerned with budgeting and the complexity of managing a vendor relationship, outsourcing to a service provider with a terms-based agreement instead of a long-term contract may resolve several issues.
Further, outsourcing is a proven method for onboarding highly in-demand cleaning and disinfection services and experience for a fraction of the price of maintaining a similar service in-house.
If you would like more information regarding the effectiveness of high-performance infection prevention and control measures, or if you would like to schedule a free, no-obligation on-site assessment of your facility's custodial needs, contact us today for a free quote!
In Bakersfield, CA, call (661) 437-3253
In Fresno, CA, call (559) 206-1059
In Valencia, CA, or Santa Clarita, CA, call (661) 437-3253
In Palmdale, CA, or Lancaster, CA, call (661) 371-4756