Despite their numerous benefits, cleaning and disinfectant products are almost exclusively toxic, often corrosive, and sometimes downright deadly when handled inappropriately.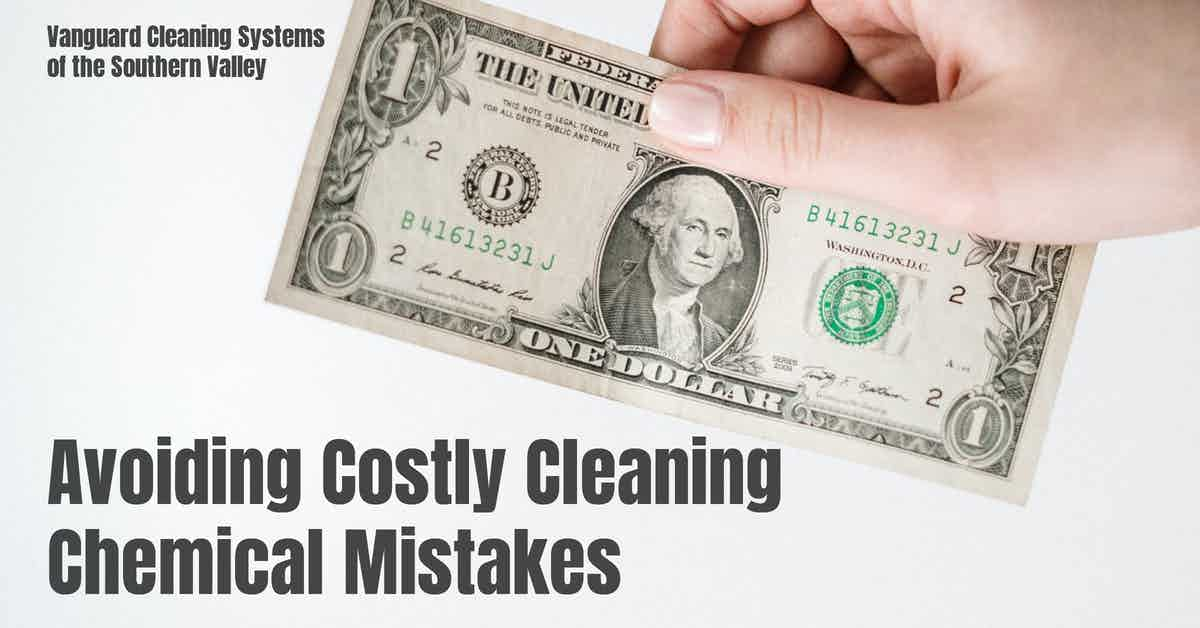 Common Commercial Cleaning Chemical Mishaps
Accidental poisonings due to cleaning and disinfectant product mismanagement are unfortunate and all too common.
Incidents typically arise when:
Custodians or untrained staff over-apply disinfect products to surfaces and fail to remove the residue once it has dried, resulting in dermal contact, absorption, and, potentially, accidental ingestion.
Disinfectant products are accidentally mixed, resulting in a toxic vapor, often resulting in severe injury and death.
Cleaning and disinfectant products are applied without proper ventilation resulting in toxin inhalation and diminished indoor air quality, and;
Cleaning and disinfectant products are disposed of or stored incorrectly, resulting in accidental ingestion.
For example--during the early stages of the COVID-19 pandemic, toxic disinfects were fogged throughout a facility to combat the pathogen without adequate ventilation or service provider training resulting in hazardous conditions.
Per the Virginia Department of Health;
The high levels of disinfectant sprayed into the air can cause breathing problems in the people applying the disinfectant.

Most disinfectants will require that people not enter the room for a while afterward so the room can air out.

Re-entering the room before it has aired out properly could result in eye irritation, coughing, wheezing, and sore throat.

If someone experiences these symptoms after entering a room where fogging has been done, move them to fresh air.

If they are experiencing problems breathing, get emergency medical help.

Fogging Disinfectants - Maintaining a Healthy Facility and Preventing COVID-19
The Consequences of Cleaning Chemical Mismanagement
Aside from the danger posed to the service provider and occupants in the immediate vicinity, mishandling cleaning and toxic disinfectant products carry significant adverse outcomes and consequences, including endangering the lives of children and substantial financial liability.
A recent example of accidental poisoning resulting from the careless handling of floor sealant mistaken as milk was reported by CNN.
According to the report:
Twelve elementary school children drank floor sealant believing it was milk after it was served to students at a childcare program in Juneau, Alaska, on Tuesday, according to the school district.

Students in a summer care program at Sit' Eeti Shaanáx̱-Glacier Valley Elementary School began complaining that the milk they were served as part of the program's breakfast tasted bad and was burning their mouths and throats, Juneau School District said in a statement Wednesday.

After the children complained about the burning sensation, school district and NMS staff immediately followed up by smelling/tasting the milk and looking at the container/label," the statement said.

It was found that the 'milk' served was actually a floor sealant resembling liquid milk.

Staff immediately directed students to stop consuming the substance and removed it.

Alaska schoolchildren were served floor sealant instead of milk at a child care program, school district says
While that situation is ongoing, another example of disinfectant product mishandling that resulted in not only accidentally poisoning a patron, but a significant financial settlement against the restaurant, was reported by the Lexington Herald-Leader.
Cracker Barrel has been ordered to pay millions to a man who says he suffered serious, long-term injuries after he was served what he thought was a glass of water.

A jury awarded $4.3 million to William Cronnon of Tennessee last week after it found the "old country store" was at fault for serving him sanitizing solution that was left in a water pitcher in 2014, WTVC reported.

The verdict includes $730,000 in economic damages and $3.6 million in non-economic damages, according to the ruling obtained by the news station.

Jurors also awarded Cronnon punitive damages of $5 million in what Greer called "one of the fastest verdicts we have ever seen."

The original lawsuit sought $150,000 in damages from Cracker Barrel.

Cracker Barrel served man sanitizer instead of water, attorney says. It owes $4.3M
Takeaway
Cleaning and, especially, disinfectant products can be dangerous if improperly handled, applied, or disposed of.
Even green cleaning and Safer Choice products are not 100% safe if used incorrectly.
Only trained staff and custodians should handle, use, and dispose of cleaners and disinfectants to avoid potentially serious, life-altering consequences.
All staff who may encounter the products, at a minimum, need to be trained in:
How to read and understand product labels.
The correct safe storage methods, and;
Emergency response procedures.
For many organizations, the cost of onboarding skilled service providers and providing the level of training necessary to ensure high-level cleaning outcomes and a safe working environment may prove cost-prohibitive.
Outsourcing is a proven method for onboarding highly in-demand cleaning and disinfection services and experience for a fraction of the price of maintaining a similar service in-house.
If you would like more information regarding the effectiveness of high-performance infection prevention and control measures, or if you would like to schedule a free, no-obligation on-site assessment of your facility's custodial needs, contact us today for a free quote!
In Bakersfield, CA, call (661) 437-3253
In Fresno, CA, call (559) 206-1059
In Valencia, CA, or Santa Clarita, CA, call (661) 437-3253
In Palmdale, CA, or Lancaster, CA, call (661) 371-4756