Americans have become increasingly comfortable with in-person shopping in facilities with a demonstrably superior commitment to enhanced cleaning and infection prevention measures.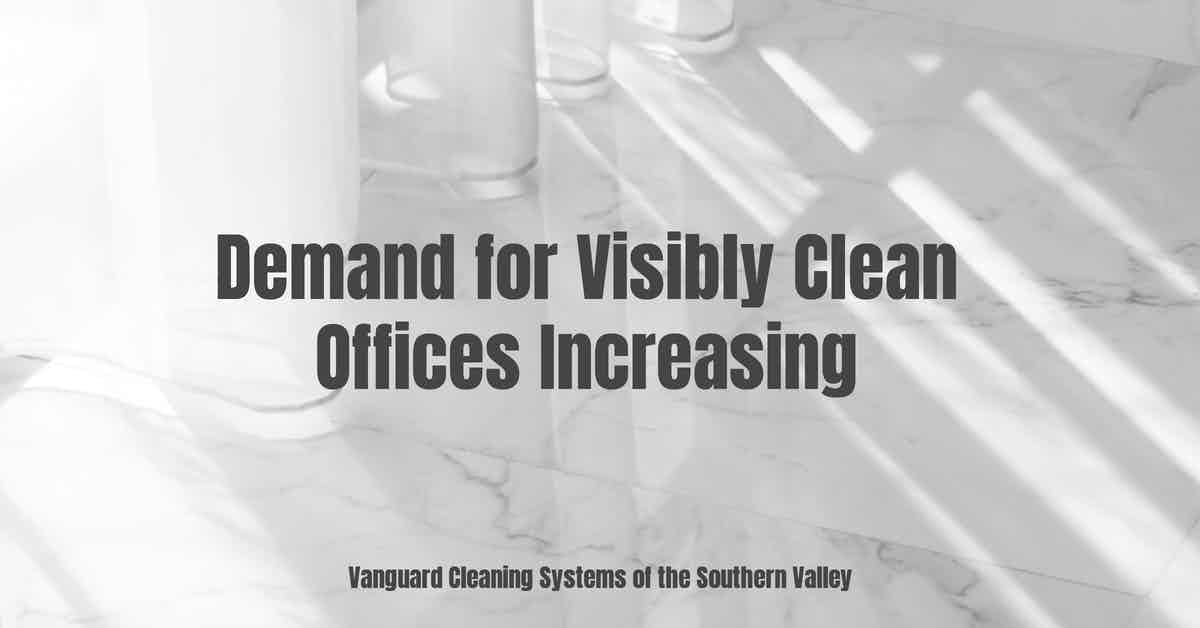 Addressing the Increasing Demand for Visibly Clean Facilities in the U.S.
A particular fallout from the COVID-19 pandemic and subsequent lockdowns were how American shoppers viewed facility safety regarding surface hygiene and indoor air quality.
A recent survey conducted by Proctor and Gamble's P&G Professional found that most shoppers had become quite comfortable going out and shopping in-person, but at a cost--extremely high expectations of facility cleanliness and safety.
According to the survey:
91% of respondents stated they felt comfortable ordering takeout.
83% were ok with dining outdoors, and;
77% were fine dining indoors at a restaurant.
However;
93% of respondents said they expected to see a visibly clean environment when dining indoors.
92% expected to see it when eating outside, and;
92% expected to see a visibly clean restaurant, even when ordering takeout.
82% of respondents claimed that seeing dirt and grease inside of a dining establishment made them lose their appetite, and;
70% wanted management to be more transparent regarding the products used to clean and disinfect the facility.
What the Survey Data Means for Businesses
From the data, we can extrapolate several items that are critical to successfully attracting and retaining in-person shoppers and diners in the future:
Increase cleaning and touchpoint disinfection frequency - Increasing the frequency of touchup cleaning and fomite disinfection will eliminate infectious diseases from surfaces while increasing the (highly in demand) visibility of cleaning efforts.
Switch to green sustainable cleaning and disinfection products - Switching to greener cleaning products and Safer Choice or Green Seal labeled disinfectants will deliver the same level of surface hygiene as their conventional counterparts without the well-documented issues regarding toxicity.
Communicate with stakeholders - Transparently communicating cleaning and disinfection frequencies, in addition to product types, contents, and labels, will help keep consumers and workers properly informed and meet emerging expectations.
How to Succeed With Sustainability
Sustainability is key to the efficacy of increased cleaning and disinfection frequencies.
Sustainable cleaning and disinfection practices reduce the burden businesses place on society and the environment by using environmentally responsible chemicals, production methods, and storage containers.
To be successful, sustainable operations must be:
Mission-driven - According to current poll data, many organizations fail to meet consumer and workforce sustainability expectations due to a lack of focused intent, planning, and communication, which drives away talent and prospective customers.
Profitable - A significant draw-point to sustainable business action is the increase in profitability through the reduction of risk, abscesses, and increased labor performance and output.
Customer-oriented - Sustainable action that fails to take community stakeholders into account is likely to fail in short order.  Planning and actions must be purposeful, published, and marketed to the communities they benefit.
Focused on creating a healthy workplace - The purpose of cleaning is to protect and ensure occupant health and wellness.  Workplace cleaning programs with a sustainable focus aim to achieve long-term occupant health and wellness through the reduction of harmful business and manufacturing practices that expose humans and the environment to dangerous chemicals.
References & Resource
Takeaway
American consumers are becoming increasingly comfortable with in-person shopping, dining, and returning to the workplace--under certain conditions.
The specifics of those conditions fall into two categories:
Visibly increased cleaning frequency and quality, and;
A demonstrable, published, and transparent commitment to long-term environmentally conscious action.
Those two functions are easily married with commercial green cleaning services--essential criteria for all sustainable business commitments.
However, moving from conventional commercial cleaning practices to sustainably greener methods requires a significant investment in:
Skilled labor acquisition and training.
Technologically advanced tools to monitor and manage resource use and process efficacy, and;
Products shipped from vendors with a proven commitment to viable long-term sustainability.
Onboarding the requisite workforce and equipment will likely prove cost-prohibitive for many organizations, underscoring the value of outsourcing.
Outsourcing is a proven method for onboarding highly in-demand cleaning and disinfection services and experience for a fraction of the price of maintaining a similar service in-house.
If you would like more information regarding the effectiveness of high-performance infection prevention and control measures, or if you would like to schedule a free, no-obligation on-site assessment of your facility's custodial needs, contact us today for a free quote!
In Bakersfield, CA, call (661) 437-3253
In Fresno, CA, call (559) 206-1059
In Valencia, CA, or Santa Clarita, CA, call (661) 437-3253
In Palmdale, CA, or Lancaster, CA, call (661) 371-4756