Enhanced sustainable cleaning methods address several concerns commonly cited by Gen Z and Millennial workers for leaving one organization in favor of another.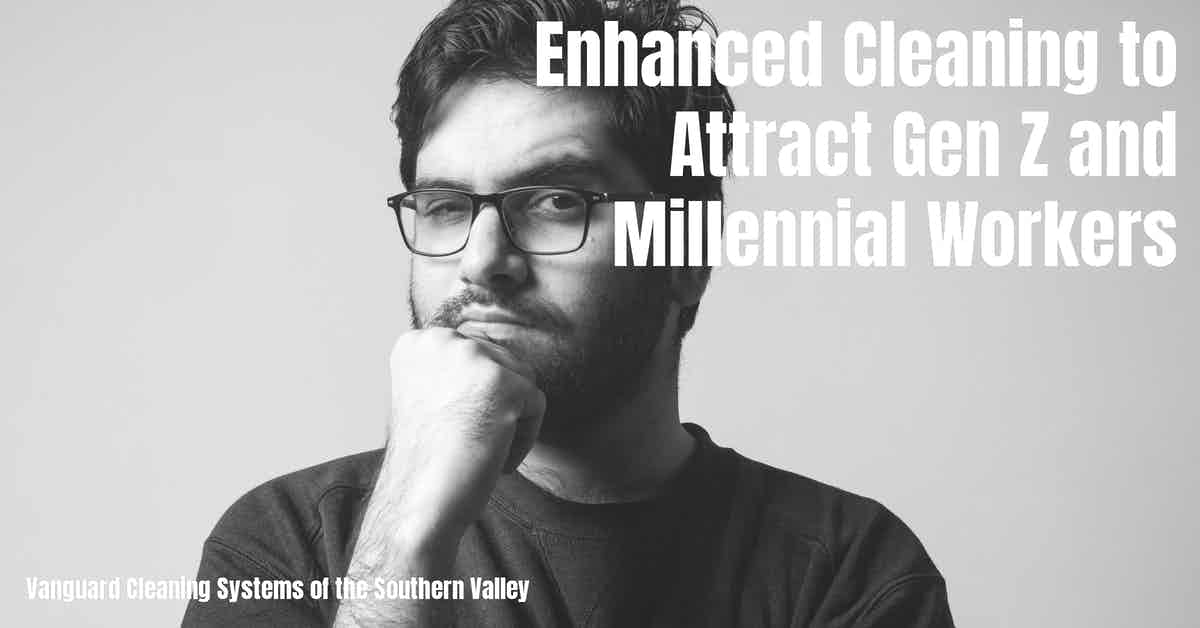 The Consequences of The Great Resignation
The Great Resignation is well underway, with millions of workers across multiple industries voluntarily leaving their job for the promise of a brighter future.
[...] 4.5 million people (three percent of the total workforce) quit their jobs in the month of November 2021 alone — marking a multi-month stretch of similar resignation rates extending to this day.

The reasons for the trend dubbed "The Great Resignation" are widespread, ranging from office employees experiencing work-from-home flexibility and then having it taken away, to workers who double as caretakers for at-risk family members for COVID-19.
The implications of the ongoing resignation cycle include:
Increased costs.
Retaining underperforming staff, and;
Reduced output quantity and quality.
Turnover is a costly enough process as it is considering the amount of work hours dedicated to finding an adequate replacement, getting through the interviewing process, and then having to onboard.

The added factor of high resignations means that the potential replacement has far more in their replacement at the negotiating table — leading to the new employee getting a higher salary, better benefits or PTO without having to prove value first.

An even worse and realistic scenario is there isn't even a replacement to overpay as no one wants the position.

As a result, companies are deciding that when it comes to firing an underperforming employee, the juice might not be worth the squeeze compared to previous years.
Unfortunately, recent survey data suggests that trend is far from over.
According to a recent study conducted by Deloitte Global:
24% of millennials and 40% of Gen Z'ers stated they planned on quitting their current job in the next two years.
The top reason for wanting to leave their current job was listed as pay, but nearly half of both demographics--45% Gen Z and 46% Millennials--listed burnout.
In regards to what these workers are looking for in a future company:
32% of Gen Z and 39% of Millennials cited a good work/life balance.
29% of either generation stated they want better workplace learning and professional development opportunities, and;
24% of Gen Z and 27% of Millennials expected higher salaries or other financial benefits.
Further, according to data collected in a recent survey of 18-34-year-olds:
46% of respondents said they regularly think about climate change.
63% stated that businesses should play a role in sustainability.
43% felt their employer could be doing more to help the environment.
42% who stated they were applying for a new position said they consider a company's sustainability initiatives.
Employing Enhanced Cleaning to Address Great Resignation Challenges
Creating a safe, sustainable workplace focused on occupant wellness and environmental health is possible through the adoption of green sustainable cleaning initiatives.
Use green cleaning products certified by a recognized authority, such as the EPA, EWG, or Green Seal.
Focus disinfectant use on fomites.
Use Safer Choice disinfectant products when possible.
Buy concentrated cleaning and disinfectant products, stored in recyclable containers and shipped in bulk.
Purchase recycled paper products for cleaning and restroom use.
Upgrade cleaning equipment to take advantage of engineered water applications.
Focus purchasing efforts from vendors with a published green, sustainable commitments, and;
Train custodial staff on team cleaning, cross-contamination prevention, and the safe use and disposal of all cleaning and disinfectant products.
References & Resources
Takeaway
Attracting and retaining Gen Z and Millennial labor will require increased investment in green sustainable business actions, which include cleaning for occupant health and environmental safety.
Onboarding the requisite labor and material resources may prove cost-prohibitive for many organizations.
Outsourcing is a proven method for onboarding highly in-demand cleaning and disinfection services and experience for a fraction of the price of maintaining a similar service in-house.
If you would like more information regarding the effectiveness of high-performance infection prevention and control measures, or if you would like to schedule a free, no-obligation on-site assessment of your facility's custodial needs, contact us today for a free quote!
In Bakersfield, CA, call (661) 437-3253
In Fresno, CA, call (559) 206-1059
In Valencia, CA, or Santa Clarita, CA, call (661) 437-3253
In Palmdale, CA, or Lancaster, CA, call (661) 371-4756