Green sustainable cleaning programs have increased in appeal since the pandemic, with current data showing trends will likely become permanent operational fixtures for schools and businesses in the near future.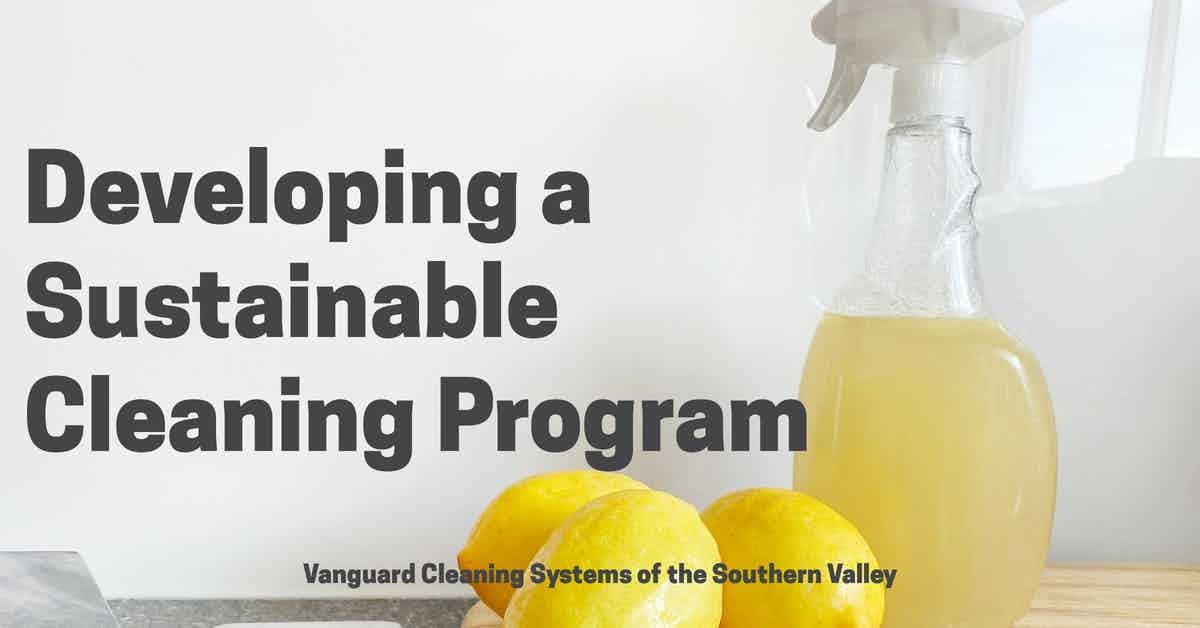 Moving Forward From Green Cleaning Trends
Before the onset of the COVID-19 pandemic, green sustainable cleaning programs were primarily viewed as an industry trend.
Post-COVID, with a significantly more aware population, green, sustainable programs have moved from trend to the forefront of day-to-day operations due to the numerous benefits it imparts, including:
Enhanced occupant safety.
Reduced illness and absences.
Improved indoor air quality.
Enhanced brand image and reputation, and;
Improved bottom lines.
Initial steps for achieving early success include:
Identifying products with reputable 3rd party certifications, such as EWG, Safer Choice, and Green Seal.
Employ advanced technologies, such as automated floor scrubbers, automated dilution systems, and evidence-based surface and air testing and monitoring tools.
Purge your cleaning closets of hazardous, corrosive cleaning compounds, disinfectants, and outdated or poorly maintained tools and equipment to avoid cross-contamination and negatively impact human and environmental health and safety.
Focus on purchasing products from reputable vendors with published sustainability statements that ship products in concentrated form and store them in sustainable packaging, and;
Conduct ongoing training with all custodial staff and facility occupants regarding the safe use and disposal of cleaning and disinfectant products and the process of maintaining equipment at high operational levels.
Highlighting Industry Trends and Public Perception
Recent data demonstrate the movement of green, sustainable business operations from trend to mainstream.
According to one survey of 400 facility cleaning executives:
77% of respondents stated they do whatever they can to incorporate green-certified products into their cleaning program.
47% said they planned to implement products that contribute to sustainability over the coming year.
61% stated they had purchased autoscrubbers as part of their greener facility maintenance program.
79% said they expect their vendor partners to embrace sustainable business practices, and;
88% believe training is essential to the advancement of green and sustainable initiatives.
According to another survey published by Accenture:
65% of the workforce surveyed believed organizations should be responsible for leaving their people "net better off."
66% of consumers stated they plan to make more sustainable or ethical purchases over the next six months, and another;
74% said they believe that ethical corporate practices and values are an important reason to choose a brand.
The market saw a 28% increase in investor signatories in 2020 to the UN's Principles for Responsible Investment, and;
81% of sustainable indices outperformed their peer benchmarks in 2020.
That said, there does appear to be a measurable gap between the impressions of facility executives, the workforce, and the public at large.
68% of facility executives who responded felt that they had developed a robust sustainability plan.
However, only 21% of employees felt that their employer's sustainability initiatives went past the superficial.
69% of facility executives said they measure and track the progress of their sustainability goals.
But, only 34% of employees felt those goals were realistic.
72% of executives felt they had the right management practices in place to deliver on sustainability promises, and;
50% of the responding workforce stated they were encouraged to think about customers and stakeholders in their day-to-day operational decisions.
In regards to how various parties viewed the performance of their sustainability initiatives in a score ranging from 1 to 100:
Executives gave their organization a 71, on average.
Employees as a whole scored their organization with a 67.
Employees below management gave a score of 65.
Consumers scored the organizations with a 57, and;
The general public gave a lowly 56 for all organizations.
References & Resources
Takeaway
Cleaning programs have made strong moves into sustainability since the onset of the pandemic and have shown zero signs of slowing down.
According to CleanLink;
In response to COVID-19, commercial facilities are cleaning more than ever before.

Cleaning professionals use chemicals and tools on a daily basis, while visitors to your facility are also impacted by the choices you make regarding cleaning. T

hus, it's essential that your cleaning program takes into consideration what is safest for people and the environment.

Sustainable cleaning programs are on the rise, as they can enhance health and safety and provide many other benefits.

Facility managers interested in transitioning to green cleaning should be able to articulate the benefits to decision makers, employees and customers, and understand certain must-haves that will ensure success.
However, there is a demonstrable and potentially widening gap between how facility executives view their goals and progress and how consumers and office workers see it--potentially underscoring the value of outsourcing various services to an experienced service provider.
Outsourcing is a proven method for onboarding highly in-demand cleaning and disinfection services and experience for a fraction of the price of maintaining a similar service in-house.
If you would like more information regarding the effectiveness of high-performance infection prevention and control measures, or if you would like to schedule a free, no-obligation on-site assessment of your facility's custodial needs, contact us today for a free quote!
In Bakersfield, CA, call (661) 437-3253
In Fresno, CA, call (559) 206-1059
In Valencia, CA, or Santa Clarita, CA, call (661) 437-3253
In Palmdale, CA, or Lancaster, CA, call (661) 371-4756