Video game arcades are popular getaway spots for families all year long, but due to the ever-present issue of high-contact surfaces and cross-contamination, cleaning and disinfection is an ongoing challenge.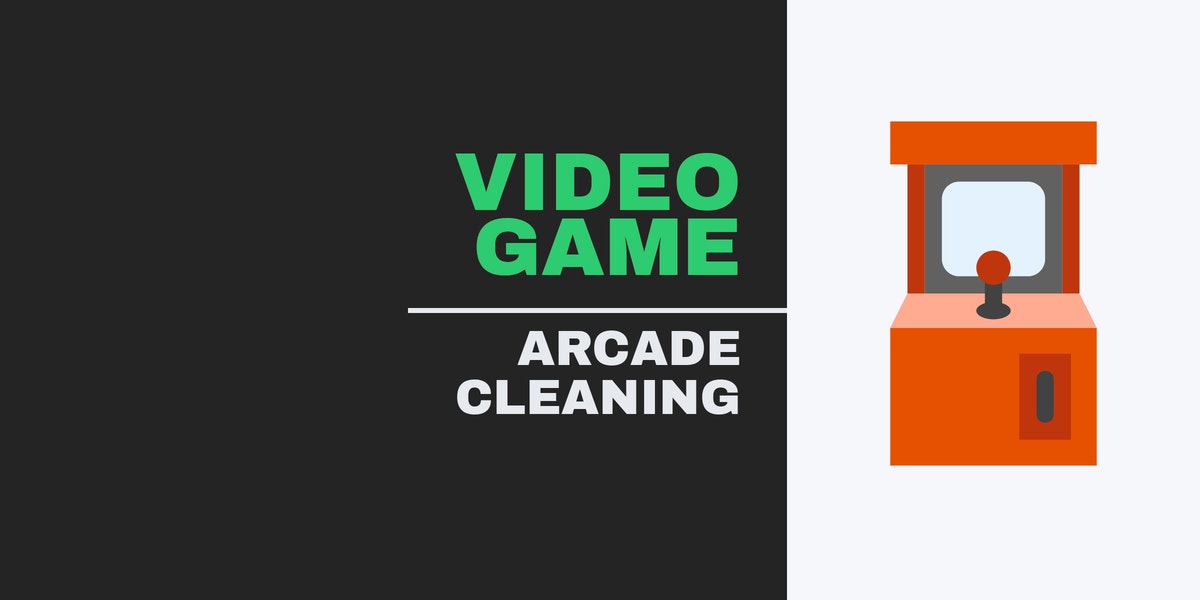 Cleaning Challenges in Video Game Arcades
Video game arcades serve as a popular attraction point at theme parks in the warmer seasons and typically function as the sole attraction during the winter when outdoor rides are closed down.
Due to their popularity, the high volume of visitors presents an ongoing challenge for maintaining a safe and hygienic environment, free of germs and bacteria.
These challenges are often complicated through the pairing of food services and concession stands, where germs acquired throughout the facility can be ingested, leading to potential illness, or worse.
When combined with the less-than-ideal level of hand hygiene practiced by many adults and even more children, all of these individual points combine to create a significant health and hygiene challenge that must be addressed every day to prevent the spread of germs to guests and employees.
Indoor Amusement Park Germs
Upon review, there appears to be little to no official scientific research into the scope or range of germs and bacteria present in the average indoor theme park or video game arcade.
While the reasoning behind that absence can be speculated upon, it is safe to assume that nearly every viewable surface is covered, to one degree or another, in a host of commonly transmitted diseases, including:
E.coli.
Norovirus.
Salmonella.
Staph.
Strep.
Influenza, and;
The common cold.
On a somewhat related note, swab tests performed in movie theaters found that concession stands were breeding grounds for bacteria, most commonly due to sugary fountain drinks being spilled, and that every conceivable surface you would likely touch was covered in fecal matter.
Green Cleaning Tips for Video Game Arcades
There are four areas that are commonly found in any video game arcade that will need to be cleaned and disinfected regularly to ensure the health and safety of all occupants and maintain a favorable public standing, as well as adhere to the highest standards of hygiene and cleanliness.
Entrance
The entrance to your facility is the first major touchpoint and your best opportunity for capturing dirt, germs, and bacteria found on shoes before they enter the building.
Wiping down door handles and push plates with a disinfecting wipe every few hours will significantly reduce the number of germs and bacteria transferred to and from the guests entering and leaving your establishment.
High-performance entry matting will capture a substantial amount of dirt, as well as reduce the number of germs and chemicals found on shoes and prevent them from being transferred across your floor where young children are likely to plop down and play.
Maintaining a presentable appearance--removing the trash, emptying garbage cans, and picking up cigarette butts, as well as sweeping and pressure washing the walkways--will ensure your guests have a positive first impression and ensure their safety.
Arcade
Within the arcade itself, you'll want to focus on two specific areas:
Arcade games and indoor rides should be wiped down with a disinfectant wipe every few hours to prevent the inevitable buildup of germs and bacteria from unwashed hands being transferred to your guests and staff, with an additional full-service disinfection every night with an electrostatic disinfection appliance.
The floor should be cleaned--swept, mopped, or vacuumed--every single day with additional deep cleaning services scheduled every quarter, at a minimum, to avoid the building and transfer of dirt, germs, and bacteria, and ensure a professional appearance.
Concession and Dining Area
The concession and dining areas are where the germs acquired on the hands of guests and staff will be ingested, and where all your problems will officially begin.
To prevent that:
Clean and disinfect all surfaces every night with a combination of green cleaning products, microfiber, and electrostatic disinfection.
Wipe down the dining tables with a microfiber towel and a green or safer choice all-purpose disinfectant after each guest is done.
Sweep and mop regularly throughout business hours, as well thoroughly after hours, and use a vacuum scrubber on the hard floors at least once per week.
Wipe down the concession stands with a microfiber cloth, especially when cleaning up spills, and employ a green cleaning wipe throughout business hours to reduce the number of germs and bacteria on surfaces where food is being served.
Restrooms
If concession stands and dining areas were where your problems officially began, bathrooms are the origin story.
By far, the most commonly cited reason for leaving an establishment and never returning, leaving a negative online review, and the source of most of the bacteria often found in high-traffic establishments, are the restrooms--specifically, poorly maintained and smelly ones.
To avoid this:
Assign someone to check on the bathrooms, stalls, sinks, trashcans, and urinals on a regular basis to ensure everything is in working order and that there is no garbage lying around.
Fully stock each stall with toilet paper, and ensure there is an adequate supply of soap and paper towels--bonus points for providing hand sanitizer outside the exit.
Flush the toilets and urinals before cleaning, and make sure to get behind the seats and around the base--the two most commonly missed areas.
Regularly wipe down all fomites, especially soap dispenser buttons, door handles, and water faucet handles throughout the day.
Sweep and mop the floor every night, and vacuum scrub it at least once per week.
Remove graffiti immediately, and address all reported issues with the facility equipment as soon as possible.
Enforce strict handwashing policies with all staff and encourage guests to wash their hands thoroughly with a subtle reminder of the consequences.
Takeaway
Indoor amusement parks and video game arcades are popular for a reason--they're a lot of fun.
All that fun goes out the window when a guest wakes up the next day with the stomach flu or has to rush a loved one to the emergency room due to a virus they acquired in your establishment.
Accidents happen, but the rampant spread of fecal bacteria is entirely preventable with a well-constructed infection prevention and control plan executed by a highly-trained and dedicated staff.
For that reason, outsourcing the heavy lifting aspects of your cleaning and disinfection program is probably best left in the hands of professionals.
Fortunately, outsourcing is cost-effective and allows your staff and management to focus on what matters--providing an outstanding experience for your guests.
If you would like more information regarding the benefits of outsourcing your indoor amusement park and video game arcade's infection prevention and control services to an experienced local service provider, or if you would like to schedule a free, no-obligation on-site assessment of all of your facilities' cleaning and hygiene requirements, contact us today for a free quote!
In Bakersfield CA, call (661) 437-3253
In Fresno CA, call (559) 206-1059
In Valencia CA, or Santa Clarita CA, call (661) 437-3253