A two-year study at a Florida school has provided exciting results regarding no-touch disinfection strategies and its impact on student health as measured through absenteeism.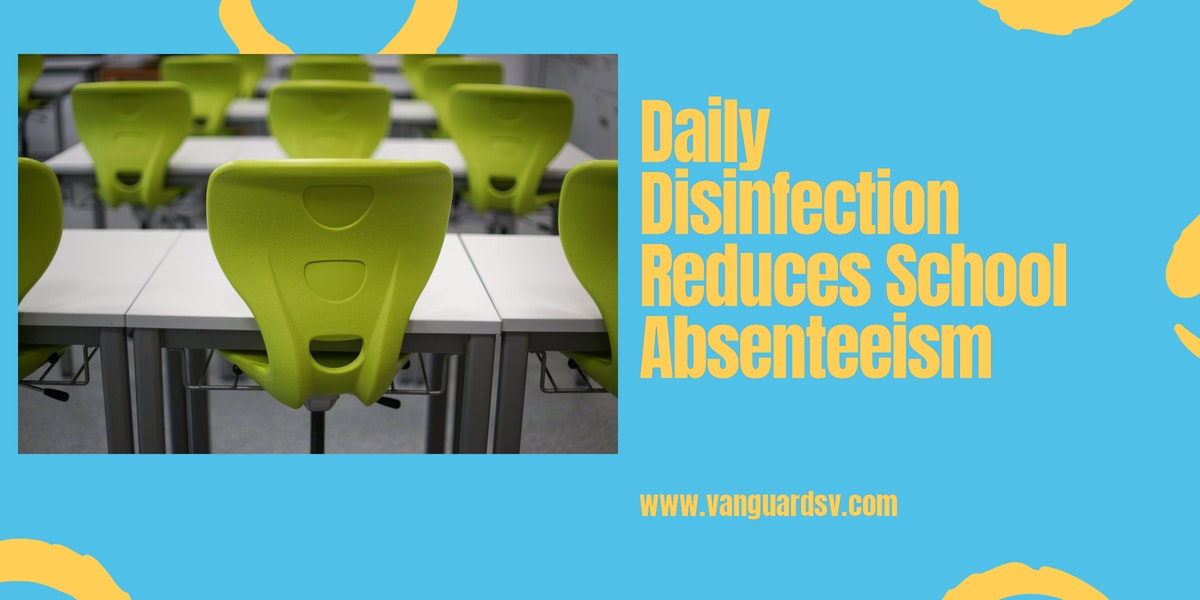 A Florida School's Two-Year Disinfection Study Provides Promising Results
Flagler School in Bunnell, Florida recently completed a two-year study measuring the effects of routine cleaning and disinfection strategies involving no-touch, electrostatic disinfection appliances.
During the 2017-2018 portion of the study, each classroom was disinfected with the appliance once per month while following a daily cleaning practice.
During the 2018-2019 school year, the district began a split-test--disinfecting one elementary school every day with the electrostatic appliance while retaining the previous strategy at another school.
While not definitive by any means, the results are promising and warrant further study.
The school that received daily treatment from the electrostatic technology reported the 14 percent reduction in absenteeism and no outbreaks of illness.

The other school saw a decline in absenteeism, though it was less significant.

Some months are of course worse than other for absenteeism at school.

One of the worst months is December.

The Flagler School that used electrostatic technology each day was able to reduce its absenteeism rate for December 2019 by 53 percent compared to the previous year.
The Harsh Realities of Student Absenteeism
Student absenteeism in the United States is an unseen plague on our society.
The total costs of the increasing epidemic--both individual and societal--are incalculable throughout one students lifetime.
Additionally, the fiscal cost of teacher absenteeism as the result of workplace-acquired illness continues to skyrocket.
Students miss, on average, 4.5 days per year, and teachers miss approximately 5.3 days per year, resulting in 164 million lost days.
Funding provided to schools averages about $11,762 annually, or $65.34 per day.
Given an average school year of 180 days, absenteeism costs U.S. taxpayers $10.7 billion each year.
Using similar data for teachers, it is estimated that the cost of substitute instructors cost the U.S. an additional $1.7 billion per year.
More than $12 billion per year, without even getting into the long-term negative impacts on the children due to poor school attendance and the inevitably-resulting lower grades.
Resources & References
Takeaway
It has become increasingly clear that the rise in student absenteeism, as well as the resulting short and long-term consequences of poor attendance due to classroom-acquired illness, are nearly entirely preventable.
Given the more than $12 billion lost each year due to this epidemic, it is entirely reasonable to propose an alternative plan that focuses on the health of the students and teachers who occupy the facilities for a significant portion of the year.
Studies have repeatedly demonstrated the viability and efficacy of green cleaning products and services combined with regular no-touch disinfection applications in regards to occupant health, cognitive function, and academic output.
Ignoring the issue and maintaining the status quo is no longer an option.
If you would like more information regarding the advantages of routine green cleaning and daily no-touch disinfection services for your school district or daycare, or if you would like to schedule a free, no-obligation on-site assessment of all of your district facilities infection prevention and control requirements, contact us today for a free quote!
In Bakersfield CA, call (661) 437-3253
In Fresno CA, call (559) 206-1059
In Valencia CA, or Santa Clarita CA, call (661) 437-3253