The U.S. Centers for Disease Control and Prevention (CDC) released their latest Influenza Surveillance Report for the 44th week of 2022 showing high levels of influenza-like illness reported in California and very high levels reported in several southern and eastern states.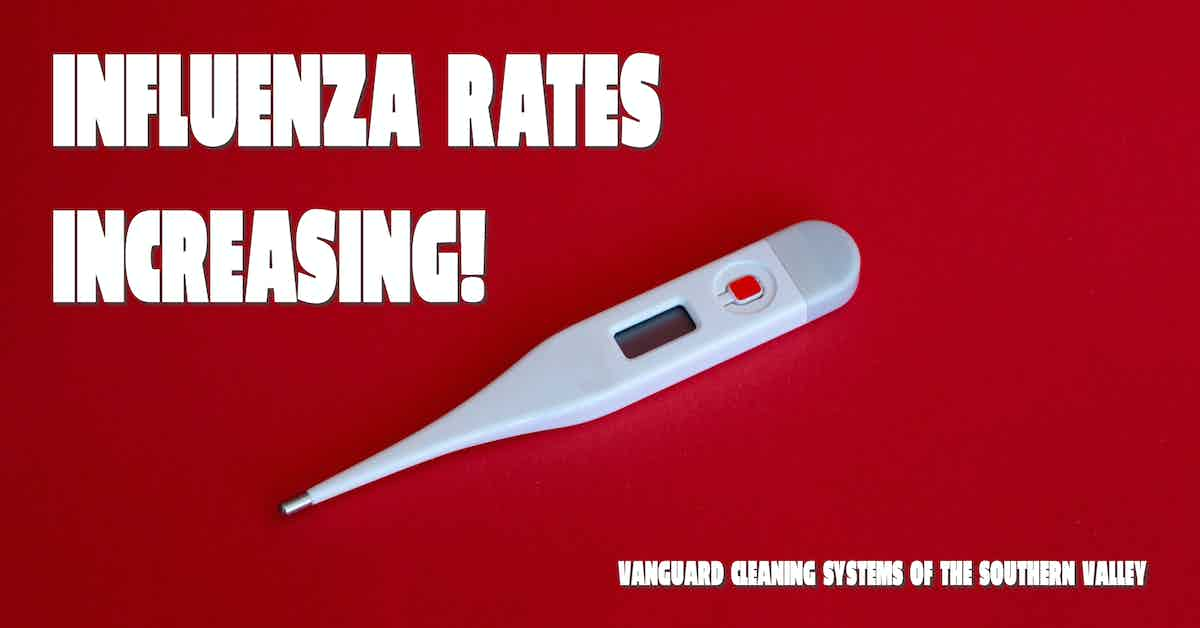 Increasingly High Influenza Rates Cause Thanksgiving Concerns
Current data from the CDC shows potentially alarming early-season influenza-like illness infection rates, with California among the nine jurisdictions to move into the High category for the 44th month of 2022.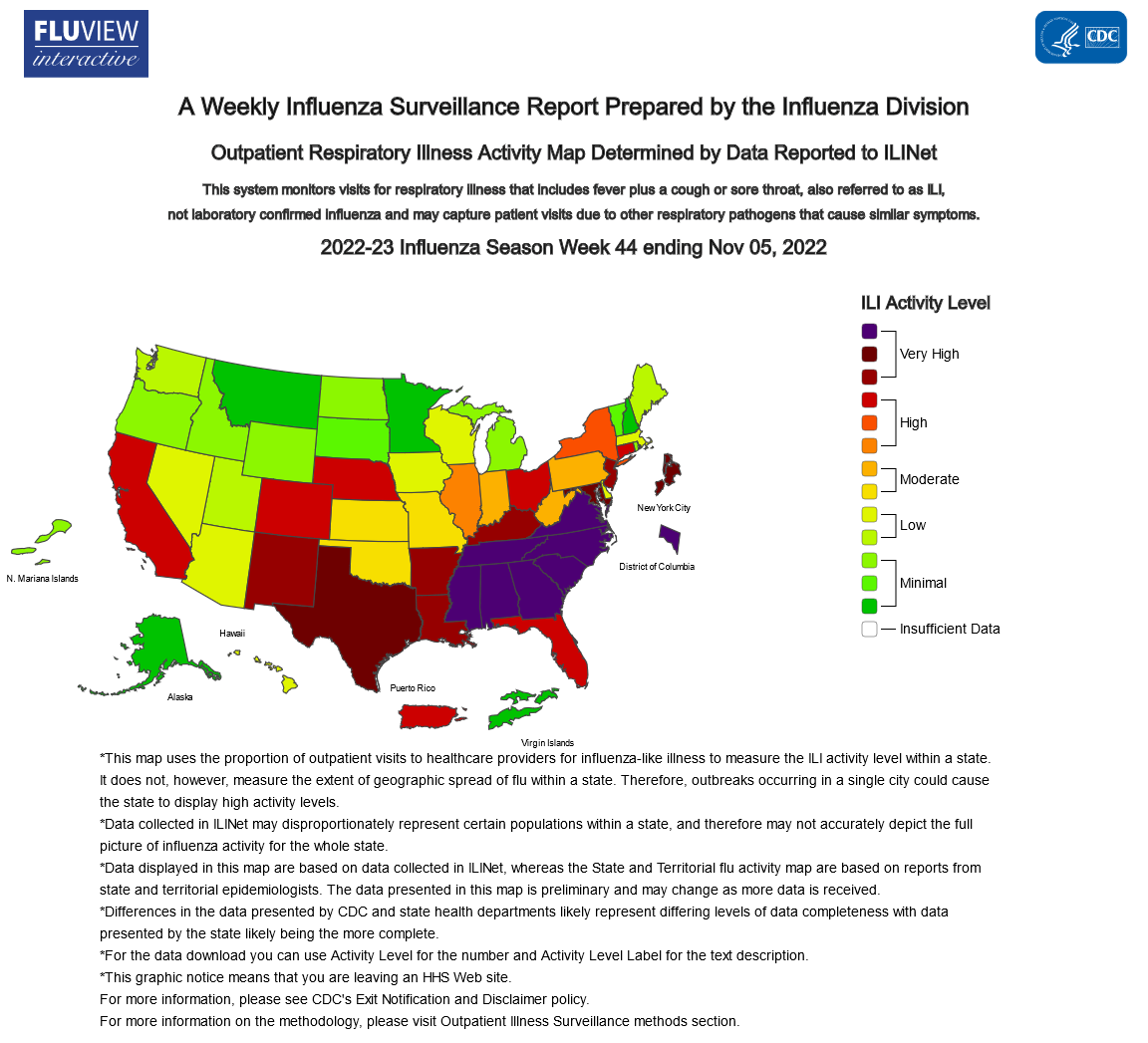 Several other states, including Texas and New Mexico, have drifted into the Very High category for the same reporting period.
According to the most up-to-date information:
12.8% of clinical lab submissions tested positive for influenza--mostly H3N2 or H1N1.
5.5% of healthcare provider visits were for respiratory illnesses this week--well above baseline.
25 U.S. jurisdictions are reporting high or very high ILI activity.
The U.S. Department of Health and Human Services reports 6,465 patients were admitted to hospitals with influenza this week.
This week's deaths attributed to pneumonia, influenza, or COVID-19 (PIC) are above the threshold at 9%.
Three pediatric deaths were reported, with five being reported this season.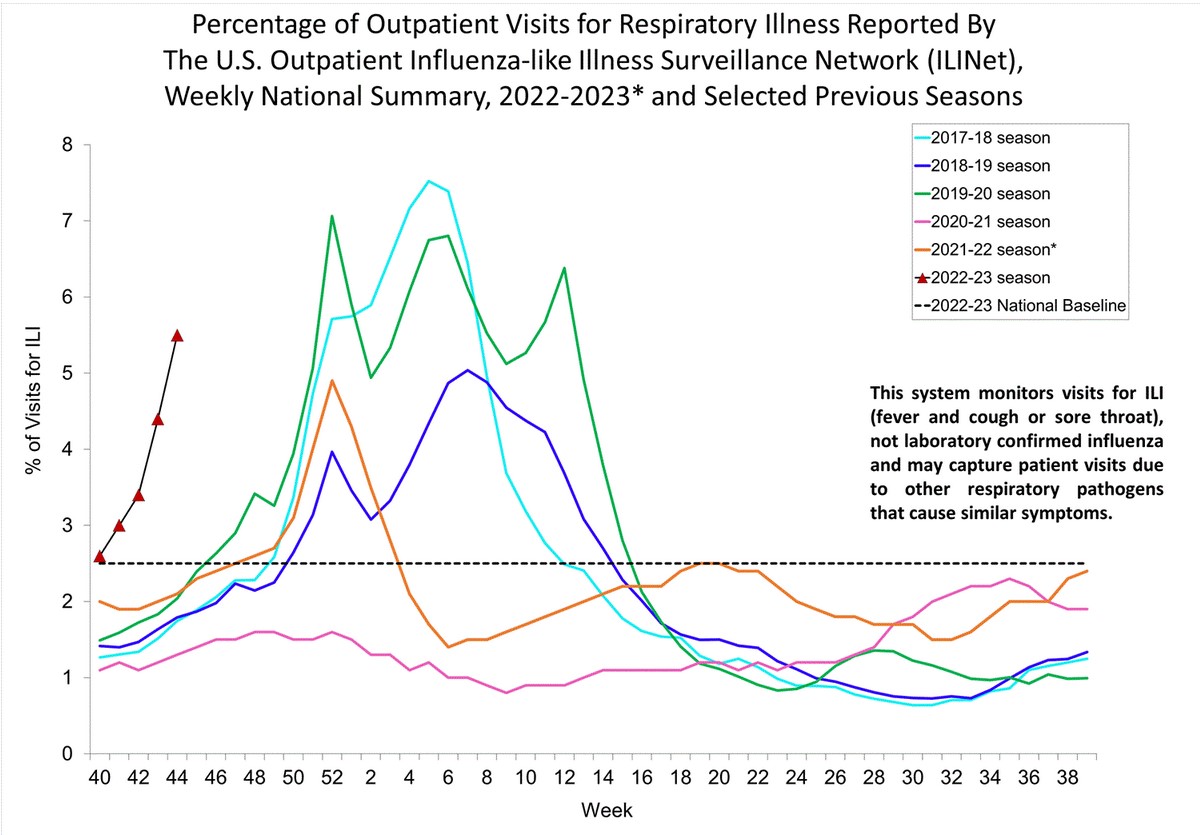 Additionally, so far this season, the CDC reports there have been at least:
2.8M illnesses,
23,000 hospitalizations, and
1,300 deaths from influenza.
Intervention Methods
The spike in cases comes as little surprise to healthcare practitioners who warned of the possibility during previous seasons once restrictions were lifted and sanitation programs were relaxed.
Related to this, and of increasing concern, is the likely impact the upcoming Thanksgiving holiday will have on new ILI cases.
According to CleanLink;
The jump in case rates overall is no surprise, and is in-line with years without shutdowns and other pandemic-related factors.

With Thanksgiving around the corner, infection control measures will become increasingly stressed in facilities all over the country as high-volume indoor gatherings and travel are inevitable.

A proactive approach is always the best route, including the promotion of handwashing, disinfecting high-touch surfaces frequently and ensuring the right products and resources are on-hand to do so.
Implementing preventative measures can help arrest the spread of influenza and other seasonal respiratory illnesses.
Restrooms should be spot disinfected several times daily, then cleaned and disinfected after closing.
Anywhere food is consumed should be cleaned at least once per day and spot disinfected, preferably before and after eating, and then disinfected at the end of the day.
Handwashing with soap and water is likely the single best bulwark against infection we have, second only to vaccination, so hand hygiene should be a priority topic in all organizational correspondence, and all handwashing stations should be serviced at least once daily to ensure maximum occupant compliance.
Floors should be considered germ hotspots and serviced at least daily, with increasing rates based on foot traffic, localized spread, and weather conditions.
Targeted fomite disinfection services using an EPA-registered product for use against Influenza should increase and continue throughout the cold and flu season.
Cross-contamination prevention methods should be implemented and emphasized.
Increasing cleaning and disinfection rates during localized outbreaks aligns with current CDC guidelines for infection prevention--facility-specific rates will vary depending on risk and other factors.
Leveraging advanced technologies, including electrostatic disinfection appliances and automated floor scrubbers, can significantly improve outcomes but require operator training to ensure safe and effective use.
Day porter and day cleaning services can significantly improve infection prevention intervention results.
Commercial-grade air cleaners, combined with increased indoor airflow, and upgraded HVAC filters, can help prevent the spread of airborne pathogens.
Takeaway
The predictions of an overwhelming influenza season once COVID restrictions were lifted may have finally come to pass.
Current trends show early and alarming spikes in every category, with many jurisdictions already reporting high or very high rates of transmission and hospitalization.
Increased cleaning and disinfection frequencies combined with high levels of occupant handwashing compliance will significantly reduce the spread of influenza and other seasonal respiratory pathogens.
Onboarding the requisite labor and material resources may prove cost-prohibitive to many organizations.
Outsourcing is a proven method for onboarding highly in-demand cleaning and disinfection services and experience for a fraction of the price of maintaining a similar service in-house.
If you would like more information regarding the effectiveness of high-performance infection prevention and control measures, or if you would like to schedule a free, no-obligation on-site assessment of your facility's custodial needs, contact us today for a free quote!
In Bakersfield, CA, call (661) 437-3253
In Fresno, CA, call (559) 206-1059
In Valencia, CA, or Santa Clarita, CA, call (661) 437-3253
In Palmdale, CA, or Lancaster, CA, call (661) 371-4756