Studies have shown that clean schools help engage students, particularly when compared to their dirtier counterparts.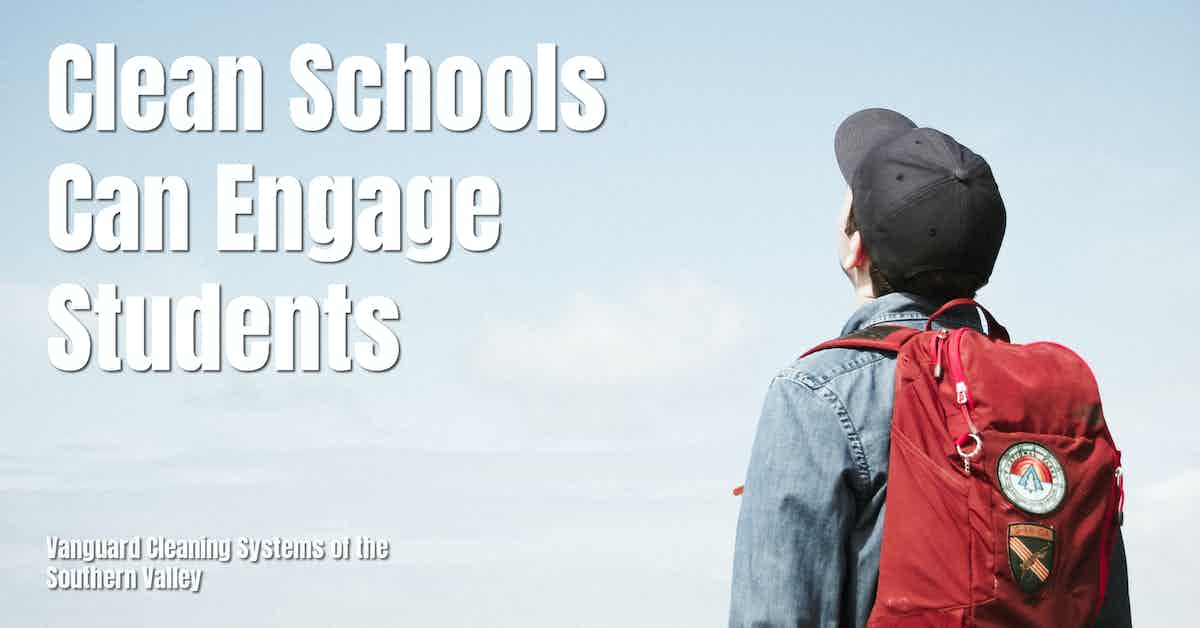 The Impact of a Clean Classroom on Learn
Cleanliness is a pillar of a healthy school.
Healthy schools are mandatory to ensure a safe, productive learning environment, and negative consequences typically follow in their absence.
According to the Healthy Schools Campaign;
The research is clear: a healthy and positive school environment is fundamental to student success and effective learning—not secondary to it.

In recent years, an emerging body of neuroscience focused on child development and the science or learning has established that students' academic achievement is predicated on environments that support healthy student growth across all developmental pathways: physical, psychological, cognitive, social and emotional. Similarly, the studies reveal an absence of such supports to be causally harmful to educational objectives.
The Cost of Chronic Absenteeism
Chronic student absenteeism is a silent epidemic in the United States, affecting millions of children annually and resulting in socially undesirable outcomes.
According to the American Academy of Pediatrics:
More than 6.5 million children in the United States (approximately 13% of all students) miss 15 or more school days each year.
Chronic absenteeism can occur as early as preschool and kindergarten and is related to future chronic absenteeism, grade retention, and poor academic achievement, particularly for social skills and reading.
Among elementary school students, absenteeism is highest in kindergarten and first grade, then decreases until middle school.
At least 10% of kindergarten and first-grade students miss a month or more of the school year.
Absenteeism tends to increase again in middle school and high school, with an estimated 19% of all high school students being chronically absent.
Students with poor attendance score lower on national skills assessments than their peers who attend school regularly, regardless of race or ethnicity.
Chronic absenteeism can be a better predictor of school failure than test scores.
In one study, students with high test scores who missed at least two weeks of school during the semester were likelier to have failing grades than students with low test scores who regularly attended school.
Chronic absenteeism as early as sixth grade is predictive of dropping out of school.
Source:
How the Cleanliness of a School's Physical Environment Impacts Students
Cleanliness, indoor air quality, and several other factors directly impact student classroom performance and behavior in several ways, including:
Safety - Students and teachers naturally feel safer in a visibly clean and comfortable classroom where disease concerns are virtually non-existent.
Attendance - Regular cleaning reduces the presence of soil, germs, and other microbes that cause illness resulting in higher attendance numbers and a higher probability of high school graduation.
More Quality Learning Time - Following a regular cleaning routine with a combination of targeted and deep disinfection will kill the pathogens that cause the common cold and flu, resulting in reduced student and teacher absences, which translates into more quality learning time in the classroom with the assigned instructor.
Better Air Quality - Improved cleaning frequencies and methods help eliminate volatile organic compounds, corrosive chemicals, allergens, and other pollutants from the air resulting in measurably improved cognitive functions, reduced absences, fewer behavioral issues, and lower rates of asthma and other respiratory ailments.
More Engaged Teachers -  Cleaner classrooms also positively impact instructor health and performance, which translates directly to improve educational outcomes.
Takeaway
Classroom environment quality directly affects several factors that impact student and teacher engagement in the classroom, school performance, attendance, and student behavior.
According to the U.S. Department of Education;
A well-maintained and safe physical environment of high quality fosters positive attitudes and motivations related to students' ability to learn, academic achievement, and prosocial behavior.

Creating a positive environment is necessary in order for teachers to teach effectively and for students to be engaged and receptive to learning.

Facilities in good condition, including low noise levels, cleanliness like routine trash removal, high indoor air quality, appropriate heating and cooling, access to clean water, and absence of overcrowding are not only conducive to instruction and learning, but essential for student and staff overall health and well-being.
Unfortunately, many districts are feeling the financial crunch, and onboarding and managing the necessary resources, including labor and materials, is likely cost-prohibitive.
Outsourcing is a proven method for onboarding highly in-demand cleaning and disinfection services and experience for a fraction of the price of maintaining a similar service in-house.
If you would like more information regarding the effectiveness of high-performance infection prevention and control measures, or if you would like to schedule a free, no-obligation on-site assessment of your facility's custodial needs, contact us today for a free quote!
In Bakersfield, CA, call (661) 437-3253
In Fresno, CA, call (559) 206-1059
In Valencia, CA, or Santa Clarita, CA, call (661) 437-3253
In Palmdale, CA, or Lancaster, CA, call (661) 371-4756