Low-waste cleaning is a cost-effective solution to the challenges of economic uncertainty and the need for increased sustainability.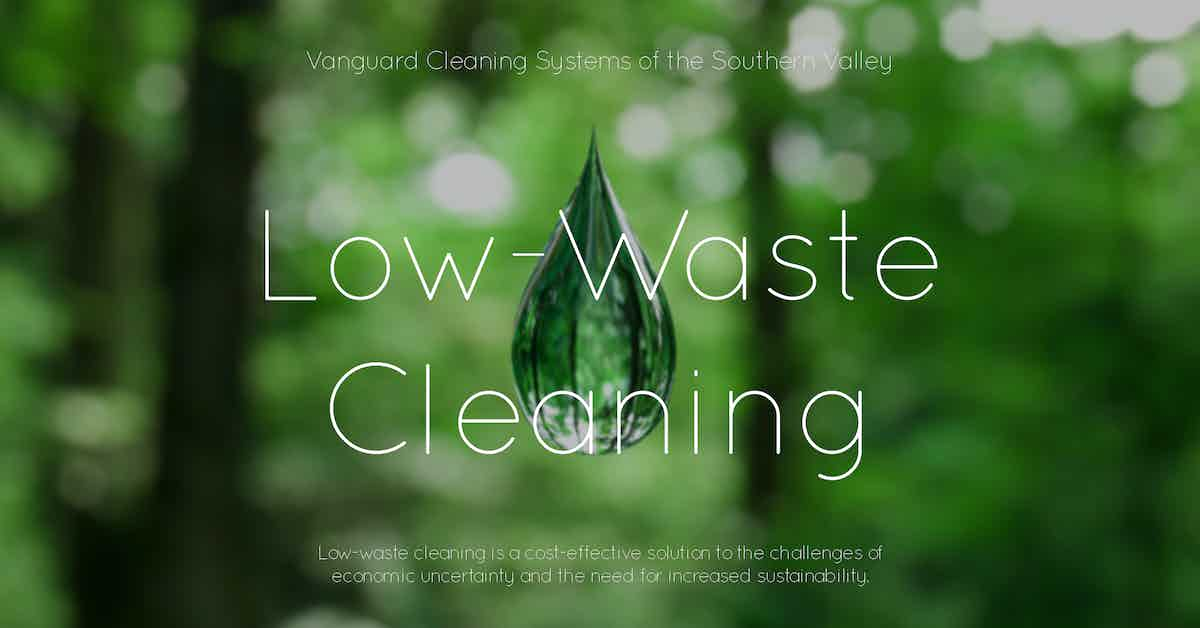 The Benefits of Low-Waste Cleaning
Low-waste cleaning practices are good for the environment and the bottom line.
Less waste is generated, which is good for the environment and reduces disposal costs.
A well-designed plan can also result in additional gains through supply-side cost reductions and, potentially, waste-diversion revenue streams.
Going zero waste doesn't have to burden a business with extra work or extra costs, at least not after the initial audit and systems get set up, and can effectively reduce expenses, most notably waste disposal costs.

It can also cut costs on the supply side by eliminating the need for certain materials. Some waste items, such as cardboard or other recyclables, may have a local market for them, which would allow these materials to generate some revenue instead of an expense.

In addition, developing or sourcing reusable materials or finding ways to do more with less can help increase overall efficiency, leading to lower costs and increased productivity.

Moving to a zero-waste model can also help businesses comply with local sustainability mandates and perhaps even qualify for reduced fees or other financial incentives.
Economically and Environmentally-Friendly Low-Waste Cleaning Practices
Planned Equipment Maintenance - Routine maintenance on cleaning equipment lengthens its functional lifespan, increases the organization's return on investment, helps prevent untimely breakdowns, ensures maximum performance, and helps prevent cross-contamination.
Smarter Cleaning Schedules - Implementing day porter services and daytime cleaning schedules can reduce operational overhead and natural resource use.
Concentrated Products - Purchasing cleaning and disinfectant products in concentrated form is less expensive when compared to ready-to-use solutions and reduces shipping and storage costs and natural resource requirements, resulting in a lower cost of ownership and carbon footprint.
Dilution Management - Dilution management systems (something as simple as a concentrated cleaning product in a sealed pod or as complex as a digital dispenser) significantly reduce product and natural resource waste by precisely measuring the exact amount of cleaner or disinfectant required per volume of water.
Green Cleaning - Purchasing products with Safer Choice, Green Seal, VOC-Free, or Designed for the Environment (DfE) labels ensures fewer toxins are released into the air, resulting in improved indoor air quality, which positively impacts occupant health and productivity, resulting in better performance and attendance while reducing healthcare costs.
Inventory Management - Inventory management systems assist with planned maintenance scheduling, timely product purchasing, and equipment sunsetting, resulting in more efficient resource management.
Microfiber - Microfiber is more efficient than cotton, and unlike paper towels, it can be washed and reused multiple times, resulting in a better return on investment and less trash.
Investment - Investing in high-efficiency automated floor scrubbers, color-coded microfiber, electrostatic disinfection appliances, and commercial-grade HEPA-filtered vacuums significantly improves cleaning outcomes and reduces task completion time, resulting in more efficient and effective natural resource use, and lower costs.
Takeaway
Low-waste cleaning significantly reduces operational overhead, natural resource use, and garbage generation--translating directly to increased profits and expanded sustainability.
Implementing low-waste cleaning practices is cheap and easy when correctly managed and executed.
However, onboarding the requisite labor and material resources may prove cost-prohibitive for many organizations.
Outsourcing is a proven method for onboarding highly in-demand cleaning and disinfection services and experience for a fraction of the price of maintaining a similar service in-house.
If you would like more information regarding the effectiveness of high-performance infection prevention and control measures, or if you would like to schedule a free, no-obligation on-site assessment of your facility's custodial needs, contact us today for a free quote!
In Bakersfield, CA, call (661) 437-3253
In Fresno, CA, call (559) 206-1059
In Valencia, CA, or Santa Clarita, CA, call (661) 437-3253
In Palmdale, CA, or Lancaster, CA, call (661) 371-4756