Organizational waste diversion and recycling practices can reduce the staggering volume of garbage dumped in U.S. landfills yearly.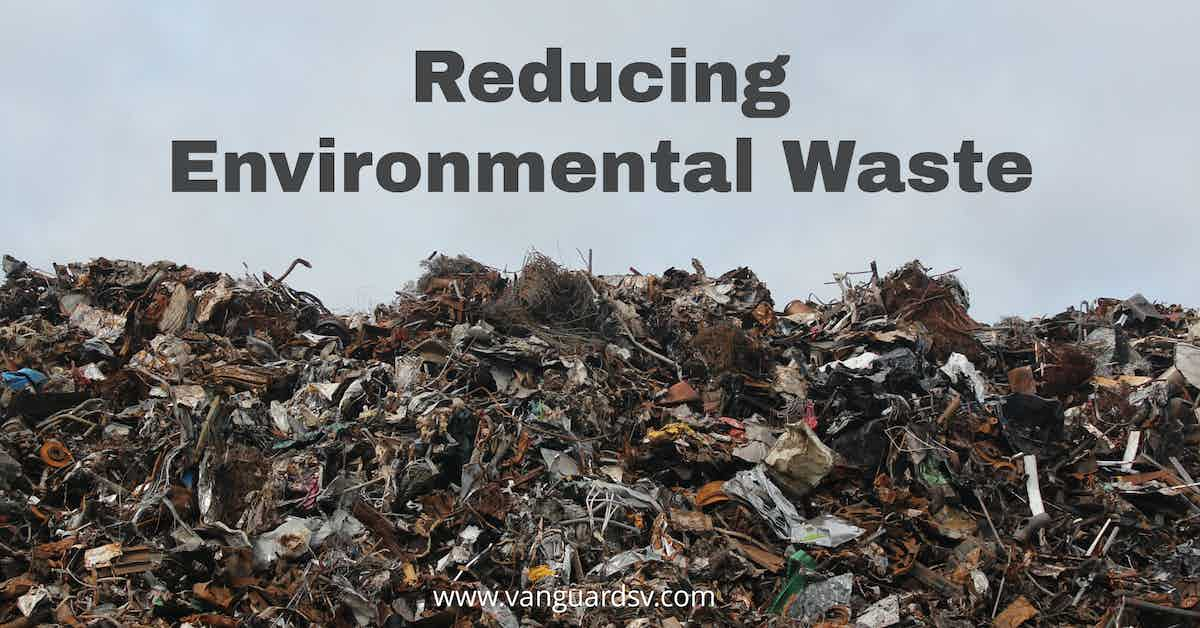 The Growing Landfill Crisis
According to estimates, the U.S. produces more than 230 million tons of municipal solid waste (MSW) and roughly 7.6 billion tons of industrial waste annually.
Only about 30% of that waste is recycled, even though the U.S. Environmental Protection Agency estimates that more than 75% of the waste is recyclable.
Current studies estimate that, on average, more than 60% of landfill waste is comprised of:
Food waste.
Plastic.
Paper.
Metal.
Glass, and;
Plastic.
The dumping of this waste has resulted in several crises, including:
The generation of greenhouse gasses.
Groundwater pollution.
Public health and safety concerns.
Carbon emissions, and;
The burdening of future generations with the challenge of dealing with the waste.
The Current Financial Situation
Addressing the challenge of municipal and industrial waste carries a cost.
Recycling the waste costs approximately $30 per ton, $50 per ton to dump in a landfill, and between $65 and $75 per ton to incinerate.
Some areas, like New York City, divert their waste to other states at an estimated cost of $1 million per day.
The financial challenges also burden consumers--an estimated $1 out of every $10 spent on product purchases goes toward packing materials that are subsequently thrown away instead of recycled.
The Financial and Social Benefits of Diversion
One method for financially benefitting from waste diversion is to sell it.
The U.S. generates approximately $57 billion annually selling industrial waste to China.
However, that method does not decrease the environmental burden and may contribute to increased carbon emissions during the movement of the garbage.
Diverting waste and recycling it could result in billions of dollars in cost-elimination and revenue generation.
According to Forbes;
If one man's trash is another man's treasure, General Motors has the revenue to prove it.

The automaker generates an eye-popping $1 billion a year reusing or recycling materials that would otherwise be thrown away -- everything from scrap steel and paint sludge to cardboard boxes and worn-out tires.

It's an unexpected but welcome revenue stream that comes from rethinking its approach to waste reduction.
Additionally;
Recycling creates approximately 36 jobs per 10,000 tons of material recycled, compared to 6 jobs for every 10,000 tons brought to traditional disposal facilities.
The amount of wood and paper we throw away yearly is enough to heat 50,000,000 homes for 20 years.
Each ton of recycled paper can save 17 trees, 380 gallons of oil, three cubic yards of landfill space, 4000 kilowatts of energy, and 7000 gallons of water. This represents a 64% energy savings, 58% water savings, and 60 pounds less of air pollution.
It costs about 50 to 80% less to construct a paper mill designed to use waste paper compared to the construction costs of a mill designed to use the new pulp.
The energy saved from recycling one glass bottle can run a 100-watt light bulb for four hours. It also causes 20% less air pollution and 50% less water pollution than when a new bottle is made from raw materials.
A 60-watt light bulb can be run for over a day on the amount of energy saved by recycling 1 pound of steel.
In one year in the United States, steel recycling saves enough energy to heat and light 18,000,000 homes.
Source:
Waste Reduction Strategies for Facilities
A basic strategy for reducing the volume of waste generated and sent to a landfill includes:
Conducting regular periodic audits of waste generation (source, type, and volume), diversion, and disposal practices and costs.
Develop strategies for each waste type that diverts it from landfills, such as reusing, recycling, repurposing, or composting.
Educate employees regarding the importance of eliminating single-use plastics and the need to recycle their consumables on a personal and corporate level.
Implement signage throughout the facility encouraging occupants--guests, customers, and employees--to use designated recycling bins, and;
Monitor your organization's progress through follow-up audits and assessments with metrics that include cost reduction and revenue generation.
References & Resources
Takeaway
Inadequate commercial and industrial waste management practices have created a series of crises worldwide.
Failing to divert the largely recyclable portion of the trash generated every day has resulted in environmental hazards, severe health issues, and rising costs.
Implementing corporate-wide reuse, recycle, and repurpose programs has been shown to decrease the burden of human activity on the planet and can be financially lucrative if adequately managed.
Partnering with a vendor experienced in waste diversion and other sustainable practices is the simplest method for onboarding these critical services in your organization.
Outsourcing is a proven method for onboarding highly in-demand cleaning and disinfection services and experience for a fraction of the price of maintaining a similar service in-house.
If you would like more information regarding the effectiveness of high-performance infection prevention and control measures, or if you would like to schedule a free, no-obligation on-site assessment of your facility's custodial needs, contact us today for a free quote!
In Bakersfield, CA, call (661) 437-3253
In Fresno, CA, call (559) 206-1059
In Valencia, CA, or Santa Clarita, CA, call (661) 437-3253
In Palmdale, CA, or Lancaster, CA, call (661) 371-4756