Spring is here, and more organizations than ever are getting involved in the process and taking the opportunity to implement green sustainable cleaning practices in their facilities.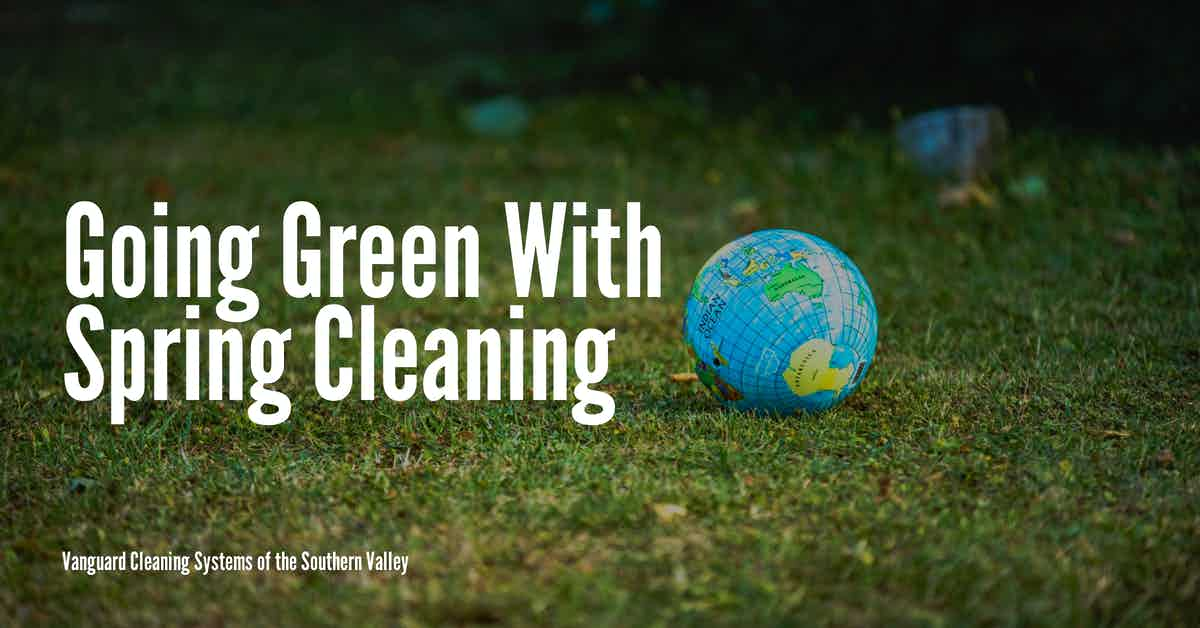 Survey Shows Americans Going Green With Spring Cleaning
Recent data suggests that not only are most Americans planning on spring cleaning their work and living spaces this year, but nearly all of them are also considering ways they can reduce their environmental impact.
According to a recent survey conducted by Bona:
93% of respondents said they were planning to spring clean this year.
92% stated they are considering actions to reduce their environmental impact while spring cleaning.
56% said they planned on using environmentally friendly cleaning products.
53% said they had already changed to environmentally friendly cleaning products.
77% say they are likely to switch out traditional cleaning products for greener alternatives.
79% stated they were interested in switching to green cleaning products for spring cleaning.
83% said having green cleaning products in their home ranked as "at least somewhat important."
32% said it was "extremely important" or "absolutely essential."
49% say they are cleaning less now than at the beginning of the pandemic, compared to 42% from last year.
90% of respondents said they felt more relaxed when they had a clean home than 86% from the previous year.
Source:
The Impact of COVID on Commercial Green Cleaning
The COVID-19 pandemic significantly impacted business operations, including facility cleaning measures.
Many organizations, previously committed to environmentally sustainable actions, paused their green cleaning efforts to halt the rapid spread of SARS-CoV-2.
New data shows that trend has reversed, and commercial facilities are returning to their previous sustainability initiatives, including green cleaning.
According to the results of a poll published by Kline;
Nearly 83% of respondents foresee a return to pre-pandemic business operations by the second half of this year or the first part of 2022, largely due to a drop in coronavirus cases, wide distribution of the vaccine, and lifting of lockdowns; some 45% had said that COVID-19 had a negative impact on their business overall.

Meanwhile, some of the changes end-users made to their cleaning procedures, and some trends that were prevalent before the pandemic, are taking on secondary importance.

For example, 32.2% of end-users indicate that as part of COVID adjustments, they switched from environmentally friendly cleaning products to stronger, chemical-based products; now, however, when asked which factors are most important when deciding which cleaning products to purchase, 49.7% indicated that the product's environmental friendliness/green/sustainable ingredients are extensively important in their purchase decisions.

Environmentally Friendly Cleaning is Back After a Brief Lull
Future Green Cleaning Trends
As we move further away from the pandemic, all data indicates consumers and office workers will continue to drive sustainable business practices and green cleaning initiatives with powerful consequences for non-compliance.
According to data collected by LendingTree.com in a recent survey:
55% of respondents stated they were willing to spend extra money to purchase environmentally friendly products.
40% of consumers would boycott a company for not being eco-conscious, and of that group, 18% have done so, and;
28% of consumers said they're spending more on environmentally friendly products than ever before.
Among the top reasons provided for the trend:
49% said they felt they were more educated regarding the need to help the environment.
43% said it made them feel good about themselves.
33% felt they had enough disposable income to afford to buy green.
19% said it was because going green was important to their spouse/partner/child, and;
3% said they were doing it because everyone else was.
Source:
Takeaway
Data shows that the majority of Americans will participate in spring cleaning programs in their homes and businesses this year.
Many of them will take the opportunity to make the switch from unsustainable conventional cleaning to environmentally-friendly products and methods.
While green cleaning products are safer for human habitation and the environment, their use can still result in health issues if employed incorrectly.
Additionally, especially when cleaning a commercial facility, the person applying the product must take care not to damage the built environment by using the wrong product or applying it incorrectly.
Outsourcing is a proven method for onboarding highly in-demand cleaning and disinfection services and experience for a fraction of the price of maintaining a similar service in-house.
If you would like more information regarding the effectiveness of high-performance infection prevention and control measures, or if you would like to schedule a free, no-obligation on-site assessment of your facility's custodial needs, contact us today for a free quote!
In Bakersfield, CA, call (661) 437-3253
In Fresno, CA, call (559) 206-1059
In Valencia, CA, or Santa Clarita, CA, call (661) 437-3253
In Palmdale, CA, or Lancaster, CA, call (661) 371-4756