Commercial cleaning services have a profound and immediate impact on the natural environment and human health.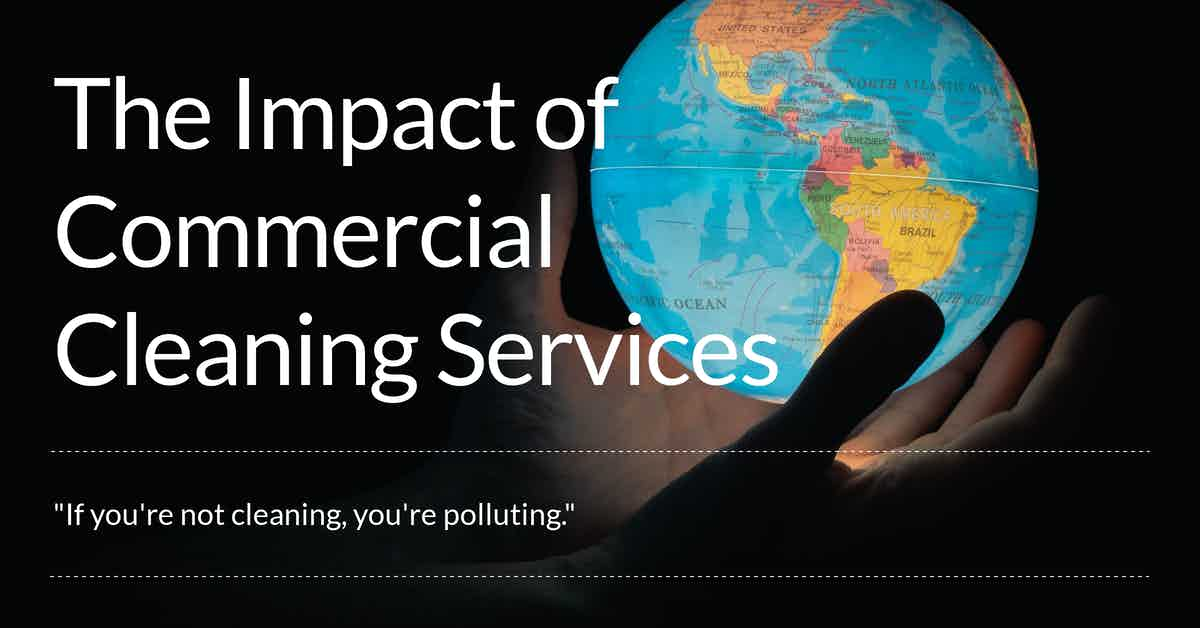 If You're Not Cleaning, You're Polluting
As the world celebrates the 52nd annual Earth Day while exiting the most significant health challenge in decades, we must reassess our approach to cleaning--how it impacts people, indoor air quality and safety, and the natural environment.
A significant challenge facing the world and directly impacting the cleaning industry is the potential for water shortages in major metropolitan areas.
In the U.S., the city faced with the most significant probable water shortage is Los Angeles.
According to a recent list compiled by Waterless Co;
It now appears that those cities experiencing droughts and water shortages in the past couple of years, are likely to experience water shortages in 2022.

The only American city on the list, the past few years have been some of the driest in more than 1,200 years.

Improved water storage and water efficiency measures have helped Los Angeles stay water solvent, but it still faces serious water challenges.
Additionally, conventional cleaning products, specifically those containing terpenes, have been shown to combine with ozone particles in the air, resulting in a kind of synthetic formaldehyde.
According to the California Air Research Board;
In a 2008 study funded by CARB, researchers from the University of California at Berkeley and Lawrence Berkeley National Laboratory measured pollutant concentrations during and after simulated cleaning activities [...].

Twelve of the 21 products examined contained terpenes or other VOCs that can react with ozone, with terpenes constituting from 0.2% to 26% of the product.

The investigators found that chemicals emitted from the products generally were below levels of concern.

However, chemical reactions did produce other pollutants at levels of health concern.

Specifically, cleaning products that contained terpenes – which are found in pine and citrus oils – resulted in the production of formaldehyde and ultrafine particles in rooms where elevated levels of ozone were present.

[...] calculations showed that high exposure situations could potentially lead to exposure to one of the compounds, 2-butoxyethanol, above health guideline values.
Methods to Avoid Polluting While Improving the Cleaning Process
There are several methods nearly any facility can employ that are low cost with high returns, including:
Using environmentally-preferable products.
Define cleaning outcomes and;
Measure results.
Use Eco-Friendly Products to Tell a Story
Employing environmentally friendly products is the first step, but their use--both before and after implementation--should be tracked.
Relevant data includes:
The number of products used before and after the implementation of eco-friendly solutions.
Comparative resource use.
Time to task completion.
Occupant sick days.
General occupant perception of cleanliness and facility hygiene, and;
Square footage cleaned.
Measuring this data will help you track the impact of your efforts and support further investment.
Define Outcomes
Defining cleaning outcomes simplifies task creation, training, and completion.
For example:
Define what constitutes garbage vs. recycling, where it goes, and when, and;
Document high-touch surfaces and precisely when they should be wiped down and with what products.
Measure and Report
Measuring the effectiveness of eco-friendly cleaning processes is the only way to ensure that the outcomes justify the resources invested.
Doing so requires ongoing monitoring and reporting systems, including:
Surface testing with ATP meters and pathogen swabs.
Airborne particulate matter testing and;
Fluorescent lights.
The results from each test should be compared alongside the cleaning products and methods used to deduce efficacy and provide data for future improvements.
References & Resources
Takeaway
A real commitment to cleaning for health requires a long-term investment in environmental sustainability.
However, implementing the tools and products is only the first step.
Documentation, training, monitoring, and reporting are all required to ensure desired outcomes are achieved and resources are intelligently allocated.
Onboarding the necessary labor resources, tools, and products can prove cost-prohibitive for many organizations.
Outsourcing is a proven method for onboarding highly in-demand cleaning and disinfection services and experience for a fraction of the price of maintaining a similar service in-house.
If you would like more information regarding the effectiveness of high-performance infection prevention and control measures, or if you would like to schedule a free, no-obligation on-site assessment of your facility's custodial needs, contact us today for a free quote!
In Bakersfield, CA, call (661) 437-3253
In Fresno, CA, call (559) 206-1059
In Valencia, CA, or Santa Clarita, CA, call (661) 437-3253
In Palmdale, CA, or Lancaster, CA, call (661) 371-4756