Candida Auris (C. Auris) is a pathogenic fungus that behaves like a bacteria, spreads rapidly via dermal transmission, is incredibly difficult to diagnose, and has experienced a rapid rise in outbreaks since 2016.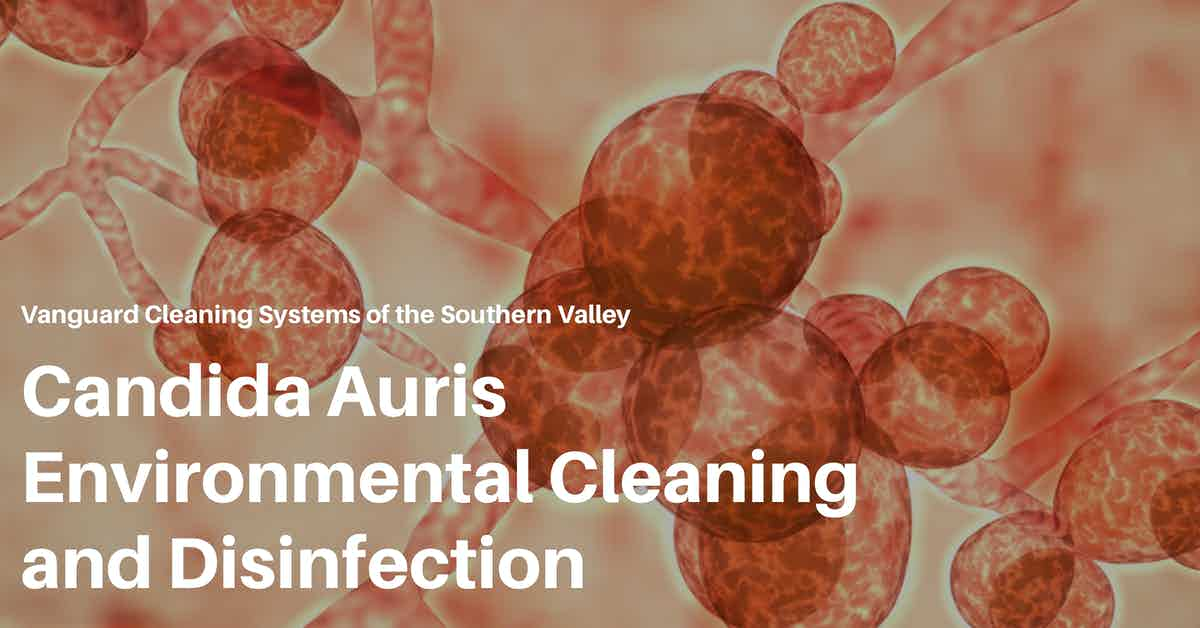 Candida Auris
C. Auris, initially discovered in 2009, is a multi-drug resistant yeast that spreads rapidly, is extremely difficult to identify and kill, and has a high mortality rate.
In 2016, the US Centers for Disease Control and Prevention issued a nationwide healthcare alert to US healthcare facilities.
The Centers for Disease Control and Prevention (CDC) has received reports from international healthcare facilities that Candida auris, an emerging multidrug-resistant (MDR) yeast, is causing invasive healthcare-associated infections with high mortality.

Some strains of C. auris have elevated minimum inhibitory concentrations (MICs) to the three major classes of antifungals, severely limiting treatment options.

C. auris requires specialized methods for identification and could be misidentified as another yeast when relying on traditional biochemical methods.

CDC is aware of one isolate of C. auris that was detected in the United States in 2013 as part of ongoing surveillance. Experience outside the United States suggests that C. auris has high potential to cause outbreaks in healthcare facilities.
Case counts have accelerated rapidly since 2016, nearly doubling from 2019 to 2020, and more than 1,000 cases being reported by April of 2021.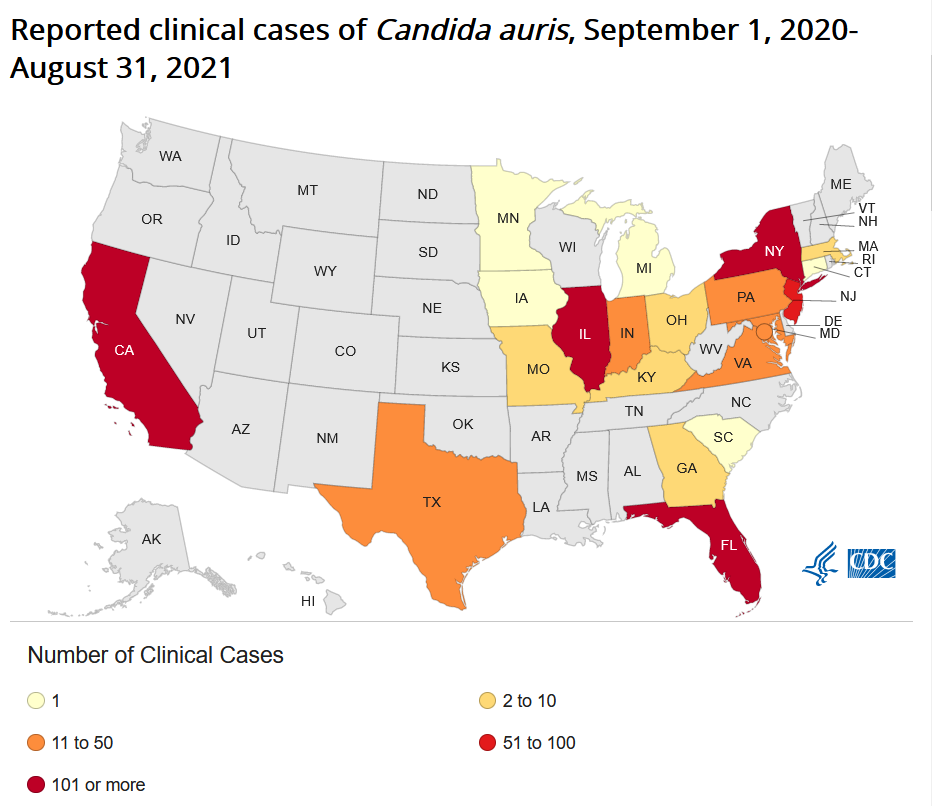 Challenges stemming from the pandemic, including increased hospitalizations and a reduction in screening, have contributed to the recent spike in cases.
Still, other challenges point to a potentially significant public health crisis on the horizon, including:
High mortality--30-60% of patients succumb to the illness.
Treatment options are limited due to rapidly developing drug resistance.
The yeast is highly persistent and can live for weeks on surfaces, and is resistant to standard surface disinfectants.
Long-term care residents and patients with COVID-19 have a higher risk of infection.
It spreads quickly and easily via dermal contact with a contaminated person or surface.
A contaminated person can spread the pathogen without an active infection and shed the yeast on beds and throughout the hospital environment, and;
There is a high risk of cross-contamination between facilities during patient transfer.
Source:
Candida Auris Environmental Infection Prevention and Control
Environmental infection prevention and control methods to combat the spread of C. Auris are not unlike other pathogens and pathogenic bacteria.
Maintain strict handwashing and hygiene protocols appropriate for a healthcare environment.
Clean and disinfect patient rooms daily--terminal cleaning--with a hospital-grade detergent and a disinfectant located on the EPAs List-P database.
Ensure the disinfectant is compatible with the material it is applied to.
Observe manufacturer specified product dwell times.
Ensure all cleaning service providers are trained in the handling of the various products, terminal cleaning requirements, and are wearing the appropriate PPE to protect against infection or contamination.
Always clean the room thoroughly with a soap-based detergent before applying any disinfectant.
Do not use any disinfectant not listed on the List-P database, as it will not be effective.
Adhere to strict communication protocols regarding patient status when transferring between facilities.
Screen the contacts of newly identified patients as soon as possible, and;
Submit laboratory specimens for analysis and surveillance.
References & Resources
Takeaway
Candia Auris is an emerging fungal pathogen that poses a significant challenge to hospitals, long-term care facilities, and surgery centers, in addition to being a potential public health risk.
Rates of community spread are presently unknown but likely to occur in lockdown scenarios, especially in the absence of proper screening.
Strict protocols must be adhered to when combatting the presence and spread of C. Auris, or the risk of cross-contamination is extremely high.
Only trained professionals wearing adequate PPE should be allowed to provide terminal cleaning services to facilities suspected of C. Auris contamination.
Outsourcing is a proven method for onboarding highly in-demand cleaning and disinfection services and experience for a fraction of the price of maintaining a similar service in-house.
If you would like more information regarding the effectiveness of high-performance infection prevention and control measures, or if you would like to schedule a free, no-obligation on-site assessment of your facility's custodial needs, contact us today for a free quote!
In Bakersfield, CA, call (661) 437-3253
In Fresno, CA, call (559) 206-1059
In Valencia, CA, or Santa Clarita, CA, call (661) 437-3253
In Palmdale, CA or Lancaster, CA, call (661) 371-4756