COVID-19 spotlighted classroom cleaning and disinfection protocols that ranged from highly inadequate to borderline dereliction and, based on current data, little that must have changed in the interim.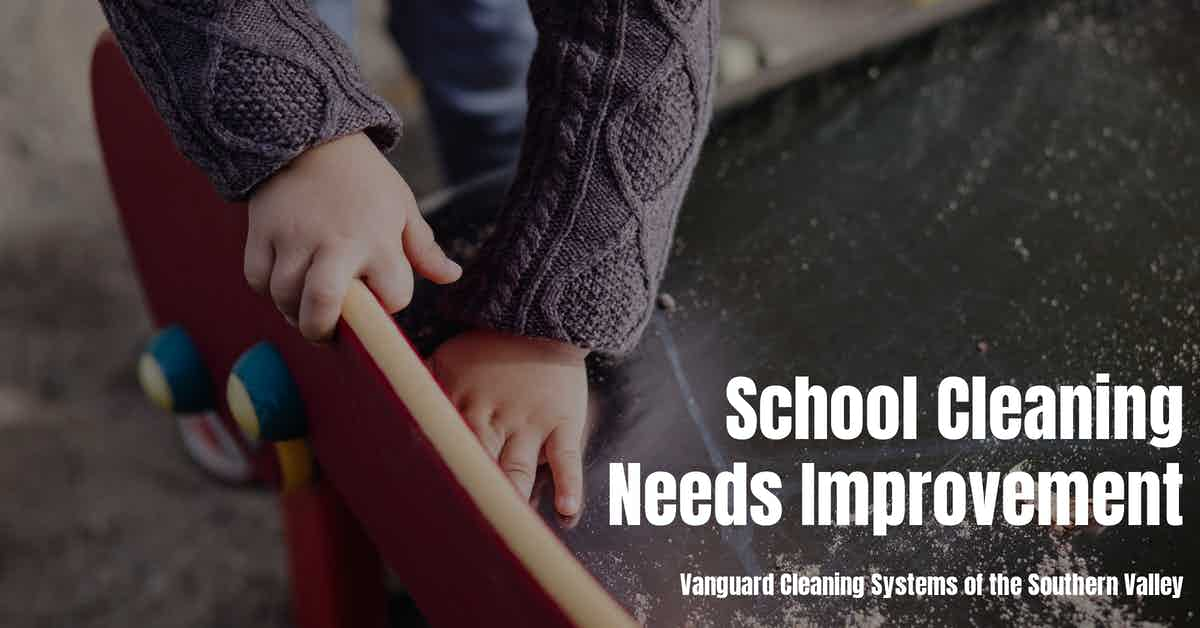 Current Issues With Classroom Cleaning and Disinfection Strategies
Throughout the COVID-19 pandemic, many poorly conceived and executed cleaning and disinfection strategies have been implemented.
Few more so than those employed in public schools.
A recent survey of more than 1,100 K-12 employees reported that both teachers and students, without proper training, supervision, or ventilation, were required to clean and disinfect classroom surfaces with highly regulated, corrosive, and toxic chemicals, resulting in a slew of predictable short-term health issues and untold long-term consequences.
Responses to the survey included the following comments:
"My classroom seemed to fill with the alcohol fumes after seven periods of cleaning between classes. That night I had continuing vomiting to the point where I went to the ER."
"It is up to the teachers and students to clean, and I teach first grade."
"After using products in the classroom, my asthma has been set off and caused two trips to the emergency room."
"On the bottle, it says 'Don't use in food space,' but we have to use it to spray the kid's desks before they eat lunch."
"Some days my lungs hurt. I am afraid that someday in the future we will have problems with our lungs because of these products."
Source:
The reason for the acute respiratory issues likely stems from the incorrect use of, and overexposure to, the disinfectants that were commonly employed to combat SARS-CoV-2, including:
Quaternary ammonium compounds (quats),
Bleach, and;
Peroxide.
Each of these are associated with serious short and long-term health risks that include:
Skin and eye irritation.
Asthma.
Chronic obstructive pulmonary disease (COPD).
Reproductive disorders.
Central nervous system impairment, and;
Cancer.
Methods for Improving Classroom Cleanliness and Occupant Health
Classroom cleanliness, surface safety, and indoor air quality directly impact academic performance and attendance.
Leveraging untrained staff and children to disinfect complicated facilities with highly-corrosive and toxic chemicals in unventilated spaces is potentially worse than not cleaning at all.
Going forward, and addressing the reality that students and teachers likely will need to continue cleaning their classrooms and desks to some degree, the following steps are highly recommended:
Have the Teachers and Students use Soap and Water Instead
SARS-CoV-2 is highly susceptible to inactivation when cleaned from a contaminated surface with regular soap.
Further, reported rates of dermal transmission of the virus due to contact with a contaminated surface are incredibly low, and;
The CDC does not recommend increased rates of disinfection except in the event of widespread infection in the local community or in the case of localized contamination.
Use Better Products
When using disinfectants to combat SARS-CoV-2, look for Safer Choice products located in the EPAs List-N database.
Use products with a short one-minute or less dwell time, and;
Use products with an HMIS (Hazardous Materials Identification System) score of 0-0-0.
Ensure Adequate Ventilation
One of the best methods for combatting respiratory viruses, including SARS-CoV-2, is to increase the rate of mechanical or natural ventilation in the facility.
Additionally, adequate ventilation is required for the safe use of all commercial disinfectant products.
Finally, allow the room time to fully ventilate after the application of disinfectant products to prevent dangerous exposure.
Use Trained Staff With Proper Equipment
OSHA requires anyone using commercial detergents to be issued proper safety equipment, which includes at a minimum, gloves, respirators or masks, and safety glasses or goggles.
Only trained personnel should be allowed to handle or apply disinfectant products, especially bleach and quats--both of which are extraordinarily dangerous.
Takeaway
The present condition of classroom cleaning and disinfection methods must be improved, or we risk creating a second pandemic of long-term health issues derived from low-quality academic outcomes and exposure to known carcinogens and corrosive chemicals.
Leveraging children to apply quats and bleach to disinfect their desks in rooms with little to no ventilation is wildly irresponsible, and the practice must halt immediately.
Outsourcing is a proven method for onboarding highly in-demand cleaning and disinfection services and experience for a fraction of the price of maintaining a similar service in-house.
If you would like more information regarding the effectiveness of high-performance infection prevention and control measures, or if you would like to schedule a free, no-obligation on-site assessment of your facility's custodial needs, contact us today for a free quote!
In Bakersfield, CA, call (661) 437-3253
In Fresno, CA, call (559) 206-1059
In Valencia, CA, or Santa Clarita, CA, call (661) 437-3253
In Palmdale, CA or Lancaster, CA, call (661) 371-4756