The US Centers for Disease Control and Prevention recently updated its FluView Influenza Surveillance Report showing a concerning spike in Influenza Type-A H3N2 infections and hospitalizations among all age groups, especially those 25 years and older.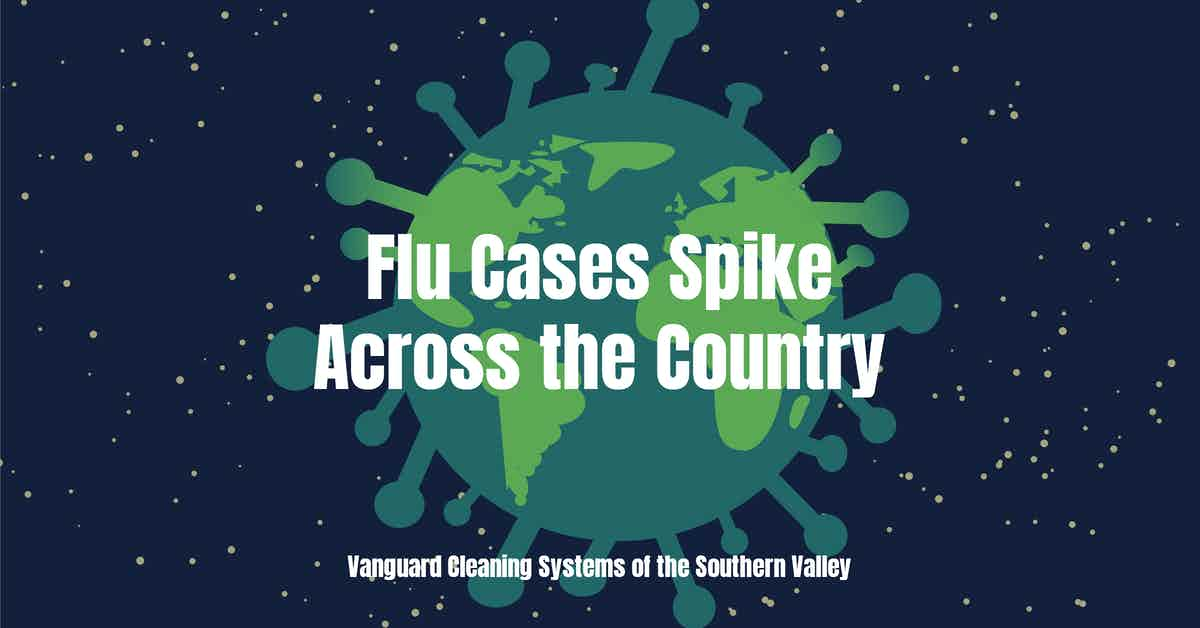 A New Year, A New Flu
2021 saw a plodding start to the cold and flu season, leaving many to hope that it would match the previous year and be, blessedly, all but absent.
Unfortunately, data from the CDC's FluView surveillance and reporting system shows a post-holiday spike in reported instances of the H3N2 strain, which previously had only affected young children across all age groups.
According to the CDC:
Influenza activity is increasing, with the eastern and central parts of the country seeing the majority of viruses reported, and the western part of the country reporting lower levels of influenza virus circulation.
The majority of influenza viruses detected are A(H3N2).
Earlier in the season, most influenza A(H3N2) infections occurred among children and young adults ages 5-24 years; however, in recent weeks, the proportion of infections occurring among other age groups, especially adults age 25 years and older, has been increasing.
Most of the H3N2 viruses so far are genetically closely related to the vaccine virus, but there are some antigenic differences that have developed as H3N2 viruses have continued to evolve.
The percentage of outpatient visits due to respiratory illness continues to increase and is above the national baseline. Influenza is contributing to levels of respiratory illness, but other respiratory viruses are also circulating. The relative contribution of influenza varies by location.
Hospitalizations for influenza continue to increase. The cumulative hospitalization rate in the FluSurv-NET system is higher than the rate for the entire 2020-2021 season, but lower than the rate seen at this time during the four seasons preceding the COVID-19 pandemic.
The flu season is just getting started. There's still time to get vaccinated. An annual flu vaccine is the best way to protect against the flu and its potentially serious complications. The CDC recommends everyone six months and older get a flu vaccine.
There are early signs that flu vaccination uptake is down this season compared to last.
Source: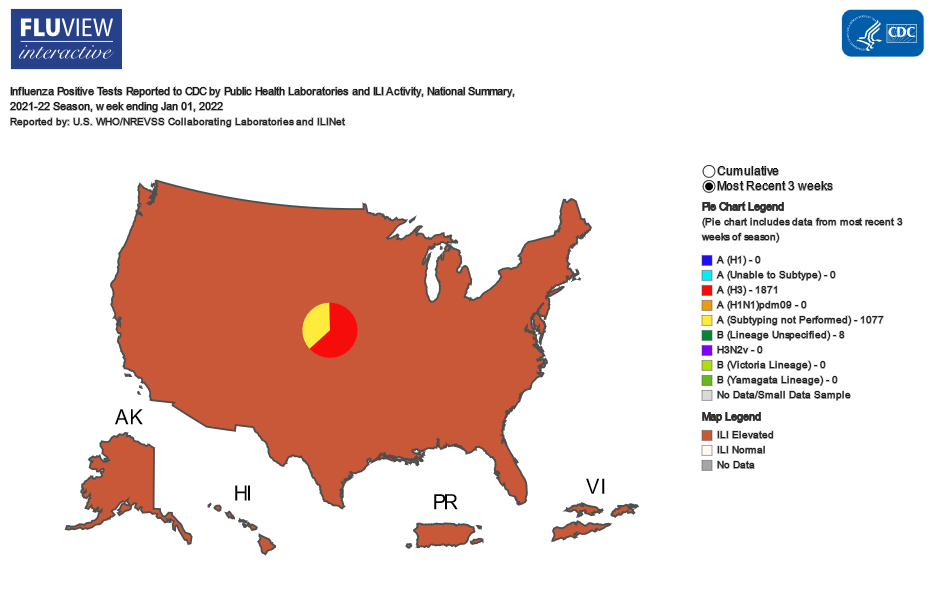 The spike in cases has reportedly led to a dual infection of Delta or Omicron COVID variants resulting in an illness colloquially coined Flurona.
According to Healthline;
"Flurona" is a term that's been coined to describe when a person has both the flu and COVID-19 at the same.

While it's not clear how sick having both viruses could make people, medical experts say at-risk populations should take measures to protect themselves against both the flu and COVID-19.
Combatting Influenza in the Workplace
Preventing the spread of influenza and other pathogens in the workplace is a well-documented process.
Ensure occupants adhere to a high standard of hand hygiene.
Encourage handwashing with clean restrooms and fully supplied handwashing stations.
Employ targeted disinfection methods on high-contact surfaces throughout the day via day porter services.
Clean regularly occupied areas of the facility with commercial-grade soap-based detergent and microfiber every day the facility is used.
Increase the rate of cleaning and disinfection services in the event of localized contamination or widespread community outbreaks.
Ensure the disinfectant products you're using are registered with the EPA against influenza and appropriate for the surface to be sanitized, and;
Where possible, increase the rate of mechanical indoor airflow through the HVAC system.
Takeaway
The fears of a potential dual-pandemic could come to pass without proper precautions.
Unlike COVID, influenza primarily spreads via dermal contact with a contaminated surface or person, underscoring the importance of regular handwashing and high-outcome environmental cleaning and disinfection services.
Additional precautions should be undertaken to avoid accidentally exposing service providers and facility occupants to the Delta and emerging Omicron COVID variants, so it is recommended that only trained personnel wearing recommended protective equipment and using approved chemicals and processes be allowed to clean and disinfect facility surfaces.
Outsourcing is a proven method for onboarding highly in-demand cleaning and disinfection services and experience for a fraction of the price of maintaining a similar service in-house.
If you would like more information regarding the effectiveness of high-performance infection prevention and control measures, or if you would like to schedule a free, no-obligation on-site assessment of your facility's custodial needs, contact us today for a free quote!
In Bakersfield, CA, call (661) 437-3253
In Fresno, CA, call (559) 206-1059
In Valencia, CA, or Santa Clarita, CA, call (661) 437-3253
In Palmdale, CA or Lancaster, CA, call (661) 371-4756