Sustainable business practices and building solutions, which necessarily include cleaning, disinfection, and maintenance services, are the future of business in the U.S.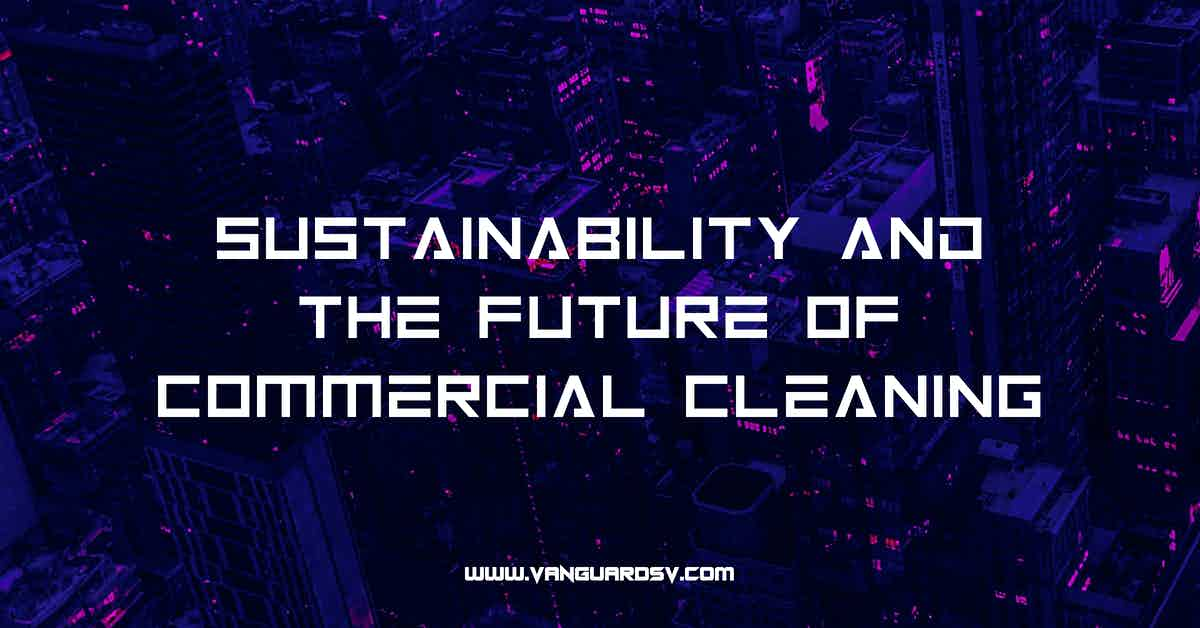 COVID-19 and why the Future of Clean is Green
The COVID-19 pandemic increased consumer demand for commercial and household cleaning and disinfection products.
It also increased consumer awareness regarding the potential dangers exposure to these products presented to facility occupants and the natural environment.
The pressures from both the demand for improved cleaning and the realization that we are damaging our bodies, minds, and planet in an attempt to protect ourselves from microscopic, unseen dangers has put a tremendous amount of weight behind the push for sustainable cleaning products, practices, and building management and design strategies.
According to a study of over 2,000 products conducted by the Environmental Working Group, about 53% of cleaning products contain ingredients that are known to irritate the lungs.

About 22% of products contain chemicals reported to cause asthma, even in healthy people.

These harmful compounds can also accumulate on surfaces in the home, creating health risks as members of the household are exposed to them daily.

Eventually, these compounds end up getting flushed down drains and deposited into water sources, causing environmental concerns as well.
According to research conducted by The US Cotton Trust Protocol regarding the impact that COVID-19 had on consumer demand for sustainability investments:
61% of brands and retailers say their customer demand has increased for environmentally sustainable business practices and goods/services.
63% believe that the pandemic has had a positive impact on their company's proactive investment in sustainability.
50% are expecting to see an increase in consumer spending on sustainable apparel over the next 12 months.
The demand has had a positive impact on corporate decision-making.
63% of brands and retailers stated that the pandemic has had a positive impact on their company's proactive investment in sustainability, including the sourcing of raw materials (42%), improving manufacturing sustainability (42%), and investing in safer working environments (40%).
Source:
The Next Phase of Business Sustainability
Sustainable business initiatives have progressed tremendously since the start of environmental regulation in the 1970s.
According to Stanford Social Innovation Review;
More than 90% of CEOs state that sustainability is important to their company's success.
88% of business school students think that learning about social and environmental issues in business is a priority, and 67% want to incorporate environmental sustainability into their future jobs, and;
Specific academic programs on business sustainability can now be found in 46% of the top 100 US Master of Business Administration (MBA) programs.
Source:
Future sustainability in cleaning practices will include:
Green technologies that reduce natural resource waste and pollution, like microfiber pulse mops and automated AI-driven floor scrubbers.
Improved waste management that focuses on the principles of "reduce, reuse, and recycle," which can be achieved in the cleaning industry through advanced chemical management systems that eliminate waste by precisely metering water and cleaning products, and;
Reducing pollution associated with transportation by purchasing highly-concentrated environmentally preferable cleaning products packaged in recycled containers and packaging from like-minded manufacturers and distributors.
The Business Case for Sustainability
The changing dynamics of the Earth's climate can, have, and will continue to have a defining impact on future business.
Most major corporations around the world view climate change as a significant risk to operations and profits in the near future.
Already, droughts and disruptions to water supplies around the world have resulted in billions of dollars in losses.
According to data gathered by the Harvard Business Review:
8,000 supplier companies (that sell to 75 multinationals) reported on their level of climate risk. Of the respondents, 72% said that climate change presents risks that could significantly impact their operations, revenue, or expenditures.
Bunge, an agribusiness firm, reported a $56 million quarterly loss in its sugar and bioenergy segments due to drought in 2010.
Flooding in 2011 in Thailand harmed 160 companies in the textile industry and halted nearly a quarter of the country's garment production, increasing global prices by 28%, and;
Social conflict related to disruptions to water supplies in Peru has resulted in the indefinite suspension of $21.5 billion in mining projects since 2010.
Source
Takeaway
The COVID-19 pandemic forced US citizens to focus heavily on cleaning as a method of self-preservation for more than a year while underscoring the numerous issues and challenges presented and faced by the industry.
Cleaning and, especially, disinfectant chemicals are often hazardous to humans, animals, plants, and the native environment, from the production process to use and disposal.
Given the documented impacts climate change has had on worldwide industry, continuing in this vain is no longer feasible and, based on corporate and business education trends, highly unlikely.
Outsourcing is a proven method for onboarding increasingly in-demand sustainable cleaning for health services, tools, and expertise for a fraction of the cost of maintaining a similar service in-house.
If you would like more information regarding the effectiveness of high-performance infection prevention and control measures, or if you would like to schedule a free, no-obligation onsite assessment of your facility's custodial needs, contact us today for a free quote!
In Bakersfield, CA, call (661) 437-3253
In Fresno, CA, call (559) 206-1059
In Valencia CA, or Santa Clarita CA, call (661) 437-3253
In Palmdale, CA or Lancaster, CA, call (661) 371-4756