Maintaining a regular high-performance office cleaning schedule will ensure building occupants remain healthy and productive all year long.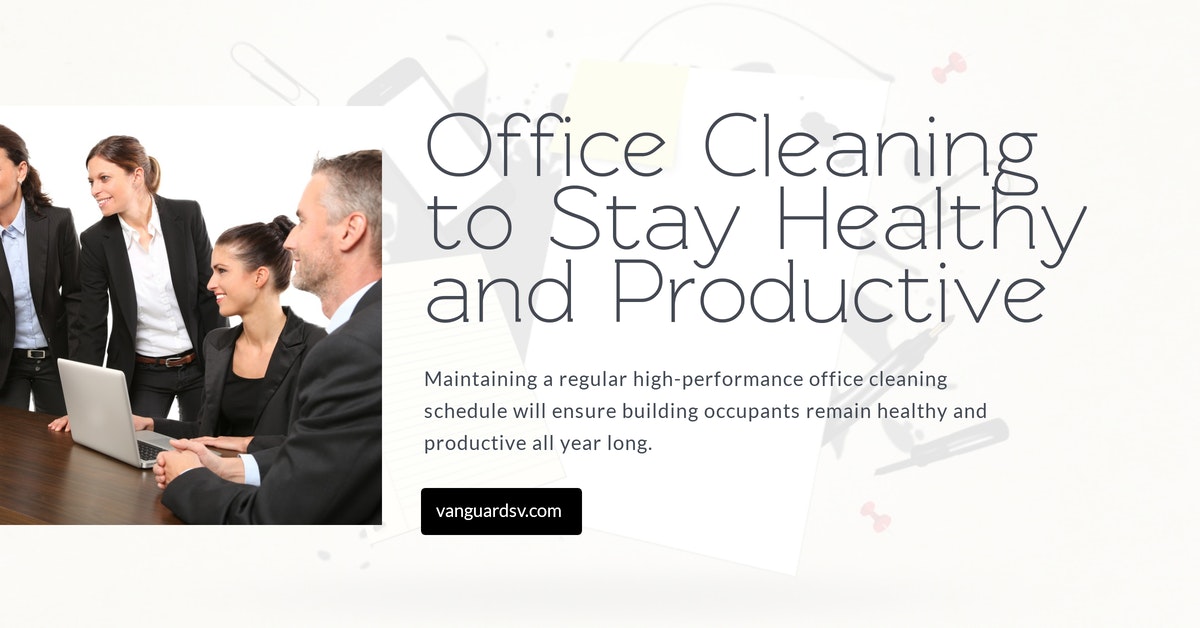 High-Performance Office Cleaning Services to Stay Healthy and Productive at Work
Over half the world's population spends at least one-third of their day at work.
Environmental conditions in these workplaces have a direct impact on worker health, work capacity, and life-span.
Put simply--healthier work environments correlate with a more productive workforce.
Counterintuitively, according to the World Health Organization (WHO), many organizations are run in a manner contrary to these findings and occupant health.
Most of the world's population (58%) spend one-third of their adult life at work contributing actively to the development and well-being of themselves, their families and of society.

Work may have both a positive or an adverse effect on the health of the worker.

[...] a high level of occupational health and safety contributes to the achievement of material and economic objectives and provides high quality and performance in working life.

In spite of this, conditions at work and in the work environment for many occupations and in many countries still involve a distinct and even severe hazard to health that reduces the well-being, working capacity and even the life span of working individuals.

Global strategy on occupational health for all: The way to health at work
While the reader's initial reaction may be that these statistics don't reflect the conditions in supposedly healthier workplaces in the U.S., consider that;
The flu cost U.S. employers over $21 billion in lost productivity this past flu season, according to an estimate from Challenger, Gray & Christmas Inc.

[The 2017] season was particularly severe, with more than 900,000 people hospitalized and more than 80,000 deaths, according to the U.S. Centers for Disease Control and Prevention.

Flu cost employers $21 billion in lost productivity last flu season: report
Touchpoint Cleaning
A critical component of a clean for health first approach to occupant health and safety is touchpoint cleaning and disinfection, which serves the purpose of reducing the detectable levels of germs and bacteria on commonly touched surfaces, thereby reducing the potential for transmission.
Several studies have established that the dirtiest locations in an office tend to be:
The start button on a photocopier.
Coffee pot handles.
Elevator buttons.
Desktops--keyboards, computer mice, phones, and the spot where you rest your hand that controls your mouse.
Pens.
Vending machine buttons.
Office coffee mugs.
The sponges used to clean the office coffee mugs, and;
Not joking--the kitchen sink.
As a frame of reference-- a 2012 study conducted by Kimberly-Clark tested the adenosine triphosphate (ATP) levels of over 5,000 surfaces in offices.
According to Time
High ATP levels are present in food or other organic residues left on surfaces.

The more ATP found on a surface, the more likely it's flourishing with bacteria and viruses.

An ATP reading of over 100 suggests a surface could use a scrub-down.

Readings of 300 or higher are considered officially dirty and at high risk for spreading illness.
Surfaces with an ATP of 300 or higher:
75% of break room sink faucet handles.
48% of microwave door handles.
27% of keyboards.
26% of refrigerator door handles.
23% of water fountain buttons, and;
21% of vending machine buttons.
Source:
The best way to address touchpoint cleaning and disinfection is to:
Clean and disinfect the surfaces at the end of every business day.
Use day porters or other custodial staff to wipe down the publicly facing surfaces, such as the elevator and vending machine buttons several times throughout the day.
Provide office staff with disinfectant wipes for their desktop and electronic equipment, and train them on the proper use and handling of the products, and;
Replace office breakroom sponges with microfiber towels.
References & Resources
Takeaway
Maintaining a hygienic and safe working environment is financially beneficial to businesses of all types and sizes all year long, not just flu season.
Identifying key touchpoints throughout your facility and developing a cleaning and disinfection strategy that protects facility occupants will significantly reduce the high costs associated with worker presenteeism, sick days, and lost productivity.
More importantly, in the current highly competitive employee market, obtaining and retaining skilled and motivated workforce talent requires business owners and managers to step up their game and meet the demands for a healthy working environment from emerging demographics who are poised to dominate the workforce in just a few short years.
Outsourcing your facilities' daily and special cleaning and infection prevention needs is a cost-effective method for acquiring high-quality services while managing costs and overhead.
If you would like more information regarding the effectiveness of high-performance infection prevention and control measures, or if you would like to schedule a free, no-obligation onsite assessment of your facility's custodial needs, contact us today for a free quote!
In Bakersfield CA, call (661) 437-3253
In Fresno CA, call (559) 206-1059
In Valencia CA, or Santa Clarita CA, call (661) 437-3253
In Palmdale CA, or Lancaster CA, call (661) 371-4756