Several outbreaks have shut down schools across the country in recent months due, in part, to the absence of regular high-performance cleaning services in the classrooms.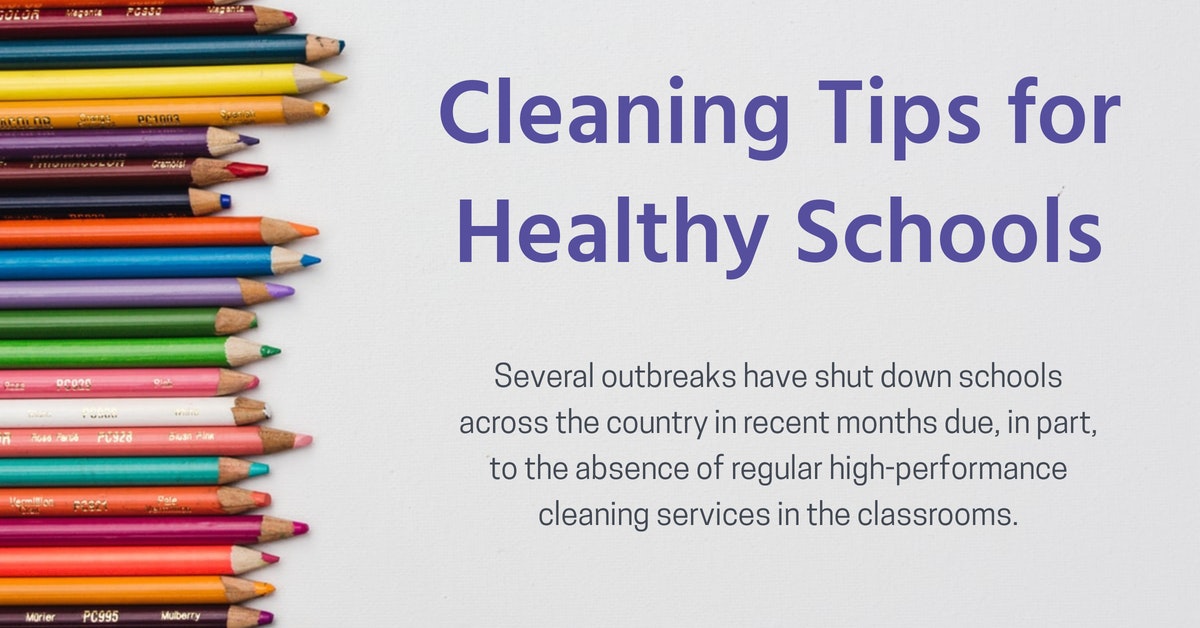 Preventing Outbreaks and Keeping Students Healthy
Parents, teachers, administrators, and school-aged children have it hard enough these days confronting the challenges of chronic absenteeism--especially where illness is acquired as a direct consequence of poor classroom maintenance.
As a general overview, according to Attendance Works;
Across the country, more than 8 million students are missing so many days of school that they are academically at risk.

Chronic absence — missing 10 percent or more of school days due to absence for any reason—excused, unexcused absences and suspensions, can translate into third-graders unable to master reading, sixth-graders failing subjects and ninth-graders dropping out of high school.
Setting aside for the moment concerns regarding the recent spread of coronavirus, with the number of schools and district-wide closures that have occurred in the U.S. as a result of influenza, norovirus, and several other diseases, including a case of viral meningitis, it becomes increasingly clear that something more needs to be done to protect teachers and students.
Flu closed schools in at least 12 states during the 2018-2019 season.

This year's numbers look to be on par, with closures already affecting large swaths of Arkansas, Alabama, Ohio, and Tennessee.

The CDC doesn't recommend closing schools for safety during a flu outbreak, but low attendance numbers coupled with fear may force local administrators' hands.

These closures may ease minds, but they have a cost.

While no government agency directly breaks out the financial impacts of flu on schools, missing work days due to seasonal flu costs $16.3 billion each year.
Tips to Enhance Learning And Maintain Healthy Schools
Step 1.  Hand Hygiene - The first step to a healthy classroom and school is to implement a hand hygiene program based on the U.S. Centers for Disease Control and Prevention's (CDC) 5-Step handwashing guidelines, plus the use of hand sanitizer.
Hand sanitation is so critical to a healthy facility that it is often referred to as the 'do it yourself vaccination.'
A commonly overlooked component of a hand hygiene program with high participation numbers is the cleanliness of the restroom and handwashing stations--dirty bathrooms and stations repel occupants and dissuade use.
Poorly maintained restroom facilities and handwashing stations can increase exposure to dangerous germs and bacteria.
Step 2.  Indoor Air Quality - Dust is not just made up of dirt.  You likely don't want to know what it is made up of; just know that it is unsanitary.
Combine with indoor pollen and other chemicals in a tightly sealed classroom, and you have a perfect recipe for headaches, allergic reactions, and the building blocks of facility-induced asthma.
Surprisingly, dusting is one of the worst things that your custodial team can do to eliminate the presence of dust.
A modern alternative is to vacuum high-dust, service vents, and air ducts, apply a diluted cleaning product to a microfiber towel and wipe down all hard surfaces, then squeegee the surfaces dry, rounding off the service by vacuuming the floor and walkway mats.
Increasing ventilation into the classroom is ideal, but maybe impractical.
Alternatively, employ certified green cleaning products, as well as identify and remove sources of indoor volatile organic compounds.
Step 3.  Touchpoint Cleaning - Regular classroom cleaning reduces the presence of germs and bacteria, but that is insufficient for maintaining a high-performance facility, especially during cold and flu season.
Touchpoints--spots where occupants commonly place their hands--need to be disinfected daily, at a minimum.
Additionally, touchpoints should be cleaned and disinfected with a focus on preventing cross-contamination to other surfaces, or your custodial team is just spreading the germs around to the rest of the classroom.
Some of the more commonly identified touchpoints in classrooms include:
Desks.
Computer equipment, and;
Sink faucet handles.
References & Resources
Takeaway
Classroom and district-wide school closures appear to be increasing in number, complicating an already difficult student and teacher attendance challenge.
Early hand hygiene intervention combined with routine high-performance janitorial programs focused on cleaning for health first are cost-effective methods for maintaining or enhancing the health of the learning environment.
If you would like more information regarding the effectiveness of high-performance infection prevention and control measures, or if you would like to schedule a free, no-obligation onsite assessment of your facility's custodial needs, contact us today for a free quote!
In Bakersfield CA, call (661) 437-3253
In Fresno CA, call (559) 206-1059
In Valencia CA, or Santa Clarita CA, call (661) 437-3253
In Palmdale CA, or Lancaster CA, call (661) 371-4756