Have you ever come into the office after a long relaxing weekend, looked at your desk, and wondered how many germs are crawling all over it?  Maybe it's time that you should.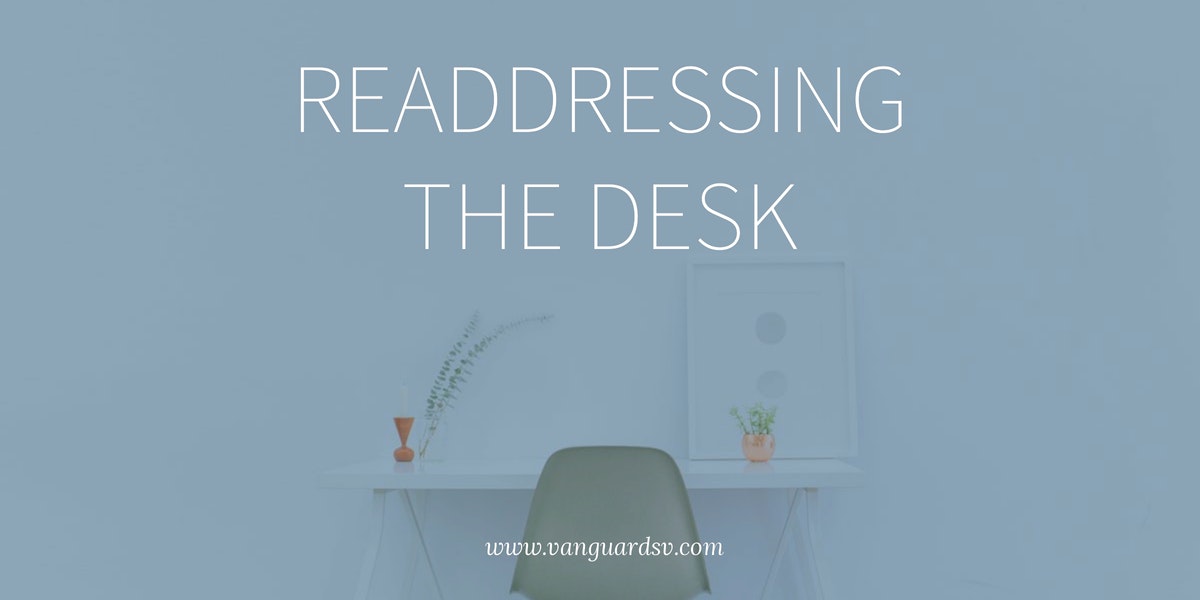 Your Office Desk and What's Not Being Cleaned
Straight to the heart of the matter--there is a high probability that one-third of the items on your desk, and potentially throughout your office, are not being cleaned.
Ever.
According to Cleaning & Maintenance Magazine;
A recent survey of over 650 UK office employees indicates that the items touched the most are neglected during cleaning.

It has been revealed 28% of telephones, 31% of keyboards and 36% of computer mice are not cleaned at all within the workspace.
This is not a small problem and has far-reaching consequences for building occupants and business owners.
Despite the lack of willingness to clean the telephone, it harbors 25,127 germs per square inch, this being 760% more than the keyboard which has 3,295 grams per square inch.

This makes it one of the dirtiest items surveyed.

The mouse was the cleanest of all 3 items with 1,676 germs per square inch.
Additional findings reported that:
Only 35% of respondents stated their desks were cleaned every day.
32% said they were so concerned about germs in the kitchen that they brought their own kitchenware.
More than 60% were less than satisfied with the cleanliness of the refrigerator.
Nearly the same number were unhappy with the hygiene of the kitchen in general, and;
Fewer than half were happy about the cleanliness of the toilet.
The problem is so severe in many cases that 23% of those surveyed stated they used their own funds to purchase cleaning supplies for the office.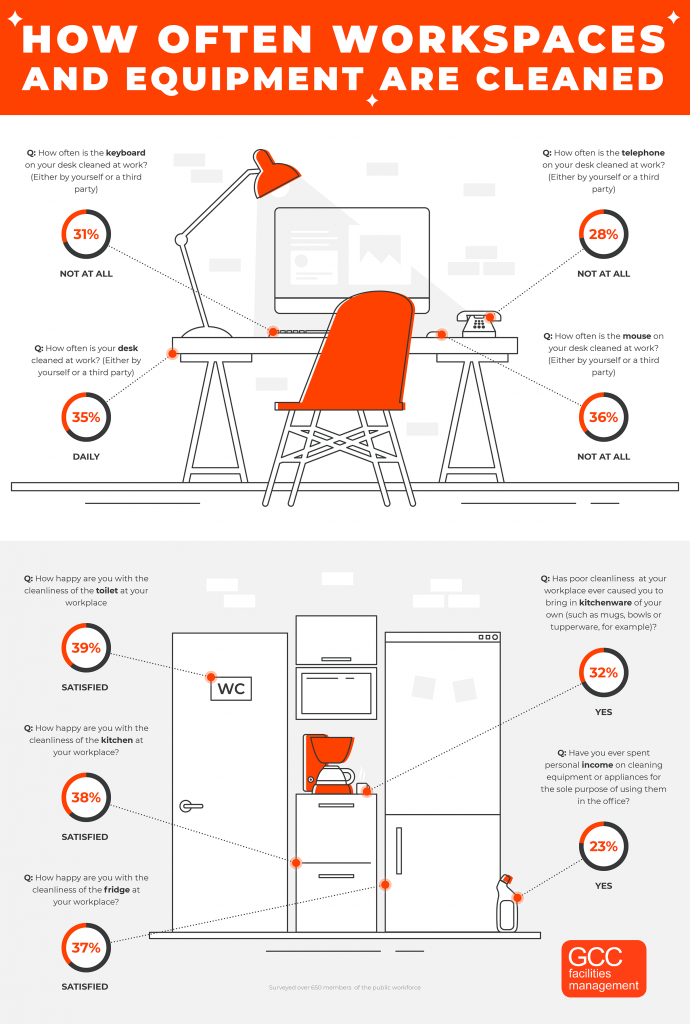 So, what's the big deal?
When compiling all of these findings it is no surprise that researchers found the common office desk to be 400 percent dirtier than a toilet.
To put it simply, the absence of regular (daily) cleaning services throughout your office is:
Costing your organization money by reducing the work and cognitive capacity of your office staff.
Leading your teams to purchase cleaning supplies with their own money and spend time sanitizing their workspace that you're paying them to produce, and;
Driving away top talent to competitive organizations.
What's the Deal With Desk Germs?
Dirty desks and germ-filled office kitchens are a significant issue--but why?
Cluttered desks and locked offices often present a barrier to cleaning, but that's not the most concerning aspect.
According to a recent study conducted by the U.S. Department of Agriculture (USDA), only about three percent of people wash their hands correctly.
The study observed 383 individuals prepare and cook a turkey burger, as well as prepare a chef's salad.
According to Forbes;
The results were gross.

There were 1,054 times in which people should have washed their hands.

Guess how often the study participants even attempted to wash their hands?

Only about a third of the time.

Yes, two-thirds of the time, people did not even think, "gee, I am touching food, maybe I should wash my dirty hands."

Only a small percentage of the time did people complete all of the Centers for Disease Control and Prevention's (CDC's) recommended steps for proper hand-washing (2% of the time for those who watched the video and 0.8% of the time for those who did not.)
When combined with the overall lack of cleaning and sanitation, your office, especially right at the outset of flu season, is a hotbox for illness.
How to Protect Yourself
If you have concerns regarding the cleanliness and hygiene of your workplace, there are several inexpensive steps you can take to protect yourself and those around you.
Bring your own coffee cup and reusable water bottle and take them home to be washed every night.
Wash your hands thoroughly after using the restroom and before eating.
Turn off your computer every morning and wipe the keyboard and mouse down with a disinfectant wipe--make sure to get your phone and the front of your desk where you place your hands as well.  This goes double for shared or open office workplaces.
Keep your desk free of clutter and make sure custodial teams have full access.
If you use the office kitchen, do your part and throw away or take home your food at the end of the day.  Additionally, make sure to clean up after yourself after eating.  It is highly recommended that you avoid the use of office sponges to clean your cups, plates, and utensils before eating, and;
Report any concerns to your manager, especially for damaged or malfunctioning restroom fixtures.
Takeaway
The absence of dedicated cleaning service providers in the workplace is clearly an issue--one likely stemming from a combination of:
A lack of training.
Little to no advancement potential, and;
Historically low salaries.
Regardless, something must be done, and placing the burden of cleaning and disinfecting the office on your employees is a solution least likely to generate a favorable outcome--one with the potential to increase the health hazards in your facility, as opposed to eliminating them.
Outsourcing to a franchise service provider has proven to be an effective method for cost-effectively addressing all of these challenges while maintaining accountability for the provided services.
If you would like more information regarding the benefits of outsourced infection prevention and control services, or if you would like to schedule a free, no-obligation onsite assessment of your facility's custodial needs, contact us today for a free quote!
In Bakersfield CA, call (661) 437-3253
In Fresno CA, call (559) 206-1059
In Valencia CA, or Santa Clarita CA, call (661) 437-3253
In Palmdale CA, or Lancaster CA, call (661) 371-4756