It seems like germs are everywhere this time of year and, regardless of how well or often you clean your office or wash your hands, coming into contact with the cold or flu virus likely feels inevitable.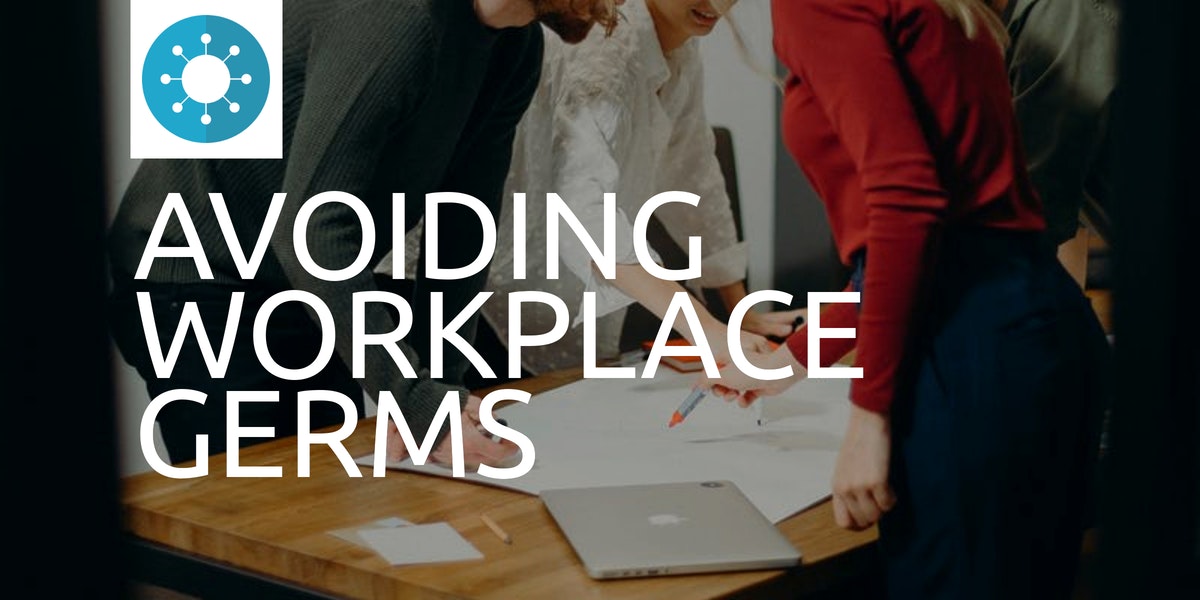 How to Avoid Germs in the Workplace
Hazards in the workplace are an unfortunate aspect of our daily lives.
However, it is often the unseen hazards that present the most significant threat to our health and safety.
[...] for instance, your workplace has dangerous equipment, you probably take pains to make sure it's stored properly – and you would never let a building occupant go into an area of your workplace where they could be injured.

But for some businesses, it's easy to forget that employees can get hurt by what you don't see.

Eradicating potentially problematic viruses and bacteria involves more than scrubbing down the restroom toilets.
Workplace illnesses number in the millions per year in the U.S., often as the result of low-quality infection prevention and control procedures, costing U.S. businesses tens of billions of dollars each year.
Workplaces are the site of 2.8 million non-fatal workplace illnesses and injuries every year, with many of these from poor infection control, according to the U.S.

Centers for Disease Control and Prevention (CDC). As a result, businesses spend close to US$46 billion on workplace cleaning every year.
Other primary contributing factors to workplace illness are:
Poor personal hygiene, and;
A lack of access to quality hand hygiene products.
Fortunately, with a minor shift in policy, which includes education and training, as well as a cost-effective investment in cleaning and hygiene products, your business can save itself a significant amount of time and vital resources this year, and well into the future.
Understanding Where Germs Lurk
An insurmountable challenge for every business in the country is the fact that workers will almost certainly come into contact with germs and illness-causing bacteria long before they enter the office.
Educating office workers regarding these and other germ hot spots will go a long way towards eliminating the introduction and spread of illness in your workplace.
Among the most commonly encountered and germ covered areas workers are likely to encounter on their way to the office include:
Gas pump handles.
Mailbox handles.
ATM buttons.
Parking meters and kiosks.
Crosswalk buttons, and;
Vending machine buttons.
Areas to look out for in the office include:
Break room sink tap handles.
Microwave door handles.
Keyboards, especially in shared or open office workplaces.
Refrigerator door handles, and;
Water fountain buttons.
Personal Hygiene Habits to Halt
People are going to come into the office sick.
Short of forcing them to leave until their symptoms subside, there is no avoiding this reality, regardless of your workplace's sick leave availability.
However, within the workplace, you can control their actions to a certain level, especially where their behavior is disturbing fellow workers, and likely contributing to the spread of germs.
According to Cleaning Business Today, some of the most problematic behavior, as reported by fellow employees, include:
Wiping their running nose on their hand or sleeve.
Not covering their mouth or nose when coughing or sneezing.
Not washing their hands often enough, and;
Leaving dirty tissues around their desks.
Source:
Improving Hand Hygiene
As we have shown, fellow office workers notice when someone doesn't wash their hands regularly, especially when they're sick, and it's a problem.
However, the challenge goes beyond that.
According to a 2007 study sponsored by the American Society for Microbiology and the Soap and Detergent Association, one-in-four people don't wash their hands after using the restroom.
The solution?
Place hand sanitizer at key locations throughout your facility, including:
Restrooms.
Entrances and exits.
Cafeterias, food courts, and break rooms.
Meeting rooms.
Employee desks, and;
Transaction counters.
Cleaning for Health
One of the main challenges when considering or promoting a clean for health program in your business is that it is often misconstrued--being it lacks the ability to leave a showroom shine.
Something to keep in mind is that shiny doesn't mean clean, but clean can be shiny with the right tools and products--none of which need compromise the health and safety of the occupants within your facility.
The real focus of cleaning for health involves the elimination of dirt, germs, and bacteria throughout a facility focusing on the use of environmentally-preferable products and equipment, which minimizes the use of vital natural resources.
Another core component fundamental to addressing the presence and spread of germs and bacteria within any facility is the elimination of surface cross-contamination, which is actually a simple process that involves the use of color-coded equipment that is assigned to various surfaces, room, zones, or floors to avoid using soiled equipment from one area and applying it to another.
The challenge with implementing these types of programs in many facilities with in-house staff is the prerequisite training, which can be cost-prohibitive in an industry plagued by high turnover rates.
A solution to that challenge that has proven successful, especially over the last decade, is outsourcing your facility's infection prevention and control needs to a third-party service provider.
Additional Tips for Germ Avoidance in the Workplace
Even in a best-case scenario, you are still going to bump into the occasional sick office worker and contaminated surface.
The best methods for reducing your risk, especially during cold and flu season include:
Maintain a minimum distance from your fellow office staff of three feet, more if they are coughing and sneezing, and avoid direct contact, if at all possible.
If at all possible, avoid touching office equipment, especially mice, keyboards, and telephones that belong to other office workers.
Always cover your mouth or nose before coughing or sneezing and then wash your hands as soon as possible, making sure to avoid contact with others.
Wipe down your desk, and computer equipment with a disinfectant wipe each morning.
Further minimize personal contact through the use of email, chat, texting, phone calls, or webchats, and;
If at all possible, stay home when you know you're sick.
References & Resources
Takeaway
Avoiding illness in the workplace can be difficult, but not impossible, by following a few basic guidelines, including:
Vaccination.
Maintaining a high standard of personal hygiene.
Washing your hands regularly.
Avoiding direct contact with others, as well as known germ hot spots, especially during cold and flu season, and;
Maintaining a sanitary workspace.
Employers can and should encourage positive office habits through regular training that underscores the importance of staying home when you're sick, as well as regular hand washing.
Combining these simple policies and habits with a high-performance cleaning program focused on cleaning for health first will help ensure the health, safety, and profitable productivity of all building occupants.
If you would like more information regarding the benefits of outsourced infection prevention and control services, or if you would like to schedule a free, no-obligation onsite assessment of your facility's custodial needs, contact us today for a free quote!
In Bakersfield CA, call (661) 437-3253
In Fresno CA, call (559) 206-1059
In Valencia CA, or Santa Clarita CA, call (661) 437-3253
In Palmdale CA, or Lancaster CA, call (661) 371-4756