Recently the U.S. Centers for Disease Control and Prevention (CDC) released positive findings regarding the reduction of reported Healthcare-Acquired Infections (HAIs), but challenges remain that adversely affect the health and safety of patients and hospital staff.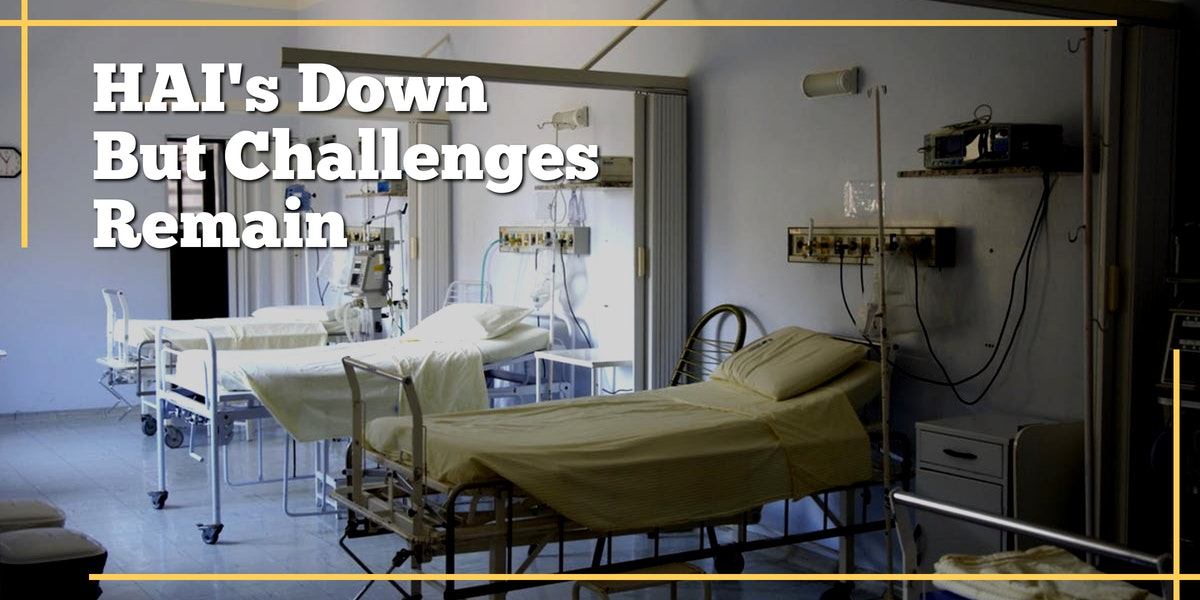 Healthcare-Acquired Infections Reportedly Down Across the United States
HAIs have plagued U.S. healthcare facilities, patients, and providers for years.
Each day, approximately 1 in 31 U.S. patients has at least one infection in association with his or her hospital care, underscoring the need for improvements in patient care practices in U.S. healthcare facilities.

While much progress has been made, more needs to be done to prevent healthcare-associated infections in a variety of settings.
However, a recent report released by the CDC provided some positive findings--showing declines in reported instances of HAIs in several areas across the country.
Some good news for a change regarding health care acquired-infections (HAIs)—a report from the U.S. Centers for Disease Control and Prevention found the incidences of three common HAIs were down in 2018.

Acute-care hospitals reported the number of C. difficile infections were down by 12% since last year, central line-associated bloodstream infections were down by 9%, and catheter-associated urinary tract infections were down by 8%.

Most U.S. states (44) improved their performance for at least three HAIs between 2017 and 2018.
However, while the improvements in patient care and safety are commendable, a significant challenge remains--Methicillin-Resistant Staphylococcus Aureus (MRSA)
According to the CDC's findings:
Acute Care Hospitals (ACHs) reported, "No significant changes in hospital-onset MRSA bacteremia between 2017 and 2018."
No Inpatient Rehabilitation Facilities (IRFs) in any state reported an improvement of MRSA infections since 2015, and;
Only eight states reported improvements in MRSA infections in their Long-Term Acute Care Hospitals (LTACHs) since 2015.
Source:
Given the marked improvements in nearly every other area of HAI reduction, why is MRSA such a challenge?
The answer may be more terrifying than you can imagine.
What the Nose Knows
A fact many are unaware of is that MRSA can colonize in your nasal passages without causing symptoms.
MRSA bacteria often live in nasal passages for years without ever showing any symptoms.

In fact, the vast majority of hospital workers are colonized with MRSA in the nose, meaning that the bacteria have an established colony, but are not spreading or causing active infection.

People who have had MRSA infections in the past are also very likely to be colonized.

A person who is colonized with MRSA in the nose may be able to transmit the infection to other people or develop an infection if the immune system becomes weakened.
Now, how did MRSA find its way into the nose of these carriers?
A lack of proper hand hygiene is, in part, to blame.  However, that's not the only means of transmission, nor the most concerning.
It turns out MRSA can travel and infect through the air.
A June 2001 study published in the JAMA Otolaryngology Head and Neck Journal, showed that MRSA could be acquired by medical staff and patients through the air in hospitals.

The study was conducted in a hospital ward and found MRSA re-circulating in the air, among the patients and on inanimate objects in the area, especially when there was movement in the patient's rooms.

This study identified both colonized carriers and infected people as sources of risk.

This study concluded that Methicillin-resistant S aureus was recirculated among the patients, the air, and the inanimate environments, especially when there was movement in the rooms.
Further;
A new study from Leeds University in 2012 shows that patients with MRSA can spread the bacteria into the air inside their rooms.

The study used a heated mannequin inside a controlled chamber to simulate an infected patient in a hospital room. The bacteria were released from the mannequin and were detected up to 11 feet away inside the chamber.
Preventing the Spread of MRSA
There are three proven methods for reducing the instances of MRSA in healthcare settings.
The first is hand hygiene compliance, which is reportedly abysmally low.
According to the American Journal of Medical Quality;
Our results show that HH compliance at baseline was 26% for intensive care units (ICUs) and 36% for non-ICUs.

After 12 months of measuring product usage and providing feedback, compliance increased to 37% for ICUs and 51% for non-ICUs.

HH compliance in the United States can increase when monitoring is combined with feedback.

However, HH still occurs at or below 50% compliance for both ICUs and non-ICUs.

Hand Hygiene Compliance Rates in the United States—A One-Year Multicenter Collaboration Using Product/Volume Usage Measurement and Feedback
Portable HEPA filtration units have proven extremely effective.
According to the results of a study published in the Journal of Hospital Infection;
A strong association was demonstrated between the rate of air filtration and the mean number of MRSA.

In conclusion, [a] portable HEPA-filtration unit can significantly reduce MRSA environmental contamination within patient isolation rooms, and this may prove to be a useful addition to existing MRSA infection control measures.

Reduction in MRSA environmental contamination with a portable HEPA-filtration unit
Finally, regular deep cleaning and surface disinfection with a medical-grade disinfectant have proven effective at reducing the presence of MRSA in and out of healthcare environments.
According to the CDC;
When cleaning and disinfecting, focus on surfaces that frequently contact people's bare skin like desks, chairs, benches, gym equipment, lockers, faucets, light switches and remote controls.

In particular, clean any surfaces that could come into contact with uncovered wounds, cuts, or boils.
Takeaway
HAIs are dangerous, and often deadly forms of bacteria that infect nearly one out of every thirty-two patients in healthcare facilities.
Recent reports show that efforts to curb the previous rise in HAIs have been mostly successful, but with notable challenges still remaining, specifically the presence and spread of MRSA.
MRSA is extremely dangerous, and the cleaning and disinfection of facilities where contamination is suspected, especially in healthcare facilities, should only be undertaken by trained custodial staff wearing recommended protective equipment and adhering to proper disposal and cleaning guidelines for all contaminated equipment and clothing.
Maintaining a high level of hand hygiene compliance in addition to the strategic placement of portable HEPA filtration systems, and combined with patient isolation has been shown to significantly reduce the spread of MRSA.
However, nothing can replace the need and effectiveness of a thorough deep cleaning and disinfection process.
If you would like further information regarding the benefits of outsourced infection prevention and control services, or if you would like to schedule a free, no-obligation onsite assessment of your facilities' janitorial requirements, contact us today for a free quote!
In Bakersfield CA, call (661) 437-3253
In Fresno CA, call (559) 206-1059
In Valencia CA, or Santa Clarita CA, call (661) 437-3253
In Palmdale CA, or Lancaster CA, call (661) 371-4756