A messy, cluttered office is repelling your workforce and costing your business big time in lost productivity due to dismal workforce engagement.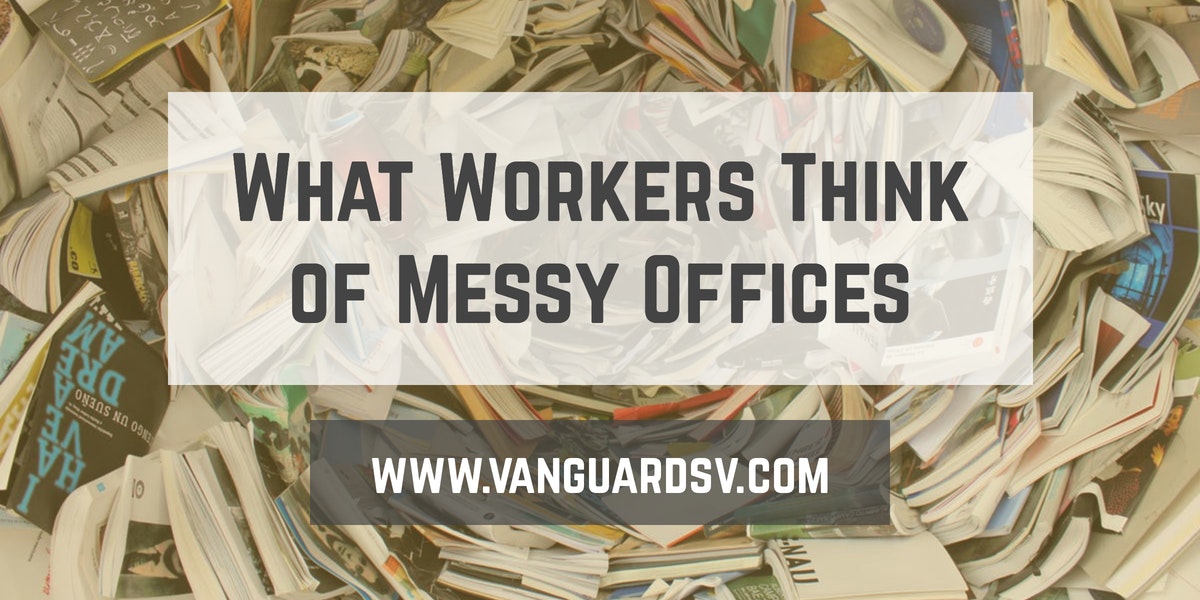 Messy Offices and Workforce Engagement
Two critical components of a productive workforce are worker happiness and engagement--byproducts of a clean, safe, organized workplace.
Underscoring that point--a recent survey commissioned by Stratus Building Solutions of more than 500 employees found that:
90% of those surveyed stated their productivity is compromised by a dirty or disorganized office.
25% reported they've thought about quitting (or quit) a job because the office was smelly and unclean.
51% use a paper towel or handkerchief to open doors because they think the office is dirty.
51% have seen bugs or rodents in the office.
31% have seen mold or mildew, and;
39% cited a clean and mindful environment as a top reason they took a job.
The worst offenders?
33% complain of smelly colleagues who exercise in the office, or who come back from workouts smelling bad.
54% said they get annoyed by co-workers who leave out gym clothes and sneakers because they stink, while 42% stated it was because it was unsanitary
54% stated they were in favor of a policy which bans microwaving foods with strong odors.
93% believed that food left in the refrigerator should be removed within a week.
37% said they couldn't stand the smell or are allergic to powerful office air fresheners or cleaning chemicals, and;
61% stated they have co-workers who never wash their hands after using the bathroom.
Source:
How to Address the Mess
Addressing the messy office epidemic requires a three-pronged approach:
Education.
Sanitation, and;
Hygiene.
Educating an adult workforce regarding personal habits in the workplace may, at first, seem awkward and undesirable, but ask yourself--is it more or less uncomfortable to lose critical talent due to the poor workplace hygiene of other office staff?
The policies do not have to be complicated or overly strict, especially when starting, but based on the survey results, it's highly advisable to start with:
A policy that encourages/requires employees to wash their hands before exiting the restroom, coupled with training on how to quickly and efficiently wash their hands.
A kitchen policy that states anything left in the refrigerator on Friday won't be there on Monday, and removing the microwave altogether, and;
Desktop and workspace clutter policies that encourage employees to consider their own health and mental wellbeing by tidying up after themselves.
Cleaning and disinfection procedures that align with the issues brought up during the survey should include:
Identifying and regularly wiping down germ hotspots.
Switching to environmentally-friendly green cleaning products.
Regularly deep cleaning the kitchen and break area.
Improving garbage storage and disposal procedures.
Eliminating the use of air fresheners in favor of increased natural air flow.
Eliminate sources of mold and mildew immediately, and;
Employ a building service contractor to identify any potential breach points in the building that may allow pests and rodents access into your office space.
In regards to personal hygiene:
Make sure employees are showering after exercising.
If locker space is not available, set aside a designated closet or request staff leave their gym bags and equipment in their car.
If shower facilities are not available in your office, strongly consider making body wipes available in your restrooms, especially as an alternative to discouraging beneficial physical activity.
Ensure the restroom is stocked with plenty of soap and paper towels, and;
Put signs up, have meetings, and conduct personal training if necessary to ensure that everyone is washing their hands after using the restroom.
References & Resources
Takeaway
In the current highly competitive market, a business must seize every advantage available to them by identifying and acting upon cost-effective productivity improvements.
For many business owners and managers, that means paying attention to the voice of the workforce--clean up and organize the workplace.
Often, significant improvements don't require any financial expenditure, but can be achieved through policies that produce productive outcomes.
Further, scientific research has repeatedly shown that environmentally-friendly green cleaning products and practices correspond to increases in workforce engagement and cognitive output.
Outsourcing your organization's janitorial services is a proven method for rapidly and cost-effectively onboarding services that your employees want, and your bottom line demands.
If you would like more information on how to improve the health and hygiene in your messy workplace, or if you would like to schedule a free, no-obligation onsite evaluation of your facilities cleaning and infection control requirements, contact us today for a free quote!
In Bakersfield CA, call (661) 437-3253
In Fresno CA, call (559) 206-1059
In Valencia CA, or Santa Clarita CA, call (661) 437-3253