Implementing eco-friendly solutions for your school or business isn't just good for the environment or the health and safety of the population, it turns out it's excellent for business profits as well.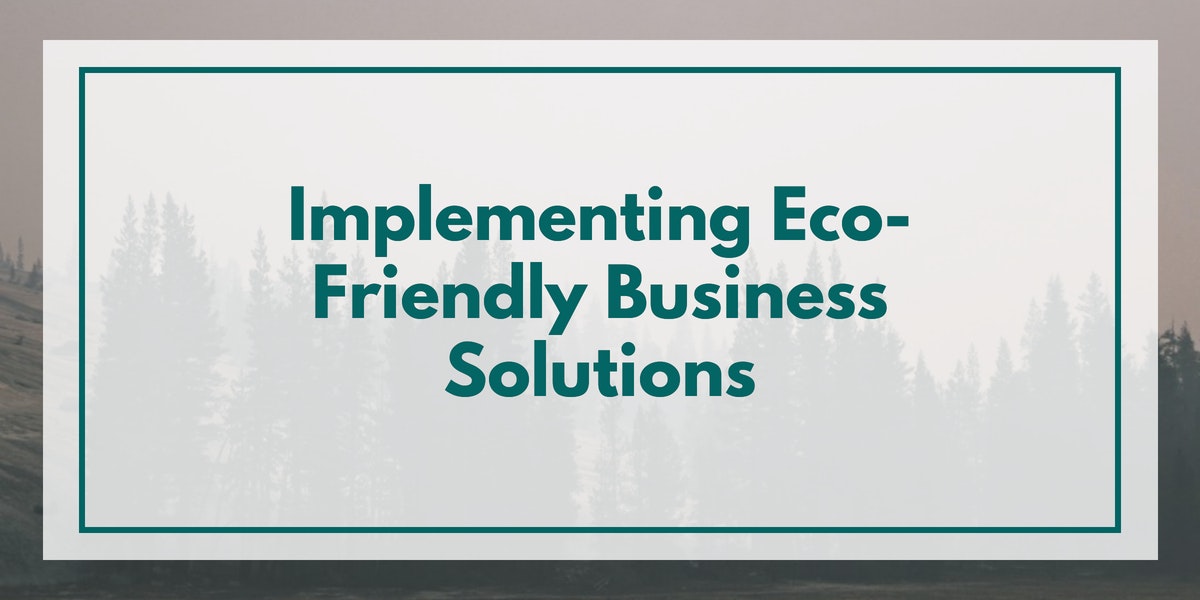 Why Your Organization Should Implement Eco-Friendly Business Solutions
Schools and businesses of every type and size are under increasing pressure to implement environmentally friendly and sustainable business practices to counter the effects of decades of pollution and toxic waste being introduced into our air, water, and food supply.
However, outside pressures are not the only force acting upon every organization to step up and make the change--internal pressures to increase profits and decrease operating costs are driving the demand for new and innovative processes and policies.
Around the world, small businesses are following major corporations who have committed to reducing waste and their carbon footprint, all to the tune of billions of dollars in annual savings.
According to a 2013 article published by The Guardian;
Companies such as Tesco and WalMart, are not committing to environmental goals out of the goodness of their hearts, and neither should they.

The reason for their actions is a simple yet powerful realization that the environmental and economic footprints are most often aligned.

DuPont, one of the early adopters, committed itself to a 65% reduction in greenhouse gas emissions in the 10 years prior to 2010.

By 2007, DuPont was saving $2.2bn a year through energy efficiency, the same as its total declared profits that year.

General Electric aims to reduce the energy intensity of its operations by 50% by 2015.
Eco-Friendly Cleaning Strategies
Several cost-effective strategies exist which a certified green cleaning service provider can assist with--requiring minimal time, resource, or capital investment
Energy - Cleaning your windows won't directly impact your heating or electric bill.  However, when combined with a bit of office rearrangement and allowing employees the choice of where to work, studies have shown that office workers tend to pick spaces next to windows--providing heat and natural sunlight--which has been correlated to reduced utility bills and increased productivity and health.  Additionally, cleaning the windows and seals will improve the look of your building and help identify any cracks or other issues that may be impacting energy efficiency.
Water - Dilution control and chemical management systems can significantly reduce water waste by automatically supplying a measured amount of water, eliminating human error and guesswork.  Technologically advanced cleaning systems leverage far less water than their conventional counterparts, and the latest models effectively recycle the water in their tanks, which also helps reduce the amount of time and number of custodians it takes to complete a task.
Air - Certified green cleaning products emit far fewer volatile organic compounds (VOCs) than traditional commercial cleaning products, which has a direct impact on the indoor air we breathe.  Purchasing your cleaning products from a vendor committed to sustainable business practices will typically mean that the products are shipped in biodegradable or recyclable materials in a concentrated form, which reduces shipping and storage requirements, as well as the associated carbon footprint.
References & Resources
Takeaway
Businesses adopting eco-friendly practices see a marked increase in reputation with their customers and sales.
According to a 2013 study released by The Association for Enterprise Opportunity, Green America and EcoVentures International;
Almost 80 percent of respondents, business owners that provide either a service or product that is considered eco-friendly, indicated that earning a green reputation helped them stand out from their competition.

In addition, 75 percent shared that their sales have gone up in the past few years, even though the economy has struggled of late.

HomeGreen ProductsEco-Friendly Businesses Earn More Money Offering Green Products

Eco-Friendly Businesses Earn More Money Offering Green Products
Partnering with a certified green cleaning service provider can have a dramatic impact on your organization's social credit, sales, and popularity, as well as increase student and employee health and productivity.
If you would like to learn more about the practical advantages of implementing eco-friendly business solutions in your organization, or would like to schedule a free onsite evaluation of your school or businesses cleaning and infection prevention and control requirements, contact us today for a free quote!
In Bakersfield CA, call (661) 437-3253
In Fresno CA, call (559) 206-1059
In Valencia CA, or Santa Clarita CA, call (661) 437-3253