A recent case study has outlined the success of a Utah school district and their incredible success in implementing green cleaning and other environmentally friendly facilities management practices.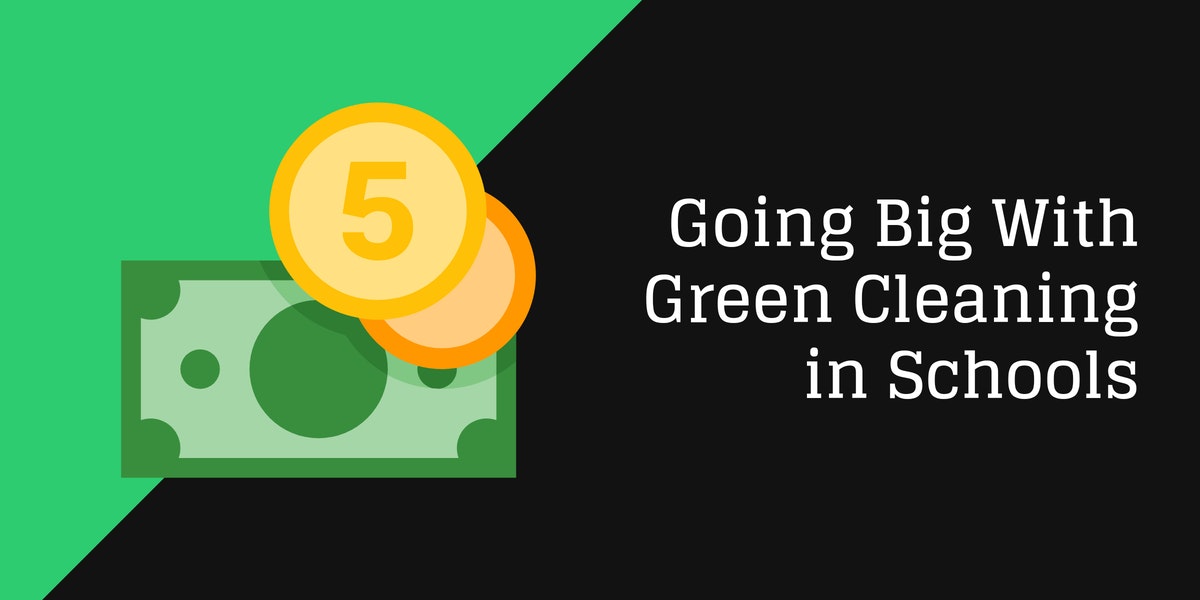 School District Goes Green for the Win!
Implementing green cleaning, recycling, and integrated pest management programs into a school or businesses facilities maintenance and management services has a demonstrably high impact on:
Custodial employee retention.
Waste and cost reduction, and;
Improved student health and performance.
According to a recent article published by the Healthy Schools Campaign, Davis School District in Salt Lake City, Utah had;
[...] successfully reduced the use of chemicals, reinvested tens of thousands of dollars a year, reduced waste by more than 20 percent and almost eliminated job turnover within the department, too.

[...] reduced pesticides by more than 99 percent; a 95 percent decrease in the use of floor strippers and a change from the use of standard paper products to coreless, 50 percent post-consumer waste/65 percent recycled

Since changing to an IPM program, Davis has been able to reinvest that $10,000 into monitors, logs and IPM tools.

The paper switch also saved the district more than $14,000.
Davis also upped their investment into their custodial staff's professional development, resulting in higher retention.
According to Shawna Cragun, Davis School Districts Director of Custodial Services;
The 'greenest' change we have made is working on our employee retention and morale

It is very difficult to have a great, consistent, green cleaning program without staff or when continually training inexperienced employees.

We went from one training a year (approximately three hours) and 26 lessons for our general custodians a full professional development day, quarterly training classes, online resources, monthly newsletters and an additional 2000 training hours to use as needed.

With these changes to training and engagement procedures, Davis went from a 16.88 percent vacant positions in 2014 to less than 1 percent today.
This Young Green Cleaning Program Is Making Bold Choices + Big Impact
The Benefits of Integrated Pest Management Programs
IPM programs have several advantages, in addition to the cost reduction demonstrated above, including:
The reduction of environmental risks, including air, ground, and water contamination.
Protection of non-targeted species.
The elimination of unnecessary chemical pesticides and other toxic chemicals.
A reduction in exposure to toxic chemicals and residue which typically result in extended periods of unavailability of factility resources and spaces, and;
An improvement in publich health and safety.
Source:
The Benefits of Facility-Wide Recycling Programs
Recycling is good for the environment, and your checkbook.
Facility-wide recycling programs can significantly reduce waste management fees, especially when partnered with reuse initiatives that require products that would have been previously disposed of to be repurposed where possible.
Reusing and recycling commonly disposed of items can also reduce purchasing cost through vendor buyback inititatives, common with large electronic vendors, or eliminate them completely by repurposing old equipment towards a more appropriate task.
Eco-friendly organization may also qualify for State and Federal grants to incentivize increased environmentally conscious behavior.
School and workplace recycling programs have also been shown to have a postivie impact on employee morale--translating into greater retention and productivity--as well as increased public image and approval ratings.
The Benefits of Commercial Green Cleaning Programs
Organizational-wide green cleaning programs have several benefits, including:
Waste reduction - Due to their non-toxic nature, commercial green cleaning products are shipped and stored in concetrated form, which reduces the size and number of required containers.
Cost reduction - Eliminating the number of chemicals used in the cleaning and disinfection process reduces expenses related to purchasing, training, and chemical management.
Health improvement - Eliminating the exposure to toxic cleaning products positively impacts occupant and custodian health, leading to a reduction in health care costs and absenteeism.
References & Resources
Takeaway
Green cleaning, integrated pest managment, and facility-wide recycling programs have proven to dramatically decrease costs and toxic chemicals while increasing the health and safety of occupants, as well as organization profits.
Providing ongoing traning and incentivization for custodial teams that reduce notoriously high turnover rates in the  janitorial industry can prove cost-prohibitive for smaller organizations.
Additionally, starting from scratch with an inexperienced managment team and cleaning staff can lead to issues with adoption and potentially lead to program failure.
Outsourcing to a janitorial provider with a franchise business model elemenates much of the management overhead and cost associated with these challenges.
If you would like to learn more about the cost-saving and productivity improving benefits of green cleaning, integrated pest management, or environmentally friendly facilities maintenance and management practices--contact us today for a free quote!
In Bakersfield CA, call (661) 437-3253
In Fresno CA, call (559) 206-1059
In Valencia CA, or Santa Clarita CA, call (661) 437-3253