Outsourcing your office's janitorial services will significantly improve the disinfection strategies employed in the kitchen and other break areas--common havens for germs and bacteria.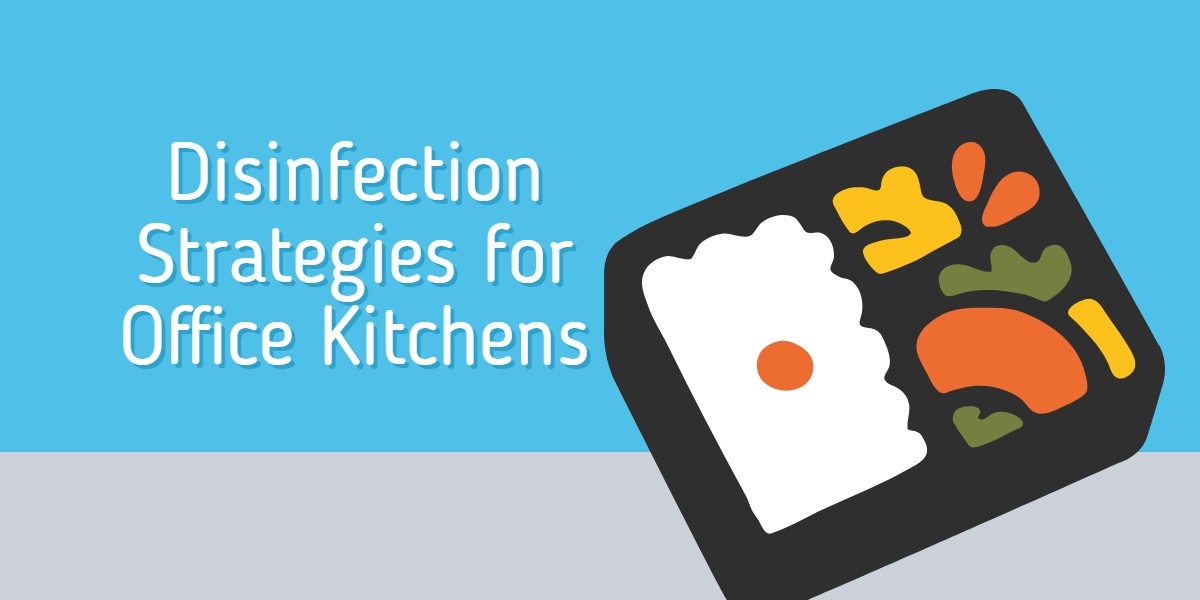 The Advantages of Outsourcing Office Janitorial Services to Improve Disinfection Strategies in Kitchens and Breakrooms
Office kitchens and break areas are teaming with germs and bacteria that can lead to illness and the dreaded sick building syndrome--a condition on par with a continuous cycle of profit-killing presenteeism.
Unfortunately, the method employed to clean and disinfect the kitchen and other high-contact surfaces is likely compounding the issue instead of removing it.
This is likely due to a series of poor sanitation strategies, including disinfecting before or without first properly cleaning--a fact recently demonstrated on BBC television by Dr. Clare Lanyon from Northumbria University in Newcastle upon Tyne, England.
According to a related article published by The Telegraph;
[...] consumers may be wasting money on antibacterial wipes and sprays because common germs, which can replicate themselves in just 20 minutes, quickly recolonize back to original mass even if just one single cell is left over.

She said bar soap was found to be more effective at destroying bacteria because they tended to contain ingredients that broke down cell walls.

Anti-bacterial wipes pointless as bugs grow back in 20 minutes, scientist says
Examples of Poor Disinfection Strategies in Office Kitchens and Breakrooms
Disinfecting without first cleaning is just one of the standard mistakes inexperienced staff makes when sanitizing commercial office spaces.
Other examples include:
Over or under diluting cleaning products, which can dramatically impact efficacy and potentially lead to health issues, especially asthma.
Not adhering to proper disinfectant lay times.
Cross-contaminating surfaces, which occurs, as an example, when the individual cleaning uses the same towel or mop head in the bathroom and kitchen or dining area.
Reusing towels or mopheads without laundering them properly first.
Using outdated equipment, or failing to perform proper maintenance on current hardware, and;
Not wearing the appropriate safety equipment.
The Benefits of Green Cleaning and Disinfection Strategies
Employing a certified green cleaning and disinfection strategy at your company has several benefits, including an increase in employee productivity.
According to the results of a study published by the University of California, Los Angeles;
Adopting green practices isn't just good for the environment.

It's good for your employees and it's good for your bottom line.

Employees in such green firms are more motivated, receive more training, and benefit from better interpersonal relationships.

The employees at green companies are therefore more productive than employees in more conventional firms.

Employees at 'green' companies are significantly more productive, study finds
Additionally, studies have identified improvement in building occupant health.
According to our recent survey, 55 percent of facility cleaning managers say green initiatives improve health.

This falls in line with studies conducted by Carnegie Mellon University specifically indicating that better indoor air quality in schools improves overall health by 41 percent.
Clean for Health Disinfection Strategies for Office Kitchens and Breakrooms
The first step to successfully implementing a clean for health disinfection strategy is to outsource to experienced professionals, or thoroughly train your staff on proper cleaning and disinfection practices.
This will ensure a maximum return investment while protecting your workers, customers, and guests.
The next step is to assess and replace equipment and chemicals.
Replace cotton or cloth mops and towels with color-coded microfiber.
Replace bleach with Silver Dihydrogen Citrate.
Get rid of the old vacuum and replace it with a commercial-grade HEPA filtered system.
Purchase a vacuum floor scrubber for hard tile floors.
Consider investing in an electrostatic disinfection appliance.
Make sure to label all cleaning chemicals, and provide an easily accessible Material Safety Data Sheet (MSDS) for workers and custodians.
The next step is documentation.
Document all spaces, when they are to be cleaned, and with what chemicals and processes.
Document custodian training and certifications to ensure the right person is assigned to the job.
Make certain to document all manufacturer recommended maintenance cycles and the completion of those tasks for electronic or other serviceable equipment.
Document post handling instructions of soiled mop heads, rags, as well as how and where to dispose of wastewater and chemicals.
Document the use of color-coded microfiber and their related surfaces to prevent cross-contamination.
Finally, the cleaning procedure.
Clean before disinfecting.
Clean from the most soiled location to the cleanest, top to bottom.
Use the two-bucket method to avoid cross-contamination and resource waste.
Follow the manufacturer recommend lay times for disinfectant use.
Instill the importance of a clean and healthy workplace to your staff, and post reminders to always clean up their messes immediately with provided microfiber or paper towels.
Takeaway
Inexperienced custodial staff, combined with poorly conceived cleaning and disinfection strategies, will lead to reduced worker performance and health, ultimately negatively impacting business profits.
The cost of continuing the ill-advised and potentially dangerous practices exceeds the expense of outsourcing to a qualified vendor, not accounting for the documented increases in worker productivity and health.
If you would like to learn more about the advantages of outsourcing your office's janitorial services to improve disinfection strategies in the kitchen and other breakrooms–contact us today for a free quote!
In Bakersfield CA, call (661) 437-3253
In Fresno CA, call (559) 206-1059
In Valencia CA, or Santa Clarita CA, call (661) 437-3253