Facility flooding due to burst pipes or natural causes requires swift action to prevent costly additional damage to the built environment and a range of health and safety concerns, including infection and exposure to non-biological contaminants.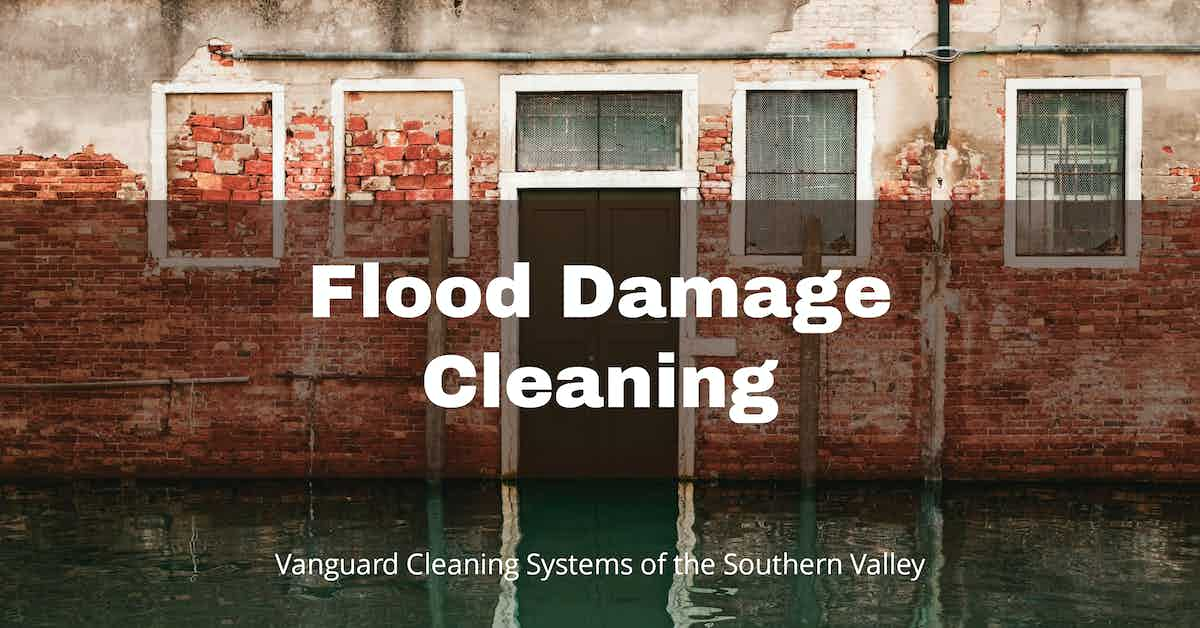 The Dangers of Flood Damage to Facilities and Occupants
Depending on the source, flood waters can potentially carry a host of biological and non-biological contaminants, including:
Bacteria.
Mold.
Pathogens.
Dead animals.
Large debris, and;
Toxic chemicals, including carbon monoxide, heavy metals, and pesticides.
Health and safety officials strongly advise immediate action once the facility is deemed safe for re-entry to prevent:
Escalating costs due to rapidly spreading infrastructure damage.
The onset of allergic or asthmatic reactions in occupants.
Primary and secondary infections, and;
Increasingly complex sanitation challenges.
Secondary infections tied to delayed remediation and cleanup include:
Gastrointestinal infection.
Wound infection.
Respiratory infection.
Upper respiratory symptoms and;
Skin rashes.
Flood Damage Costs
Flood damage due to rising waters and flash flooding are an increasing risk to commercial properties in the U.S.
According to research conducted by First Street Foundation, which focused on flash or pluvial flooding;
Approximately 730,000 retail, office, and multi-unit sresidential properties face an annualized risk of flood damage in the United States.

The structural damage from flooding is projected to cost $13.5 billion in 2022, increasing to over $16.9 billion by 2052.

The researchers also put a price tag on potential damage to come that factors in the damage to local economies and productivity.

The cost of that impact is expected to grow to $63.1 billion in 2052 from $49.9 billion in 2022 due to worsening flood risks associated with climate change, according to the report.

In total, local businesses in the United States stand to lose the equivalent of 3.1 million days of operation next year alone. By 2051, that could grow to 4 million.

Commercial real estate faces increasingly steep costs from flood damage for the foreseeable future, study says
Flood Damage Cleaning and Remediation
Once flooding has ceased and a facility is deemed safe to return to, all standing water should be removed from the facility.
Once all standing water has been removed, the building should be ventilated and allowed to dry using a combination of fans, natural airflow, heaters, and sunlight.
After the facility has dried, a professional inspector should assess physical damage to the built environment and test the air and affected surfaces for mold spores, bacteria, and pathogens.
Any critical infrastructure damage that poses a safety risk should be repaired before commencing biological and non-biological contaminant remediation.
Depending on the severity and scope of the damage and how long it took to begin remediation services, the decision to rip out flooring, drywall, and furniture may occur before or after facility sanitation efforts.
All impacted areas should be cleaned with a commercial-grade, soap-based detergent applied with microfiber, then disinfected with a product registered on the EPAs website.
The disinfectant product selected will likely vary depending on the outcome of the ATP and IAQ tests, but at a minimum should be chosen from List-A.
Public health and safety officials recommend disposing of any furniture or other material that cannot be adequately dried or properly cleaned and disinfected.
References & Resources
Takeaway
Facility flood damage poses several risks to businesses, workers, and customers.
Exposure to contaminated water can result in health repercussions for customers and staff, so it is important that the affected area is evacuated.

When work is being carried out, it is likely that the area will need to remain isolated until the clean-up has been conducted.

Prior to any work being completed, however, cleaning specialists will always wait for the go-ahead from the local authority before entering the premises.

Importance of Swift Flood Damage Cleaning In Commercial Properties
Only trained service providers equipped with the correct PPE and equipment should enter a recently cleared flood-damaged facility for remediation purposes.
Outsourcing is a proven method for onboarding highly in-demand cleaning and disinfection services and experience for a fraction of the price of maintaining a similar service in-house.
If you would like more information regarding the effectiveness of high-performance infection prevention and control measures, or if you would like to schedule a free, no-obligation on-site assessment of your facility's custodial needs, contact us today for a free quote!
In Bakersfield, CA, call (661) 437-3253
In Fresno, CA, call (559) 206-1059
In Valencia, CA, or Santa Clarita, CA, call (661) 437-3253
In Palmdale, CA, or Lancaster, CA, call (661) 371-4756