Pandemic-era work-from-home requirements have influenced office workers toward more eco-conscious behaviors and expectations in the workplace.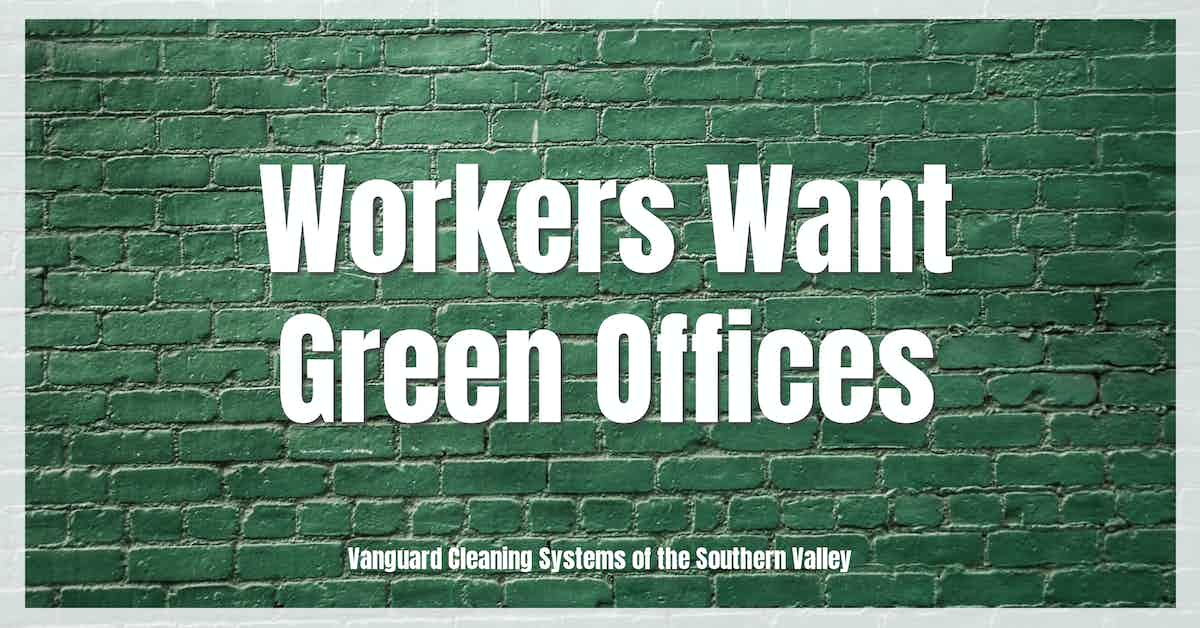 Eco-Friendly Practices A Priority Among Office Workers
Time away from the office and working from home has realigned the majority of U.S. office workers' values towards more eco-friendly action.
A recent survey of 2,000 U.S. office workers conducted by Essity Professional Hygiene reported that 75% of respondents want a more environmentally-friendly workplace.
Additional research reported that:
51% said that working from home made them more eco-conscious.
46% said they are more aware now than before the pandemic of how green their workplace is.
58% felt their office building was 'shamefully eco-unfriendly.'
34% said introducing any environmentally-conscious action in their workplace was typically an after-thought.
71% felt rank and file office workers were the ones leading the charge in the advancement toward environmentally-sustainable action in the workplace.
51% said their employer needed to do a better job of communicating methods for improving sustainable action in the workplace to employees.
56% think their workplace should be doing more to improve eco-friendly actions in the office.
32% of respondents felt it was the employer's responsibility to take the lead toward sustainable actions in the workplace.
28% think it's the employee's job to lead the way.
27% felt that the responsibility was a 50/50 split between employers and employees.
Essity's research team also discovered that roughly 40% of U.S. office workers prioritize organizations based on their sustainability goals and practices, emphasizing the importance of eco-friendly action in the workplace for businesses seeking to attract and retain highly skilled laborers.
According to Essity President, Don Lewis;
Working from home and in their personal spaces during the pandemic increased employees' attention on what it takes to create environmentally friendly workplaces and employers should take note—especially those looking to retain and attract talent in this market.

Our research shows that as many as four in 10 employees prioritize companies based on their sustainability reputation and actions when looking for a new job.

Increasing eco-friendly priorities in the workplace and empowering employees can create a greener office while helping drive employee engagement.
Improving Sustainable Actions in the Workplace
Organizations can cost-effectively implement sustainable workplace action by:
Instituting repurpose, reuse, and recycle programs.
Assessing and adjusting purchasing programs and vendor partnerships to align with sustainability initiatives.
Upgrading cleaning programs with state-of-the-art equipment that includes microfiber, automated floor scrubbers, automated dilution management systems, and electrostatic disinfection appliances.
Financial Benefits of Sustainable Action in the Workplace
Investments in workplace sustainability that include a focus on indoor air quality improvements have already demonstrated significant returns.
According to key case studies found in a report compiled by the World Green Building Council;
Skanska cut sick days by two-thirds at its office in Doncaster, UK, by making improvements to layout and noise, indoor air quality, and lighting.

It helped the company save £28,000 in staff costs in 2015.

Heerema Marine Contractors expect to realize a net present value of €42 million ($47 million) over 20 years in productivity, staff retention, and reduced absenteeism, at its new office in Amsterdam, by improving air quality, increasing thermal comfort, and maximizing daylight.

Saint-Gobain's call center staff at its new North American headquarters doubled their productivity after moving into the new building, with a 97% increase in sales-generated leads and a 101% increase in leads per call.

The building has a fitness center, 1.3 miles of walking trails, more than 100 collaborative workspaces, and 92% of offices have outdoor views.

Green offices that keep staff healthy and happy are improving productivity & boosting businesses' bottom line, finds the report
References & Resources
Takeaway
Time away from the office has made workers more environmentally conscious, which has translated into sustainability expectations in the workplace.
A significant number of resources exist to help schools and businesses transition to environmentally-preferable actions.
However, onboarding the requisite labor and material resources to achieve and maintain sustainability goals long-term may prove cost-prohibitive.
Outsourcing is a proven method for onboarding highly in-demand cleaning and disinfection services and experience for a fraction of the price of maintaining a similar service in-house.
If you would like more information regarding the effectiveness of high-performance infection prevention and control measures, or if you would like to schedule a free, no-obligation on-site assessment of your facility's custodial needs, contact us today for a free quote!
In Bakersfield, CA, call (661) 437-3253
In Fresno, CA, call (559) 206-1059
In Valencia, CA, or Santa Clarita, CA, call (661) 437-3253
In Palmdale, CA, or Lancaster, CA, call (661) 371-4756