College campuses, particularly dorms and restrooms, are petri dishes for germs and bacteria that spread rapidly and negatively impact academic and social development, emphasizing the need for improved cleaning policies and methods.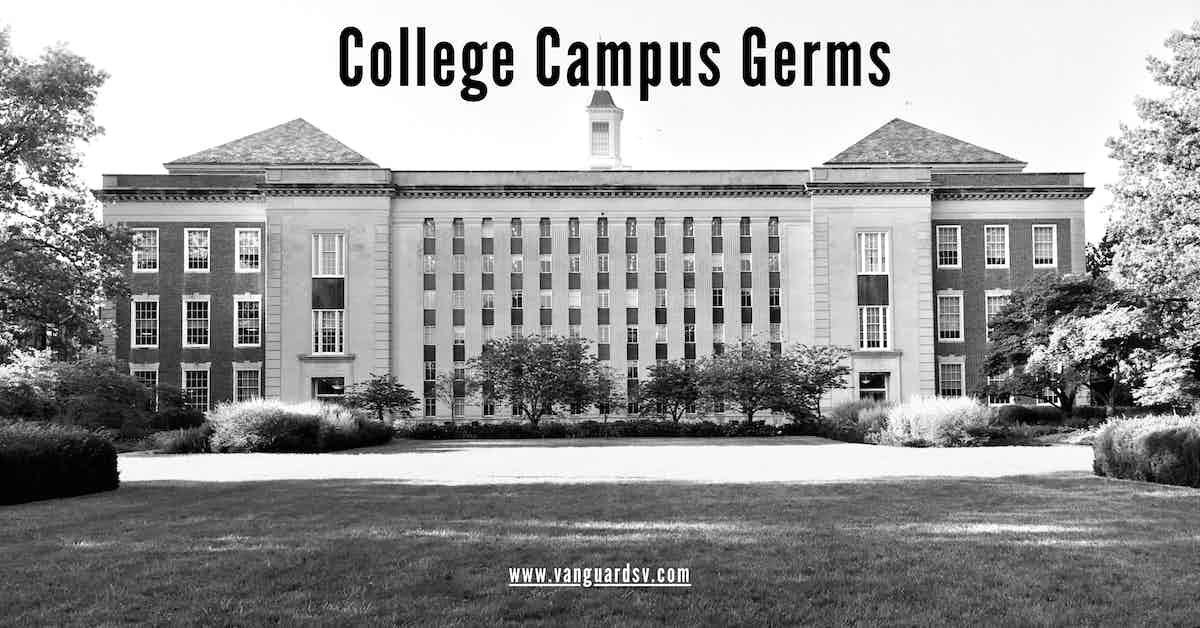 How Germy is the Average Student Body Dorm Room?
In most college campus dorms, students are tasked with sanitizing their living and shared spaces during the regular school year.
According to a recent study, it would appear that whatever cleaning is accomplished is inadequate for supporting long-term healthy living conditions.
Per CollegeStats.org, on average:
Women's dorm rooms had over 1.5M CFU/sq. In. of bacteria.
Men's dorm rooms averaged higher than 6M CFU/sq. In.
The germiest spots in the men's dorm rooms, each coming in at just over 1.5M CFU/sq. In., were:
The bed sheets.
The doorknob on the main entrance/exit, and;
The dresser surface.
The men's restrooms were, surprisingly, comparatively clean when likened to other surfaces, with:
The restroom doorknob measuring 155 CFU/sq. In., and;
The light switch coming in at 65 CFU CFU/sq. In., on average.
Conversely, women's dorm rooms were far cleaner than the men's, with only the dresser surface measuring a high rate at 8500 CFU/sq. In., followed by a distant second--the dorm room light switch, coming in at 40 CFU/sq. In.
The same, however, cannot be said of the women's restroom, which was considerably germier than the men's, measuring:
More than 1.5M CFU/sq. In. on the restroom doorknob, and;
Over 25K CFU/sq. In. on the light switch.
Common College Dorm Bacteria
Several types of bacteria are commonly found in college dorms and shared restrooms, including:
Gram-Negative Rods - Meningitis and pneumonia.
Gram-Positive Cocci - Strep and staph infection, meningitis, cholecystitis, and scarlet fever.
Bacillus - Anthrax and food poisoning.  Some medical and commercial uses.
Gram-Positive Rods - Mostly pathogenic.  Includes bacillus.  Some pharmaceutical uses, and;
Actinomycetes - Good bacteria.
Additional health hazards common to college campus dorms include:
Mononucleosis.
The cold and flu.
Mold.
Bedbugs, and;
Athletes foot.
College Dorm Cleaning Statistics
The clear path to a safer, healthier dorm room is to clean it.
Unfortunately, according to data collected by ACI and Wakefield Research:
While 92% recognize a clean room helps them feel their best both mentally and physically,
72% said they were unprepared to clean their own room when arriving at college.
When asked why they didn't clean their rooms:
53% cited a lack of motivation.
50% said they didn't have the time, and;
Disturbingly, more than 20% said they lacked the cleaning supplies and knowledge to help them stay safe and keep their rooms hygienic.
The Social and Interpersonal Consequences of Dirty Dorm Rooms
Physical health hazards are not the only negative consequence of a poorly cleaned college living space--social ramifications appear quite often.
[...] a lack of cleaning can also cause interpersonal problems.

In fact, according to new research, 71 percent of survey respondents with roommates argue over how to clean, and nearly half (49 percent) of students would be very or somewhat likely to walk out on a date if they saw that their significant other's room was messy.
References & Resources
Takeaway
College dorm room cleanliness is clearly lacking, and the resulting absence of hygiene is negatively impacting both the physical and social health and development of college students.
From the data, we can ascertain that:
College students are unprepared for the need to routinely sanitize their personal living spaces.
A lack of time, proper motivation, necessary tools, and knowledge prevent much of the student body from tackling cleaning chores.
Dirty dorms and restrooms negatively impact student physical and social wellness.
School administrators need to do more to communicate the importance of dorm and restroom cleaning to the students--potentially providing them with the basic cleaning tools and training necessary to accomplish the task satisfactorily, and;
Deep cleaning the dorms and restrooms from top to bottom is a must during the summer break.
Onboarding the requisite labor and material resources necessary to safely and effectively deep clean the campus dorms and restrooms may prove cost-prohibitive for many schools.
Outsourcing is a proven method for onboarding highly in-demand cleaning and disinfection services and experience for a fraction of the price of maintaining a similar service in-house.
If you would like more information regarding the effectiveness of high-performance infection prevention and control measures, or if you would like to schedule a free, no-obligation on-site assessment of your facility's custodial needs, contact us today for a free quote!
In Bakersfield, CA, call (661) 437-3253
In Fresno, CA, call (559) 206-1059
In Valencia, CA, or Santa Clarita, CA, call (661) 437-3253
In Palmdale, CA, or Lancaster, CA, call (661) 371-4756