Commercial cleaning products and processes have a direct impact on environmental health, sustainability, and climate change.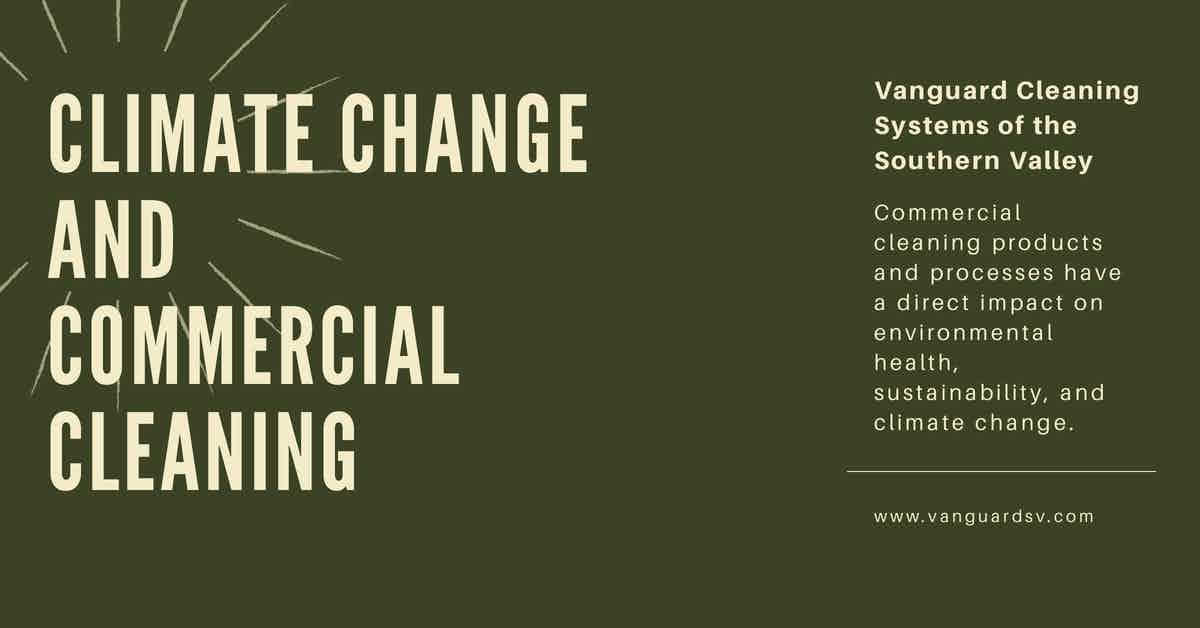 The Impact of Commercial Cleaning on Climate Change
Commercial cleaning has a significant impact on the health and safety of the natural environment and facility occupants.
The manufacture, use, and disposal of commercial cleaning products:
Pollutes the waterways and often results in environmental persistence by entering the food chain.
Pollutes the air through carbon emissions during the manufacture and shipping process and releases volatile organic compounds in the air during use, resulting in increased levels of indoor air pollution.
Creates waste in the form of non-recyclable containers and shipping materials diverted to the landfill and hazardous materials that require additional transportation after use, and;
Health hazards in the form of chemical exposure.
Per PJP Online;
According to the Bureau of Labor Statistics, more than 2.1 million janitors work in the US.

About 6% of janitors experience workplace injury from chemical exposure.

That is just the professional custodial staff.

All building occupants come into contact with cleaning products in one way or another.

There are light cleaning tasks such as wiping desks and counters.

Plus, anyone in the building can breathe in the volatile compounds from cleaning products.
Public Sentiment
The American public has expressed increasing sentiments in favor of action to halt and roll back the effects of climate change--placing the burden squarely on the shoulders of Government and Industry leaders.
According to a recent Earth Day 2022 survey of ten thousand U.S. adults conducted by Pew Research:
Nearly 70% of respondents believe we should prioritize developing greener energy sources.
40% think the U.S. Government should make climate change a top priority.
54% of adults 18 to 29 believe tackling climate change should be a top priority.
75% believe that human activity contributes "at least some" to climate change.
46% believe human activity contributes "a great deal" to climate change.
56% believe addressing climate change will be good for the environment but are divided on economic impact, and;
Approximately 70% favor the U.S. taking steps to be carbon neutral by 2050, though a wide partisan gap of 90% Democrats and 44% Republicans was noted.
Source:
Moving From Green to Sustainable
For organizations already operating under the green umbrella, moving to sustainability in cleaning operations requires:
Only use cleaning and disinfectant products that have been certified by a recognized third-party, such as the EPA or EWG.
Clean with soap and water before disinfecting and use disinfectants sparingly--focusing heavily on fomite disinfection throughout the day.
Implement safer alternative disinfectant solutions, such as hydrogen peroxide.
Purchase concentrated cleaning and disinfectant solutions in bulk that are shipped and stored in recycled/recyclable containers.
Purchase paper products manufactured from 100% recycled materials and implement an organizational repurpose, reuse, and recycling program.
Purchase and employ cleaning tools that leverage engineered water to clean without toxic chemicals.
Purchase from vendors with a publicly published commitment to green activism and sustainable business operations.
Replace fleets with hybrid or electric alternatives when it's time to upgrade, and;
Implement ongoing learning and training programs for custodial service providers and facility stakeholders.
References & Resources
Takeaway
Conventional commercial cleaning products and methods have a negative impact on human health and wellness and environmental safety.
Taking action now will contribute to well-documented climate change goals and promote your organization to emerging consumer and workforce demographics.
Making the necessary changes can be cost-prohibitive for many organizations.
Outsourcing is a proven method for onboarding highly in-demand cleaning and disinfection services and experience for a fraction of the price of maintaining a similar service in-house.
If you would like more information regarding the effectiveness of high-performance infection prevention and control measures, or if you would like to schedule a free, no-obligation on-site assessment of your facility's custodial needs, contact us today for a free quote!
In Bakersfield, CA, call (661) 437-3253
In Fresno, CA, call (559) 206-1059
In Valencia, CA, or Santa Clarita, CA, call (661) 437-3253
In Palmdale, CA, or Lancaster, CA, call (661) 371-4756