Recent data demonstrates consumers increasingly value sustainability in business operations and health and safety measures.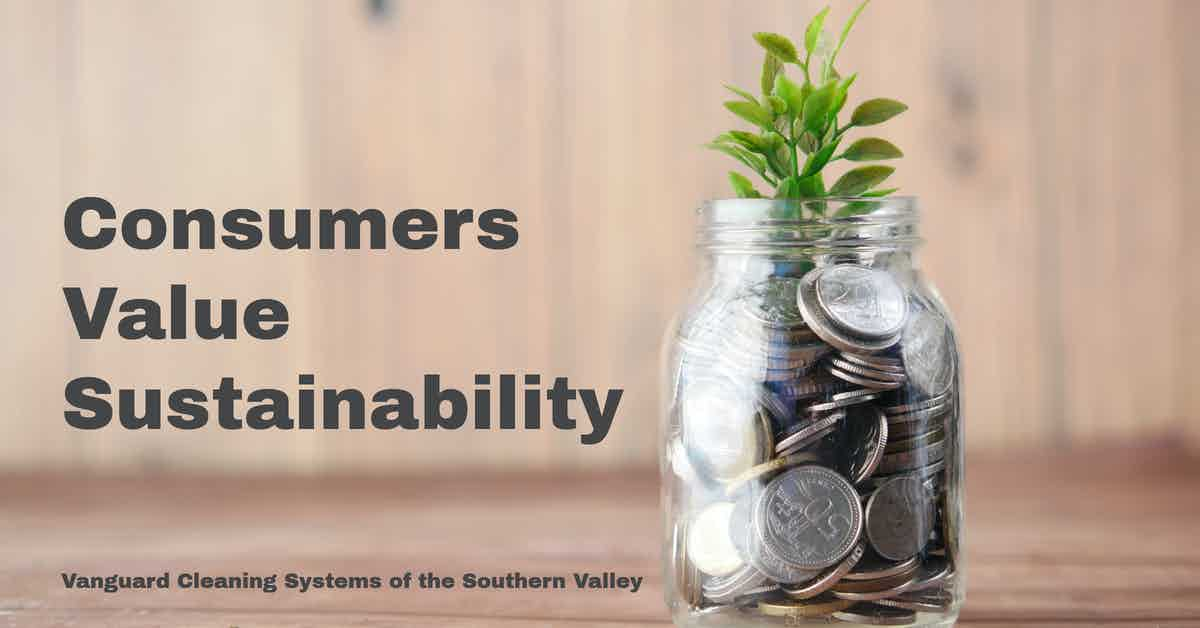 Consumers Value Sustainability-Based Brands, Businesses, and Products
Consumers are increasingly seeking out brands that emphasize the importance of the environment and sustainability in their business operations.
According to a recent survey conducted by Sensormatic Solutions:
81% of respondents noted concern regarding sustainability and the environment's future.
Approximately 80% consider brand or product sustainability before making a purchase.
Roughly 80% of retailers believe sustainability pays off in increased customer loyalty.
50% of consumers stated their sustainability concerns were aligned with their concerns for the planet.
54% said they research a brand's sustainability initiatives.
About 50% of respondents believe businesses have a responsibility to the consumer to operate sustainably, and;
70% stated they would shop elsewhere if they discovered the store or brand they purchase from wasn't operating sustainably.
Source:
Financial Benefits of Sustainability for Businesses and Brands
Organizations that pursue sustainable operations have seen significant financial benefits.
According to a study encompassing more than 500 businesses regarding their sustainability initiatives and outcomes:
44% reported improved profits as a result of sustainable initiatives.
69% felt sustainability was key to their organization's future.
47% stated the pandemic increased the importance of sustainability in their company.
40% said that customers, employees, and shareholders expected community leadership from their organization by enacting sustainability programs.
33% reduced operating costs as a result of sustainability initiatives and;
24% increased revenue.
Source:
Green Cleaning as a Path to Sustainability
Introducing enhanced green cleaning and infection prevention and control measures into your business is a cost-effective method for achieving several sustainability goals.
Microfiber - Uses less water and is more effective at soil and microbial particle removal from surfaces than cloth or cotton alternatives.
Safer Choice - Third-party reviewed cleaning and disinfection products, as well as the U.S. Environmental Protection Agencies' Safer Choice labeled products are less damaging to the natural environment and safer for use around humans and pets.
Day Porter Cleaning - Cleaning during the day reduces energy consumption and increases occupant satisfaction and wellness through ongoing facility checks and touchpoint services.
Fomite Disinfection - Focusing on germ hotspot disinfection rather than blanketing facilities with toxic corrosive disinfectants is better for the environment and occupant health and safety.
Team Cleaning - Cleaning as a team increases efficiency and effectiveness while reducing the time required to complete the task by taking advantage of each team member's strengths and reducing travel time between areas of a facility and janitorial closets.
Concentrated Products - Using easily dilutable products in concentrated form eliminates energy waste by reducing transportation and storage costs.
Dilution Control Systems - Automating cleaning and disinfectant dilution eliminates water, gas, and product waste by applying the exact amount of product and hot or cold water needed based on container size.
Takeaway
Successful green sustainable initiatives start with a dedicated internal team of executives, custodial teams, consultants, and vendors.
According to CleanLink;
As expected, the majority of departments with successful green cleaning and/or sustainability programs in place are spearheaded by managers dedicated to the consistent improvement of everyday procedures — supported by like-minded staff unafraid to take on new initiatives.

[...] facility executives and their frontline staff are usually the driving force behind the proposal, implementation and execution of these plans.

A notable number of departments also received support from administrators, vendors, consultants and executive management.

Green Cleaning, Sustainability Survey Highlights Industry Trends
While the benefits are clear, the path can be complicated and requires a significant resource investment on multiple levels--often proving cost-prohibitive for many organizations.
Outsourcing is a proven method for onboarding highly in-demand cleaning and disinfection services and experience for a fraction of the price of maintaining a similar service in-house.
If you would like more information regarding the effectiveness of high-performance infection prevention and control measures, or if you would like to schedule a free, no-obligation on-site assessment of your facility's custodial needs, contact us today for a free quote!
In Bakersfield, CA, call (661) 437-3253
In Fresno, CA, call (559) 206-1059
In Valencia, CA, or Santa Clarita, CA, call (661) 437-3253
In Palmdale, CA, or Lancaster, CA, call (661) 371-4756