Office cleaning practices will increasingly focus on facility and occupant hygiene to thwart the spread of infection and increase organizational and operational efficiency.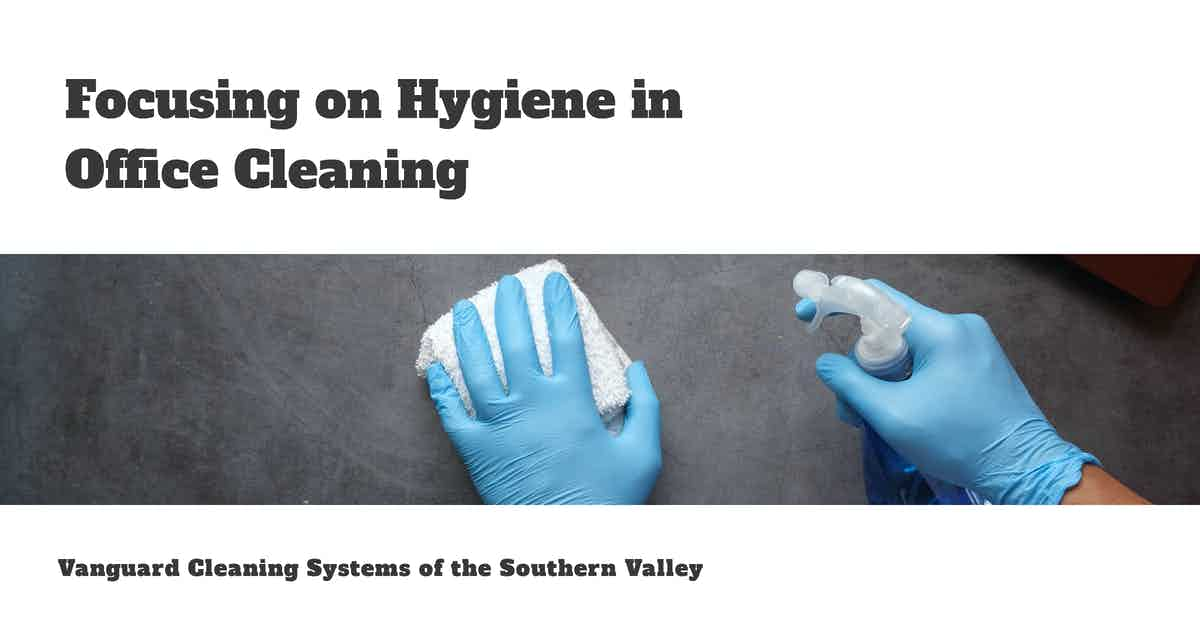 Targeting Office Hygiene
Post-pandemic, most office workers expect their workplace to be clean and safe.
Parents and consumers expect the same of schools and public facilities.
However, recent data suggests that many organizations are not living up to public expectations.
According to a survey conducted by the American Cleaning Institute, when asked if respondents believed businesses, schools, and other public locations were maintaining an adequate level of cleanliness in preparation for cold and flu season:
51% said yes.
30% replied No, and;
19% stated they had not thought about it.
Source:
Conversely, additional data shows that consumers and office workers are still committed to maintaining high levels of pandemic-level cleaning and hygiene practices.
According to a recent CleanLink article;
Even though public opinion implies the perception of clean is lacking, the hygiene habits picked up by people working from home are expected to stay with them when they return to the office.

A September 2021 ACI survey — which asked if Americans would continue pandemic-related cleaning habits in the coming months — reported that 93 percent would wash with soap and water as frequently, and 83 percent would regularly use hand sanitizers and disinfect high-touch surfaces.
Ensuring Office Cleanliness and Hygiene
There are several protocols that every organization should adopt to ensure the highest standards of facility cleanliness and hygiene while protecting occupant health and safety.
The first is daily cleaning with a commercial-grade, soap-based detergent applied with a microfiber towel or mop head throughout the occupied areas of your facility.
This practice by itself will remove the bulk of illness-causing germs and bacteria from your floors and workspaces and help keep the air clean and free of dust and other allergens.
The next step is to identify high-touch germ hotspots throughout your building and design a program to wipe down the specified surfaces throughout the day to prevent the buildup of germs and bacteria on commonly touched surfaces.
Germ hotspots--fomites--represent a significant reservoir for pathogens and pathogenic bacteria and are responsible for the indirect transmission of infection between facility occupants.
As your facility hygiene plan progresses, your team should adopt strategies that reduce the transmission of germs between surfaces and areas of the building by implementing cross-contamination prevention methods.
The most effective method for implementing cross-contamination prevention procedures is to map out the facility and assign a specific color to each section. For smaller facilities, assign colors based on surface type.
Adopting this approach will prevent service providers from accidentally spreading germs from restroom surfaces to kitchens or from floors to countertops and workspaces.
Once the daily cleaning plan is well established, additional steps that will ensure high-quality outcomes can be implemented, such as:
Cleaning and disinfectant product and vendor assessments.
Surface hygiene and air quality testing.
Team cleaning, and;
Advanced appliance use, including automated floor scrubbers and electrostatic disinfection sprayers.
References & Resources
Takeaway
Maintaining pandemic-level enhanced cleaning measures has proven desirous by both workers and consumers.
Additionally, enhanced cleaning will help improve your organization's bottom line by eliminating costly sick days and drops in productivity during cold and flu season.
Before the pandemic, employee illness accounted for billions of dollars lost annually in the U.S.

In 2018, experts estimated that the flu costs the U.S. more than $10 billion annually.

And, depending on the severity of the season, anywhere between $7 billion to $15 billion can be lost in productivity and sick days.

A 2003 study found that non-flu-related viral respiratory tract infections cost U.S. companies approximately $40 billion per year.

The Return To The Office: Best Practices For Helping Employees Feel Safe
Implementing sustainable enhanced clean for health measures may prove cost-prohibitive for many organizations.
Outsourcing is a proven method for onboarding highly in-demand cleaning and disinfection services and experience for a fraction of the price of maintaining a similar service in-house.
If you would like more information regarding the effectiveness of high-performance infection prevention and control measures, or if you would like to schedule a free, no-obligation on-site assessment of your facility's custodial needs, contact us today for a free quote!
In Bakersfield, CA, call (661) 437-3253
In Fresno, CA, call (559) 206-1059
In Valencia, CA, or Santa Clarita, CA, call (661) 437-3253
In Palmdale, CA, or Lancaster, CA, call (661) 371-4756