Several cleaning challenges have arisen for educational facilities--spurned by the effects of the pandemic, decreased funding, and staffing issues--resulting in lower quality cleaning outcomes.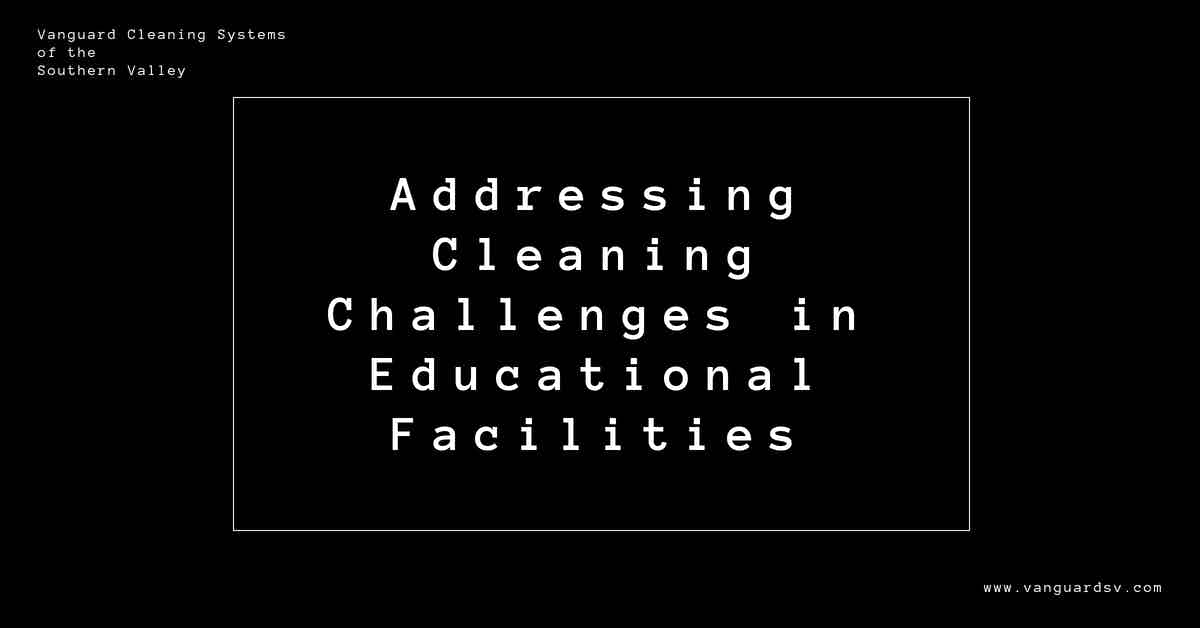 The Biggest Cleaning Challenges Facing Educational Facilities Today
The COVID-19 pandemic fundamentally changed the way facilities are cleaned and disinfected.
Occupants are more aware of how facility hygiene impacts their health and wellbeing, and are more demanding than ever that building managers and business owners employ enhanced measures to ensure their safety, especially when asking them to return to the office after a long hiatus.
According to Forbes;
The landscape of the workplace has undergone considerable changes over the past year and a half.

There have been physical changes — with social distancing markers on the ground, the introduction of plexiglass between desks and hand sanitizer stations in every room — as well as psychological changes in viewing the office space with certain feelings — from increased caution to full-blown paranoia.

Outlook On Office Cleanliness From A Commercial Cleaning Expert
However, the consequent supply chain issues still impact the availability of many previously ordinary and easily located cleaning and disinfection products and supplies.
According to a survey published by Becker's Hospital Review;
The supply chain started 2020 with a global PPE shortage, and now nearly two years later we are still dealing with shortages in multiple critical medical supply categories due to global logistics, raw material limitations, increased demand and many other pandemic factors.

We anticipate supply chain disruptions will continue for many months as we investigate alternative and diversified distribution streams.

Supply chain issues are here to stay: Health leaders share predictions, strategies
Further, staffing challenges have decreased the ability of custodial departments to keep up with foot traffic and demand, resulting in potentially dangerous environments.
Additionally, downsized budgets have reduced departmental access to up-to-date technologies and infrastructure, resulting in reduced cleaning outcomes.
Decreased funding plays a huge role in the overall success or failure of departments and the university at-large.

For example, lack of staffing and funding affects the ability to provide adequate attention to each department.

From being able to provide up-to-date technology and infrastructure to the appearance of the grounds and cleanliness of the buildings, adequate funding plays a vital role in the success of each.

That, in turn, can also affect the enrollment of current and new students at the university.
Addressing Educational Facility Cleaning Challenges
Despite the setbacks brought on by the pandemic and subsequent economic, logistics, and staffing issues, many hard-won lessons have increased the ability of educational facility and maintenance staff to address ongoing hygiene challenges, including:
Eliminating hygiene theater - Cleaning and disinfecting for appearances, let alone without a science-backed plan, wastes vital resources and exposes occupants to toxic chemicals on surfaces in the air, typically without removing the targeted soil or pathogen.
The hygiene theater custodial teams were pressured to exhibit was an absolute waste of very limited staff capacity.

The need to conduct excess cleaning and disinfecting for show stretched custodial resources thin with no real benefit.

As a result, staff became burnt out and other regular maintenance tasks were not kept up.

Process Changes and Communication Updates Stemming From the Pandemic
Cleaning for health - This means starting with removing soil using soap, water, and microfiber and focusing on disinfection methods that target fomites with environmentally preferable products and custodial processes that prevent cross-contamination and indoor air pollution.
Improving air filtration and flow - Increasing mechanical air flow and installing higher rated filters is highly effective at moving airborne pathogens and allergens rapidly through a facility and safely trapping many of the illness-causing microbes before they can spread to occupants.  Additionally, increased airflow helps disperse volatile organic compounds--responsible for numerous ailments associated with indoor occupancy--in the air that are off-gassed by various products and chemicals commonly found in commercial facilities.
Team cleaning - This method allows custodial teams to rapidly move through each section of a facility--each member focused on a specific task that matches their skillset and experience.  This reduces the perceived workload for each service provider and can significantly reduce the amount of time to achieve high-quality cleaning outcomes, especially if the cleaning cart is sufficiently supplied.
Takeaway
Educational facility cleaning and maintenance has struggled for years to meet the demands of faculty, students, and parents.
Post-pandemic, many departments have found themselves facing additional challenges requiring creative solutions.
Outsourcing is a proven method for onboarding highly in-demand cleaning and disinfection services and experience for a fraction of the price of maintaining a similar service in-house.
If you would like more information regarding the effectiveness of high-performance infection prevention and control measures, or if you would like to schedule a free, no-obligation on-site assessment of your facility's custodial needs, contact us today for a free quote!
In Bakersfield, CA, call (661) 437-3253
In Fresno, CA, call (559) 206-1059
In Valencia, CA, or Santa Clarita, CA, call (661) 437-3253
In Palmdale, CA, or Lancaster, CA, call (661) 371-4756