Scientific facility cleaning--when, how, and with what--will reduce waste, prevent occupant exposure to corrosive chemicals, and improve overall cleaning outcomes.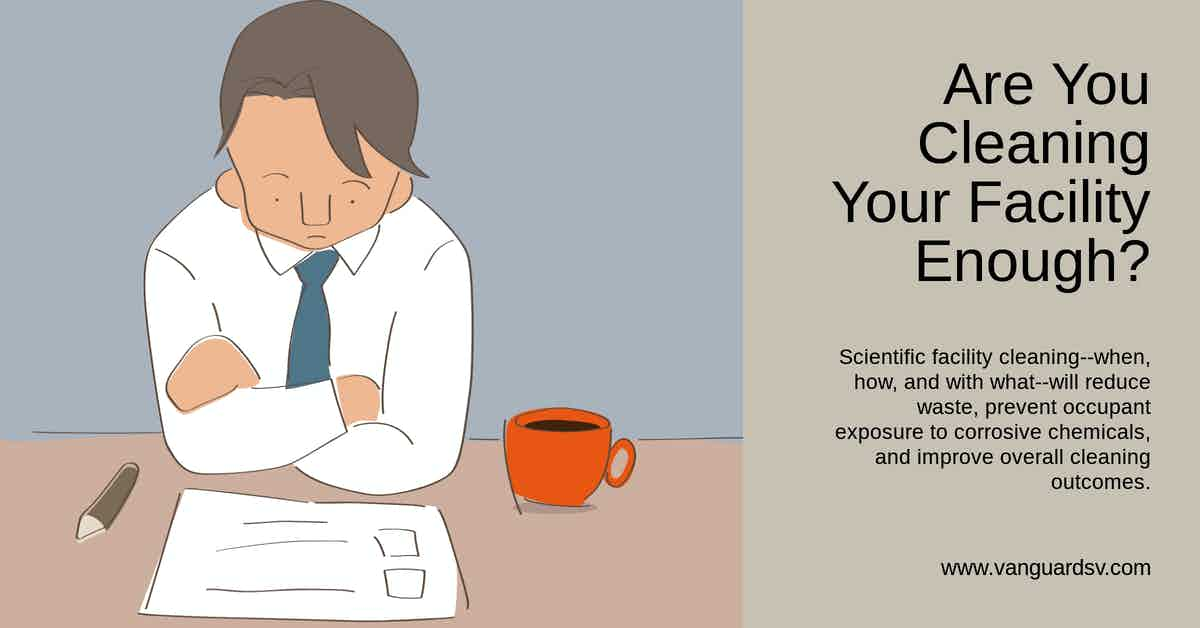 Facility Cleaning--When, How, and With What
Environmental sanitation raced from a quiet place in the back of people's minds to the forefront of a seemingly endless and controversial battle against COVID-19.
Before the pandemic, facility cleaning (outside of healthcare environments) was primarily and incorrectly viewed as a necessary expense to maintain the visual appeal of a facility and keep bad smells in check.
At the start of the pandemic, cleaning and disinfection officially went off the rails with reports of illness and deaths following the wild misuse of bleach-based products, people cleaning their food and bodies with household disinfectants, and governments blanketing urban neighborhoods with corrosive chemicals.
As panic abated and data from the field was extrapolated and disseminated among the public, what we discovered was what we already knew.
Infection prevention must always begin with a clean surface using soap-based detergents.
Infection control requires a targeted approach--attacking the germ or bacteria where it exists with products proven to kill it.
Facility hygiene is pointless if the process and products compromise occupant health.
Natural methods and chemicals are preferable when applicable and practical.
The more people come in and out of a room or building, the dirtier it is, the more often it needs to be cleaned.
The more an object is touched, the likelier it is to be contaminated with germs and bacteria, the more it needs to be disinfected.
Commercial cleaning requires highly skilled laborers to enter potentially deadly arenas, which require a bare minimum of physical protections, and;
People who are not trained in the proper use, handling, dangers, and disposal of highly toxic, corrosive, and environmentally hazardous products demonstrably should not be tasked with their application.
What We Learned From the Virus
Infection prevention and control is the Goldilocks of public health.
Too much or too little can be hazardous.
Further complicating matters--facility size, industry type, occupant demographics, and underlying health conditions or natural vulnerabilities, and the volume of foot traffic impact optimized cleaning schedules, products that are needed or safe to use, what equipment should be employed, and what methods will deliver the best outcomes.
To address these challenges, divide the cleaning process into types.
Regular office cleaning:
Perform daily.
Sweep, mop, and vacuum occupied areas.
Light dusting.
Remove garbage.
Clean and disinfect the bathroom and any food prep areas.
Clean and disinfect horizontal surfaces--desks, counters, and tables, and;
Clean and disinfect fomites.
Deep cleaning:
Scheduling depends on industry type, foot traffic, season, and occupant demographics, but typically occurs between once per month and once per quarter, but no less than once per year for any office.
Scrub grout and tiles.
Deep clean upholstery, carpets, rugs, and mats.
Use a scrubber vacuum in restrooms and kitchens.
Clean the inside of garbage cans.
Remove office clutter, and;
Disinfect large or hard-to-clean areas with an electrostatic disinfection appliance.
Day porter cleaning:
Spot check and clean high-traffic floors and high-contact surfaces throughout the day.
Check restroom cleanliness, remove the garbage, and restock soap and paper supplies.
Clean up spills and remove stains, and;
Observe and report on any areas that need attention by regular custodial service providers.
Widespread community infections:
Increase the rate of cleaning and targeted fomite disinfection.
Post signs reminding occupants to pay attention to symptoms and stay home if they are sick, and;
Encourage frequent handwashing and hygiene.
Facility contamination:
Quarantine the contaminated area for at least 24 hours.
Increase ventilation into the quarantined area--use natural ventilation if possible.
Only allow trained service providers into the area after it has been ventilated and only if they are wearing the correct safety gear.
Clean the quarantined area with an EPA-registered commercial-grade detergent.
Disinfect the area with an EPA-registered disinfectant, and;
Allow the quarantined area to fully ventilate prior to readmitting normal traffic.
References & Resources
Takeaway
Enhanced cleaning and targeted disinfection methods based on how your facility is used and accessed by the public maximizes efficiency, resources, and financial expenditure while ensuring higher cleaning outcomes.
Cleaning and, especially, disinfection services pose serious health and environmental risks if performed outside of regulatory guidelines.
Trained service providers are mandatory for operating within the requirements necessary to ensure occupant and environmental safety.
Outsourcing is a proven method for onboarding highly in-demand cleaning and disinfection services and experience for a fraction of the price of maintaining a similar service in-house.
If you would like more information regarding the effectiveness of high-performance infection prevention and control measures, or if you would like to schedule a free, no-obligation on-site assessment of your facility's custodial needs, contact us today for a free quote!
In Bakersfield, CA, call (661) 437-3253
In Fresno, CA, call (559) 206-1059
In Valencia, CA, or Santa Clarita, CA, call (661) 437-3253
In Palmdale, CA or Lancaster, CA, call (661) 371-4756