K-12 facilities house large numbers of densely packed, vulnerable, unvaccinated occupants, underscoring the criticality of high outcome cleaning and disinfection protocols.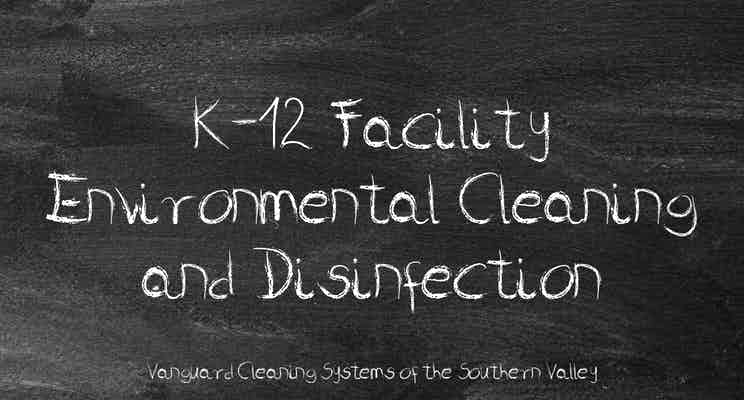 Enhanced Cleaning to Combat COVID in the Classroom
According to the National Center for Education Statistics, approximately 48.1M students attended school in the US in the Fall of 2020.
Source:
The age demographic of K-12 students ranges from approximately 5-years-old to 17-years-old.
According to USA Facts at the time of this publication, the number of children and the corresponding population percentage of that demographic that reported as fully vaccinated is:
12 and under - 125,606 or <1% of that age group.
12-15 - 6,808,158 or 40.28% of that age group, and;
16 - 17 - 3,970,525 or 47.36% of that age group;
Totalling - 10,904,289 individuals of roughly K-12 age, or <25% of the registered number of students for the 2020 school year.
Source:
Current reports show an increasing number of school-aged children both testing positive for COVID-19 and being hospitalized due to the infection.
According to the Guardian;
The CDC released a report on 3 September showing a fivefold increase in child hospitalization rates because of the Delta variant.

The differences in children's hospitalizations were even more startling when broken down by age.

In the same June-August time period, hospitalizations were 10 times higher for children under the age of four and for those between the ages of 12 to 17, the report said.

Hospitalization was 10 times greater among unvaccinated than vaccinated children, the report said. In the US, children aged 12 and up are eligible for vaccination.

Covid cases among children are surging in the US as students head back to school
However, while the CDC correctly shows the number of reported cases of positive tests and infections are on the rise, according to the American Academy of Pediatrics (AAP), severe illness in school-aged children is rare, more data is needed regarding the long-term impacts of the virus on children's physical, mental, and emotional health.
At this time, it appears that severe illness due to COVID-19 is uncommon among children.

However, there is an urgent need to collect more data on longer-term impacts of the pandemic on children, including ways the virus may harm the long-term physical health of infected children, as well as its emotional and mental health effects.
Further, current data shows that even fully vaccinated individuals can become infected by and transmit COVID-19, though likely at a lower rate when compared to an unvaccinated person.
According to Dr. Lyssette Cardona, MD of the Cleveland Clinic;
'Fully vaccinated' means that you completed a COVID-19 vaccine series as recommended for the best protection against severe complications such as hospitalizations and/or death.

No vaccine offers 100% protection against illness, yet it does give you a better chance to fight off the infectious consequences of being exposed to the SARS-CoV2 virus.
When asked whether or not fully vaccinated people still transmit the virus to others, including other vaccinated people, Dr. Cardona responded;
While it is possible, Dr. Cardona says that the ability to transmit COVID-19 may occur at a lower rate.

She adds that this could also be a reality for people who don't have a good immune response to vaccines.
Given these realities, the best method for combatting the spread of COVID-19 in the classroom is via enhanced cleaning and strategic disinfection protocols.
Environmental Cleaning and Disinfection Protocol Recommendations
Maintaining the health and safety of students and staff while effectively sanitizing education facilities and high contact surfaces requires, in general, a four-step approach:
Assess Risk
Day Porter Cleaning
Night Time Cleaning
High Contact Surface Disinfection
Risk Assessment
Examine each area of your school and determine the following:
Contamination Risk - How often is the area exposed to human blood or other bodily fluids.
Demographic Risk - How vulnerable are the people who typically occupy the facility to infection.
Fomite Risk - How often are surfaces routinely touched by facility occupants.
Traffic Risk - Is the area subject to a high or low volume of foot traffic.
Personal Hygiene Tool Availability - Are personal hygiene tools, such as soap and hand sanitizer, readily available or scarce.
Hygiene Promotion - Does the area have signage that promotes good hand hygiene and awareness.
Ventilation Risk - Is the area well or poorly ventilated.
High-risk areas will need more attention and investment than low-risk areas.
Day Porter Services
Daytime cleaning can address numerous health risks facing occupants while the facility is operational.
Focus on:
Addressing spills and bodily fluid cleanup immediately.
Remove visible soil from surfaces.
Disinfect high-contact fomites.
Check on personal hygiene tool levels, and;
Remove garbage and other waste.
Night Cleaning and Disinfection
At night when the school is not operational and occupancy is low is the best time to deep clean and disinfect.
Focus on:
Thorough soil removal from all surfaces--vacuuming, microfiber cleaning with commercial detergents, and mopping.
Dusting vertical surfaces--chalkboards, and vents, and horizontal surfaces--desks, counters, and tables.
Deep restroom cleaning and disinfection.
Hygiene product replenishment.
Garbage and physical debris removal, and;
Disinfecting high-risk surfaces with an electrostatic disinfection appliance.
High-Risk High-Contact Surface Disinfection
Each facility is different, but in general, the following should be disinfected each night, preferably with an electrostatic disinfection appliance or no-touch scrubber-vac (for restrooms, locker rooms, and showers).
Countertops, desks, benches, and tables.
Door, cabinet, and faucet handles.
Light switches.
Chairs, couches, and armrests.
Vending machine buttons.
Breakroom/kitchen appliances.
Pencil sharpeners.
Computer equipment and phones.
Bleachers and handrails.
Locker exteriors.
Weightroom equipment, and;
Toilets, urinals, showers, bathroom floors, dispensers, and trashcans.
Takeaway
High-outcome enhanced cleaning and disinfection combined with increased ventilation, common sense social distancing, and well-established hand hygiene practices will make the difference between another traumatic school year, or a productive one that begins to put the pandemic behind us and enables students to begin to recover physically, emotionally, and mentally.
A clear plan predicated on a room-by-room risk assessment is required to ensure the highest level cleaning outcomes.
Investment costs can be recovered through increased student attendance as a result of the enhanced cleaning protocols and improved efficiencies via team-cleaning methods and upgrades in cleaning tool technologies.
Outsourcing is a proven method for quickly onboarding highly in-demand custodial and facilities maintenance services at a fraction of the cost of managing a similar service in-house.
If you would like more information regarding the effectiveness of high-performance infection prevention and control measures, or if you would like to schedule a free, no-obligation onsite assessment of your facility's custodial needs, contact us today for a free quote!
In Bakersfield, CA, call (661) 437-3253
In Fresno, CA, call (559) 206-1059
In Valencia CA, or Santa Clarita CA, call (661) 437-3253
In Palmdale, CA or Lancaster, CA, call (661) 371-4756