American workers are concerned about office cleanliness, due in part to post-pandemic fatigue combined with an increased desire and understanding surrounding health, safety, and facility hygiene.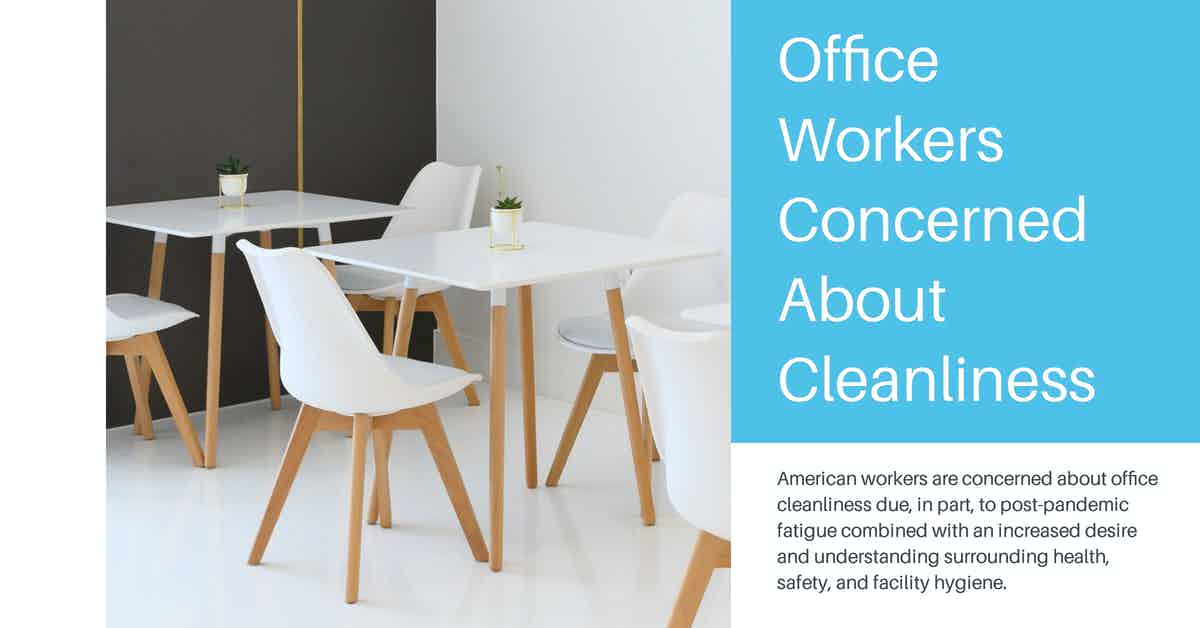 Concerns Regarding Office Cleanliness Weigh on Returning Workforce
A recent Return to Workplace survey conducted by The Harris Poll sought to understand the health, safety, and hygiene concerns of the American workforce as it moved from primarily working from home, or in a nearly empty office, to a more conventional work environment.
The results were expectedly unsurprising.
Many of the respondents voiced concerns regarding:
Their employer's commitment to ongoing cleanliness, workplace safety, and hygiene, and;
The vaccination status and personal hygiene habits of their coworkers.
Nearly two-thirds (65%) of employed Americans who went into an office prior to COVID-19 are/were concerned about the cleanliness and hygiene of the office upon their return.

84% of employed Americans who went into an office prior to COVID-19 are confident that their employer is/will enforce proper hygiene protocols in the office.

More than half (58%) of employed Americans who went into an office prior to COVID-19 would like to see increased cleaning and sanitizing measures implemented at their office as a result of COVID-19.

Concerns About Office Cleanliness And Hygiene Measures Weigh On American Workers As Many Begin Returning To The Office
Their expectations regarding facility hygiene include:
Facility provisioning of easily accessible hand sanitizer to all occupants.
Increased cleaning and disinfection frequencies.
Improved lines of communication from facility management to occupants regarding facility safety and hygiene rules and procedures, and;
Clear guidelines regarding occupant health, safety, and hygiene requirements.
According to CleanLink;
[...] employees question whether their workplace will maintain cleanliness protocols — with 65% of employed Americans who went into an office prior to COVID-19 expressing concern about the cleanliness and hygiene of the space before going back to the office.

Moreover, as 59% of employed Americans who worked in an office prior to COVID-19 have at least some concern about being around coworkers, they also have heightened expectations of their employers when it comes to hygiene protocols in the office, and would like to see employers and building operators provide resources such as hand sanitization stations (58%), more frequent cleaning and sanitizing (58%), hands-free restroom fixtures (48%) and higher capacity paper towel dispensers in common areas and in bathrooms (35%).
The survey found that many occupants expected those same expectations to extend to other facilities they frequented, especially:
90% - Doctors' offices/healthcare facilities.
89% - Restaurants.
88% - Hotels.
88% - Theaters.
87% - Fitness centers.
86% - Retail stores, and;
86% - Entertainment facilities (stadiums/museums).
Source:
Interestingly, workers noted a change in coworker behavior, including:
Washing hands and using hand sanitizer more often.
Shaking hands less.
Washing hands after coughing, sneezing, or touching high contact surfaces, and;
Avoiding direct contact with high-contact surfaces by using Hygiene Hand or Kooty Key.
Recommended Actions
To address occupant concerns regarding facility health, hygiene, and safety:
Increase the number of cleaning staff members.
Increase cleaning and disinfection frequencies.
Implement or increase training provided to custodial staff.
Assess current cleaning and disinfection methods and update where necessary.
Implement team cleaning.
Make hand sanitizer easily accessible to all facility occupants regardless of employment status.
Keep restrooms immaculate and supplied with soap and paper products, and;
Post and update facility health and safety methods and requirements routinely.
Takeaway
As more people return to work and more facilities and services are open to the public, an increasing number of studies are underscoring the importance of maintaining pandemic-era cleaning and disinfection frequencies.
However, an increase in office worker numbers translates into additional cleaning and disinfection requirements to maintain the same level of facility hygiene, which likely means an increase in custodial workers, training, and product use.
For smaller businesses or those focused on returning to pre-pandemic profit levels and productivity, hiring, training, and equipping new staff may be an unrealistic challenge.
Outsourcing is a proven method for onboarding increasingly in-demand sustainable cleaning for health services, tools, and expertise for a fraction of the cost of maintaining a similar service in-house.
If you would like more information regarding the effectiveness of high-performance infection prevention and control measures, or if you would like to schedule a free, no-obligation onsite assessment of your facility's custodial needs, contact us today for a free quote!
In Bakersfield, CA, call (661) 437-3253
In Fresno, CA, call (559) 206-1059
In Valencia CA, or Santa Clarita CA, call (661) 437-3253
In Palmdale, CA or Lancaster, CA, call (661) 371-4756